Horizon:Kimitoasamade 2A Glossary
Jump to navigation
Jump to search
Glossary
[
edit
]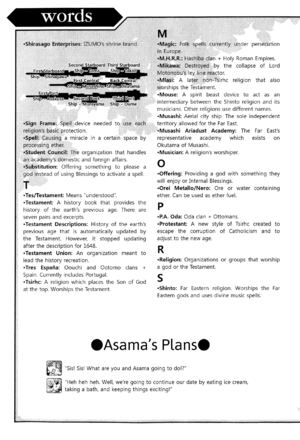 Academy: An educational facility. Used as the center of political and military power. Tend to have many branch schools.
Academy Rules: The basic laws upheld between academies. Agreed to by the Testament Union.
Apocalypse: The end of the world. 1648 when the Testament's history descriptions end.
ATELL: The smallest unit of ether. Used for spells.
Blessings: The amount of ether needed for a human to exist for one hour. 3600 ATELL. Conversion unit for a spell's ATELL consumption.
Catholic: The old mainstream version of Tsirhc.
Chancellor's Officers: An organization led by the chancellor which leads the academy and performs work such as defense.
Contradiction Allowance: The foundational ability of the world. Allows the simultaneous existence of all sorts of physical laws.
Divine States: Former name of the Far East.
Divine Weapon: A weapon that, unlike a normal weapon, has a unique ability.
Emperor: A divine individual who is said to control the ley lines using the Imperial Regalia in Kyou. Does not interfere with the world.
England: Uses a floating island and does not control any Far Eastern land or Far Eastern daimyo.
Ether: Component that makes up contradiction-allowing space.
Ether Engine: An engine that uses ether's space-altering ability. The effect changes based on the internal crest.
Ether Fuel: Ether that has been purified into fuel. Used as External Blessings or for ether engines.
Ether Reactor: A reactor that extracts and purifies ether from the air. Has a lower output than a ley line reactor, but is relatively safe.
External Blessings: Blessings accumulated outside of oneself. Ether fuel is an example.
Far East: Name of the Divine States after the Harmonic Unification War.
God of War: A giant humanoid machine that people combine with to move.
Graduation: No limit for nations other than the Far East. Far Easterners must graduate at 18.
Harmonic Territory: Locations where the fallen Harmonic World Divine States unified with the real world while breaking apart.
Harmonic Unification War: A war between the harmonic world residents and the real world (Divine States) residents after the destruction of the harmonic world. The harmonic world residents won and began a provisional rule over the Divine States.
Harmonic World: A former alternate space that copied the Divine States. Preserved through ley line control.
Hexagone Française: Mouri clan + France.
History Recreation: Recreating the Testament descriptions to maintain the path the world takes.
Inherited Name: The name of a historical figure given to an appropriate individual for the history recreation.
Internal Blessings: blessings stored within oneself.
IZUMO: The Far East's largest corporation. The headquarters for Far Eastern shrines and the corporation that built the Musashi.
Judge/Judgment: Means "understood". Used by criminals.
K.P.A. Italia: Association of Aki States + Union of Italian City States.
Ley Line: The thicker of the pathways through which ether flows.
Magic: Folk spells currently under persecution in Europe.
M.H.R.R.: Hashiba clan + Holy Roman Empires.
Mikawa: Destroyed by the collapse of Lord Motonobu's ley line reactor.
Mlasi: A later non-Tsirhc religion that also worships the Testament.
Mouse: A spirit beast device to act as an intermediary between the Shinto religion and its musicians. Other religions use different names.
Musashi: Aerial city ship. The sole independent territory allowed for the Far East.
[First Starboard Ship – Shinagawa/Second Starboard Ship – Tama/Third Starboard Ship – Takao/First Central Ship – Musashino/Back Central Ship – Okutama/First Port Ship – Asakusa/Second Port Ship – Murayama/Third Port Ship – Oume]
Musashi Ariadust Academy: The Far East's representative academy which exists on Okutama of Musashi.
Musician: A religion's worshiper.
Offering: Providing a god with something they will enjoy or Internal Blessings.
Orei Metallo/Nero: Ore or water containing ether. Can be used as ether fuel.
P.A. Oda: Oda clan + Ottomans.
Protestant: A new style of Tsirhc created to escape the corruption of Catholicism and to adjust to the new age.
Religion: Organizations or groups that worship a god or the Testament.
Shinto: Far Eastern religion. Worships the Far Eastern gods and uses divine music spells.
Shirasago Enterprises: IZUMO's shrine brand.
Sign Frame: Spell device needed to use each religion's basic protection.
Spell: Causing a miracle in a certain space by processing ether.
Student Council: The organization that handles an academy's domestic and foreign affairs.
Substitution: Offering something to please a god instead of using Blessings to activate a spell.
Tes/Testament: Means "understood".
Testament: A history book that provides the history of the earth's previous age. There are seven pairs and excerpts.
Testament Descriptions: History of the earth's previous age that is automatically updated by the Testament. However, it stopped updating after the description for 1648.
Testament Union: An organization meant to lead the history recreation.
Tres España: Oouchi and Ootomo clans + Spain. Currently includes Portugal.
Tsirhc: A religion which places the Son of God at the top. Worships the Testament.
Asama's Plans
[
edit
]
Toori: Sis! Sis! What are you and Asama going to do!?
Kimi: Heh heh heh. Well, we're going to continue our date by eating ice cream, taking a bath, and keeping things exciting!