Horizon:Volume 6C Chapter 72
Jump to navigation
Jump to search
Chapter 72: Puncher of Foundations
[
edit
]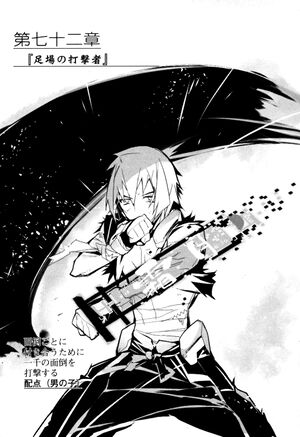 To accompany you
In your troubles
I will punch
One thousand troubles
Point Allocations (Boy)
Kotarou received word from the on-site investigator that the water level had stabilized.
According to the divine transmission, they would now be going to the artificial lake's dam to investigate.
…Thank you very much.
The water level would not have stabilized by chance. Someone must have been thinking about the future.
And a duel over the future was beginning before Kotarou's eyes.
It occurred below the transport ship floating in the sky. Musashi was to the east and Houjou to the west.
"Now, let us begin the final duel of the Siege of Odawara."
Ujinao faced a boy.
That boy had changed into a Far Eastern summer uniform and he struck his fists together.
"Musashi Temporary Representative."
He named himself.
"Matsudaira Tokuhime."
Ujinao named herself as if to accept that.
"Houjou Representative Houjou Ujinao."
And as she named herself, she sent a slash toward her opponent.
Not even Kotarou saw it coming.
Futayo saw the sword wind arrive after the fact. That was just how fast the attack had been.
…Such incredible swordsmanship!
"Hey, Futayo, I can't see with you holding me."
"Oh, my apologies, Masazumi. I was so used to balancing myself with you over my shoulder, I thought I might be more stable if I kept holding you until we returned to the Musashi and went to bed."
"Maa."
Oh, good. The anteater seems to understand.
But then Futayo saw something else.
The color silver scattered about. It came from the left punch Noriki had thrown.
"Sword fragments."
He had shattered the sword Ujinao had swung and pulled back.
But this was more than just breaking the sword. The damage propagated up from the tip to the guard, instantly filling the entire blade with cracks. And then…
"Break."
With Noriki's word, the sword in Ujinao's hand was utterly destroyed.
Ujinao saw him swiftly pull his fist back.
…What was that?
She did not understand what he had just done.
She had sent a slash his way and he had responded with a punch. So why had her attack been the one to break?
She could tell he had used a spell. Her high-speed senses had detected a custom spell appear on his arm.
That was the trick. Most likely, that was not his usual January.
It was either a new spell or a modified version of the old one.
…In that case, I can't afford to carelessly test it.
That thought brought a bitter smile to Ujinao's lips. She had realized just how much the Warring States era had affected her.
She held no grudge against him. This battle was meant to bring the Siege of Odawara to an end and part of her did want to go to him if she could.
But they were both from Houjou and they were bringing Houjou to an end right here and now.
"I have one question." She spoke because she had accepted he had the power necessary to duel her. "Why did you come back now, Tokuhime-sama?"
"Good question." He nodded once. "I used to think it would be best to ignore it all, just go with the flow, and forget any of it ever happened. I thought we had two different lives and our paths had already diverged."
But…
"I realized I don't have to think that way if I'm willing to accept everything that entails," he said. "England, Date, the relationships that support me, and the entire world. If those people could carry all that weight, then surely I could take responsibility for just one person whose inherited name had ended. So…"
"So?"
"Let's end your inherited name here, Ujinao."
Ujinao sent another blade his way. But…
"I will break that and create what comes next."
He swung his right arm. Her blade shattered and the sound was all the proof one needed of its destruction. Then he explained the spell on his arm.
"Custom Spell: November. It's limited to Suwa, but when I make a counterattack, the damage from both attacks is converted into impacts and my attack is carried through to the target. Which means…"
Which means…
"This is custom made for use against you, Ujinao."
Flat Vassal: "Eh? What does that mean?"
Asama: "Um, previously, Noriki-kun's technique used three punches. The first two were used as offerings so the third one would reach the target without any kind of return force hitting him. In contrast, this new technique is limited to counterattacks, but that limitation functions as the offering to ensure it reaches the target. And it's limited to Suwa targets, which functions as another offering to also convert the damage into an impact."
Hori-ko: "So if he makes a counterattack on a Suwa opponent's attack, their attack will hit him with impact damage, but his attack is also guaranteed to reach them? That seems like a lot of extra work for nothing."
Tachibana Husband: "It is not for nothing in the current situation. This allows him to receive the Houjou Chancellor's slashes as mere impacts."
Silver Wolf: "Noriki was always a natural at punching. If he can properly block those impacts with his fist, he must think he can redirect the damage away from him. So just like he said, this spell was designed as a countermeasure for Houjou Ujinao."
"I see." Adele spread her mouth horizontally. "But I didn't know the Houjou Chancellor was Suwa."
She was answered by Neshinbara who was waiting behind them. He started by pushing up his glasses.
"Judge. Houjou's main shrine is the Rokusho Shrine. As Sagami's general shrine, its main gods are Susanoo and Kushinada, but as a general shrine, it also enshrines the gods of 5 other shrines. One of those is the Kamakura Tenmangu Shrine which enshrines a Suwa god. Thanks to that, it must have been easier for Noriki-kun to develop his spell for use against Houjou Ujinao."
"Judge. I understand everything now."
"Ohh, so you admit my explanation was a good one!?"
"Judge. Secretary, you came up with that method, didn't you? That would explain why the spell is so unnecessarily complicated."
"It isn't unnecessary! That process is a crucial part of the whole!"
"Enough," said Naomasa via divine transmission.
Smoking Girl: "I get how it's so powerful, but what about the returning force? If he hits just wrong, he could destroy his fist."
347: "Oh, no worries there. When he tested it at Suwa…"
After a pause just long enough for a sigh, Hiro continued.
347: "He had boulders launched into the air and he punched them apart as they fell toward him. He said something crazy about simply needing to 'provide the necessary amount of force and then pull back his fist', but that just shows he has some incredible instincts when it comes to punching. I guess that was obvious from his previous spell too."
A smile appeared on Ujinao's lips.
"Custom made for use against me? Just to be clear, I am a troublesome woman."
Houjou's history had not ended yet. And if it would be coming to end here.
"I will show you just how troublesome I can be."
With that, she opened her eyes. Her glowing eyes briefly wavered at the scene before them, but then they focused.
…Let us take a peek at the future, shall we? And…
"World's Steepest Mountains."
Futayo saw the multi-containers spatially ejected behind Ujinao.
Shards of light scattered as they opened and auto-drawing swords were stocked within.
…I did not get a good look at IZUMO due to where I was positioned.
Ujinao was a Chancellor and she had the equipment to match.
There were at least 50 of the variously-sized containers and there had to be at least 1000 blades stored within them.
Then Ujinao gave instructions to the blades stored behind her.
"Higane, Kurakake. Tower before me."
Two groups of a hundred each could be heard being launched.
A total of 200 blades were pulled out hilt first and then spun around. They rushed toward Noriki.
This was no longer a stabbing or slashing attack. It was a violent pressure taking the form of blades. However…
"Ohh."
The intercepting fists danced.
At first, Futayo thought she only heard a metallic sound, but then it all transformed into destruction.
"—————"
It almost sounds like shattering ice, thought Futayo.
Was this what it was like when a group of blades was broken?
There were sounds of impact and of metal crumbling and there were explosions of light and of wind. It was all created and then appeared to shrink down in the span of a breath.
…Is he going to do this?
The speed of the punches was increasing.
Noriki was moving.
He could only see metal shards and ether light around him. The only divine protections affecting him were a cooling spell and bodily reinforcement.
…But that's enough!
He had always fought like this.
And this girl was trying to join his everyday life, so what good was he if he could not accept her in his usual state?
So he simply kept punching. He stepped forward and threw his right and left fists.
"Oh!"
He punched and pulled back. He could not follow through with his punches. If he did, the returning force would cause more damage to his fists than necessary. Any damage that the cooling could not heal would lead him to failure.
So he avoided the follow through and immediately moved on to the next punch.
But the blades flying his way seemed endless. If he had to throw a punch for each and every one, he could never keep up. He had to hit multiple blades with each punch and intercept just the ones that were going to hit him.
He tried to maintain a standard of 5 swords per punch. With a left-right combo, he could shatter 10 swords per attack.
So that was what he did.
"Ah."
Even breathing felt like it took too much time.
…Honestly.
If it was the Vice Chancellor, one of the Special Duty Officers, or someone else with that level of combat instincts and skill, Noriki was certain they could break through this with some other, more obvious power.
But he could not do that.
Due to his family issues, he had spent most of his elementary and middle school years on things other than combat training. That had been important for him and the rest of his family, but he could not deny it had left him trailing behind the others.
So he had devoted himself. Devoted himself to a single attack.
So that his attacks would actually mean something and so that he could survive.
But even with that, working as one of their primary fighters had not been easy. Especially with how much the others had grown from their recent combat experience. The gap between them and him only continued to grow.
So he was fine only clinching a few important points. If he could be of some use, he could somewhat make up for the trouble and worry he had caused them by the many years he lagged behind.
…Honestly!
Noriki heard Ujinao's voice as she raised her arms.
"Yagura, Myoujin. Support me from behind."
She swung her arms behind her with a magnificent sweep and two hundred more swords were added.
Noriki thought to himself while he started punching them.
…This is my dream!
That was so long ago, thought Noriki in his heart.
In elementary school, they demanded we describe our dreams. Well, maybe demanded is taking it too far, but we had to write an essay on it.
Yes, and what was it he had written back then?
"I want to be someone who can take care of everyone!"
He had been young and ignorant back then. By "everyone", he had meant his family, but he had not understood the distinction between "family" and "clan".
So who had he meant? His father who had thought committing suicide was his duty to Houjou and would "benefit everyone" because it would bring the issue to an end? Or had he meant his mother and siblings?
At the time, he had not really known.
But now he did. Now that he had a stable income from work and had a decent view of his future, he understood.
He could have a family of his own.
So that was his dream.
His father had once destroyed Noriki's family by removing himself from it. So…
"I'll remake it as my own!!"
His father had severed their ties to Houjou. And now…
"I will do it myself!"
But a certain girl was still bound by that. Her prosthetic eyes of foresight had been made by sealing her father's life inside. They were meant to protect her, but they also bound her.
…I understand.
After all, her body and prosthetic eyes had originally been designed in case the future queen of Houjou turned out to be sickly. In other words…
…That easily could have been me!
He gathered his resolve.
The version of himself he had left in Houjou stood before him.
So he would fulfill all of that and create nothing more than an innocent girl.
Yes, that's right.
He had intellectually known this, but until now he had never truly understood it in his heart. So he could say it here.
"That is the beginning of my dream!"
He raised his voice and threw his next punch.
"Tounomine, Hakugin. Hike the summits."
200 more swords flew in from sharp angles.
"Oh…no!"
Adele heard Suzu's voice while she waited on the hilltop.
She knew Noriki had to still be fighting the Houjou Chancellor at Odawara Castle.
Suzu was monitoring that using the Musashi's sensors. But…
"Oh, no? Did something happen?"
"Noriki-kun is…getting tired."
Yeah, I imagine he is, thought Adele, but that was actually a big deal.
She could see Odawara Castle in the distance. The duel there reached her as scattering ether light, metal fragments, and loud noises.
A direct hit from any of that would not end well for Noriki. But…
"Ah."
The flashes of light grew in number. Houjou Ujinao was sending in even more blades.
Ujinao watched his movements.
Her eyes could see a bit into the future and that showed her he was still unharmed. However…
"Byoubu, Kintoki. Seal the valley."
That made a total of 800.
Given the gap of around a dozen years, that was nowhere near enough. It was not enough for even one stabbing blade a day.
She wanted more. Otherwise…
…I cannot give him the answer he wants.
He was telling her to test him.
He was telling her to throw everything at him so he could prove whether or not he was worthy of accepting everything of hers.
…I'm sorry.
I hope you can forgive me for only testing you with around a 1000 swords.
But to make up for that…
"——————"
Ujinao viewed the future. It was such a close future she felt like she could reach out and touch it. That power had protected and saved her so many times before.
The Advance Samsara provided by her vision was useful in ensuring her attacks hit and her enemy's did not.
But she also thought something else while sending out sword after sword as her duty to Houjou.
…Please survive!
The person before her would destroy Houjou.
If he did not survive this, history and process would cause Houjou to simply disappear.
But if he survived, Houjou could depart and go to another land.
It would not disappear.
It would depart.
So she hoped he survived.
But she had to test him.
…Honestly.
What was even happening here? She was using the prosthetic eyes that bound her to her father, but she likely had never intended to actually defeat this boy.
When she read the future, she was confirming that he was still safe and feeling relief.
The duality inside her was so very convenient. She did not hold back with any of the swords she sent out and she sent them toward any opening she saw. And yet…
…Please.
"End Houjou."
The Later Houjou clan had existed for about 200 years since the Kamakura shogunate and it ruled over 8 Kantou nations.
…End Houjou here!
But his stance was starting to slip downwards.
He was tiring. She was an automaton and she could continue to make her high-speed attacks with the help of World's Steepest Mountains, but he was different.
Still, she did not hold back. Half measures were not what he wanted.
If he wanted her to test him, then that was what she would do. So…
"Mikuni."
And…
"Kami."
The last group of 200 accelerated swords was launched toward him with a spell.
Ujinao saw the clash of light.
He was enveloped by that light.
…So it was too much for him.
He could not keep up and he was swallowed up by the swords.
That must be what happened, she thought, so she felt no hesitation and did not hold back.
"Stomp your feet."
With those words, the light was slammed against him.
Futayo saw a certain phenomenon before her.
It was a rejection and explosion of light.
It was obvious what this meant.
Noriki had poured all his strength into his fist and shattered around a dozen blades at once.
But there was something odd about his movement. He had seemed so very exhausted before, but now he seemed to have come back to life.
"Ahhhhh!"
He gave a roar, gathered strength in his legs, and stomped his foot.
Immediately, the castle's inner citadel was soaked with a cold sound.
It was water.
The artificial lake's stabilized water had caused all of the rivers to rise. The city had a dry river bed to carry out the excess water, but Odawara Castle only had some hastily dug ditches.
Some shallow water flowed across the ground at the inner citadel. And…
"…!"
Splashing water joined the movement of combat.
Light burst and shattered and the splashing water reflected it all. The soaring light looked like fireflies rising into the sky. Ether light danced in the wind and illuminated the two locked in combat in the center.
But Futayo also saw the trick behind Noriki's recovery and acceleration.
"The idiot's ether supply!"
On her shoulder, Masazumi responded with a sigh. And she rested her head in her hand.
"Took you long enough, idiot. Don't make a non-officer fight a war on his own."
"Hey!"
Noriki heard Toori's voice.
"You're taking that girl back with you, right!? Then show her how we do things in Musashi! And tell her!"
He listened to the other boy's words.
"Tell her she won't be alone if she's with us."
The corners of Noriki's mouth bent upwards.
…That's true.
He had fallen behind, but the others had accepted him without saying a word.
Whether or not you were alone had nothing to do with whether or not anyone said anything to you.
It was whether or not you could be there with them. So…
"Come!"
Noriki destroyed the swords and, this time, stepped forward. He inhaled and threw a punch as if reaching out his hand.
"Ujinao!"
But Ujinao shook her head. She was saying "not yet".
And in response, that demonic girl danced beyond the continuing cascade of blades.
"Myoujou."
Ujinao used an instant launch to send out the anti-god of war sword atop her shoulder.
The 10m white scabbard was like a cannon. When the inner shell contacted the outside air, the outer shell was also launched. Both of them slid into position to fit together.
By that point, several torii-style emblems rotated along the scabbard as if slicing it into segments.
Then Ujinao gave the signal.
She launched that power to pierce the light and reach him as he attempted to move forward.
"Be as you were."
She spoke quietly as she drew Myoujou.
First, the scabbard raced backwards with a solid sound and an explosion of ether light came from within.
Myoujou was launched with the force of a cannon. It flew down toward him in an arc.
"…!"
This was his final test.
Futayo's eyes were glued to the sword before them.
…Splendid!
Anti-god of war swords were always worn down and chipped.
But not this one being swung down in front of her. It was a well-maintained weapon with no clouding or scratches.
"It would be an honor to be cut down by such a fine weapon!"
"Wait, wait! Don't get me killed along with you!"
But Noriki's spell was for intercepting an attack. There was only so much damage he could stop with it. A normal sword was one thing, but he would not have expected one like this.
However, his next action seemed to reject that idea.
He held both arms overhead and spoke.
"With three punches, I will defeat Houjou!"
He first threw his right.
"Custom Spell: March – Activate!"
Adele heard the triple blow as she stood on her tiptoes to watch from the hill.
She knew what Noriki had done. He had attempted to destroy the giant sword with the three-punch combo starting with March. But…
"There's no way that's powerful enough!"
347: "Oh, you don't have to worry about that. He strengthened that spell when it's used against Suwa people."
So…
347: "I thought he couldn't counter the first test boulder after it hit the ground, but he managed to destroy it using that. He really did prepare for everything."
Then Adele heard the sound of splitting metal.
Light exploded on the battlefield as the sword shattered.
Everyone saw the destruction of the sword, the subsequent self-destruction of the container launchers, and…
"…!"
Ujinao's arms could not handle the feedback, so they split and imploded from fingers to elbow.
But she still moved. She let out a heated breath and used her broken hand to draw a sword from her hip. And…
"It is over." She smiled. "I will now assist in Houjou Ujimasa's seppuku to take responsibility for the Siege of Odawara."
With that, she sent the blade toward her face.
It sliced apart the eyes there and the light coming from them.
After the sword fell from her limp hand, she face Noriki once more.
"I have no need for eyes that misread the future. I believe my father is also apologizing for his failure."
Noriki nodded toward Ujinao without even wiping the sweat from his brow.
He knew this was her idea of a conclusion.
"I see. I was kind of hoping I could speak with your father at least once."
"Why?"
He pulled a piece of paper from his pocket and held it up while her closed eyes shed tears of blood.
Even with her eyes closed, he knew she could read it using her other senses.
He had prepared this before leaving the Suwa Shrine.
"It's a marriage registration form. Let's get married, Ujinao."
Everyone gasped. Sign frames appeared so everyone on the hill and on the Musashi were present.
Inside one of those sign frames, Neshinbara lowered his hands to below his knees and then raised them.
"Three, two, one, go."
And they all shouted at once.
"Lead with that!!"
That's not really how it works, thought Noriki.
But the girls were discussing their complaints and criticism among themselves and the boys looked exasperated.
Nevertheless, there was one person smiling.
"Ujinao."
"Yes?"
"Learn to cook. Also how to do laundry, how to clean, and especially how to get along with my relatives and the neighbors. Let's talk about the events of the day with each other and, if anything is bothering you, don't hesitate to discuss it with me. And…"
Noriki thought of his father and of the family he still had with him.
"Live a long life. If you do that, then I'll always take care of you. That is my dream."
She nodded with a smile. Real tears diluted the bloody ones and they both vanished into the water flowing at her feet.
Houjou would be washed away and cleansed with water.
And Ujinao nodded again while still smiling.
"I look forward to complaining after I outlive you, Noriki-sama."
"Judge." Noriki nodded and then looked back at the others. "Hey, why are you splashing around in the water so much? Was I that annoying?"
"Huh?" They all turned around and spoke in unison. "If you get that, don't say anything!"
And at 9:50 PM, the end of the Siege of Odawara was officially declared.
Each nation began negotiating over their rights while they also rested and began preparing for the Kantou Liberation.
Since preparations were already underway, the Kantou Liberation was set to begin at 2 AM the next day.
That gave them approximately four hours to rest and travel.