Kagerou Days
From Baka-Tsuki
Note: This Project has been declared as Abandoned!
and was taken down.




Please see Template:Abandoned for further information about this classification.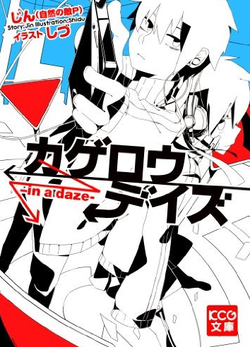 The Kagerou Project (カゲロウプロジェクト Kagerō Purojekuto, lit. "Heat Haze Project"), also known as Kagerou Daze (but commonly referred to as Kagerou Days), is a Vocaloid song series created by Jin (also known as Shizen no Teki-P). The story revolves around the Mekakushi Dan (メカクシ団, lit. "Blindfold Gang"), a group of teenagers with unusual powers, dubbed Eye Abilities.
The series became popular on the video sharing website Niconico after the release of the song Kagerou Daze (カゲロウデイズ lit. Heat Haze Days), which also gave the series its name. The song has amassed over 3 million views and is the most popular song of the project. Four light novels have been released, written by Jin and illustrated by Shidu. A fifth novel has been announced. A manga adaptation with illustrations by Satou Mahirou, began serialization in the Monthly Comic Gene on August 28, 2012.
On August 15, 2013 it was announced that an anime adaptation of Kagerou Project, called Mekaku City Actors (メカクシティアクタース?), had been greenlit. The anime will be directed by Akiyuki Shinbo at Shaft.
Yen On lists Kagerou Daze novel for a February 2015 release on the distributor site.

The Kagerou Days series is also available in the following languages:
Note: Translation progress may vary for each language.
Story Synopsis
Shintaro Kisaragi is an 18-year old hikiNEET who hasn't left his room in two years, engrossing himself with his computer and the internet. However, on August 15, due to the messing about of the cyber girl Ene, who lives inside his computer, Shintaro spills soda on his computer keyboard and is forced to buy a new one. However due to the fact that this takes place during the Obon festival, none of the stores will deliver until the 17th, forcing him to go outside. Shintaro goes to the department store, where a group of criminals break in and hold the people inside hostage for ransom. There, he comes in contact with a group of teenagers calling themselves the "Mekakushi Dan", who stop the robbery with their mysterious eye powers and force Shintaro into joining their group.

Before this occurs, Shintaro's younger sister, Momo Kisaragi, is a popular idol who has the ability to attract people's attention. This is due to the "Drawing Eyes" ability, which she cannot control and causes people to look at her wherever she goes. One day, while fleeing from a horde of fans, she meets the Mekakushi Dan leader, Tsubomi Kido, who invites Momo to join, which she does. While meeting the first four members of the Mekakushi Dan, Mary trips and gets Momo's phone wet, and they all go to the department store to buy a new phone for Momo. Kido uses her ability to keep people from staring at Momo, but while in the store, they find that Shintaro is there at the same time. The terrorists break in and take all the shoppers hostage, but Kido, Momo, Mary, and Kano are invisible and thus do not get caught. They work together to stop the heist, though Shintaro passes out, and they bring him to their hideout and induct him and Ene as members once the former awakens. They all go to the amusement park and have fun afterwards.
Series Information
Genre: Action, Comedy, Supernatural, Romance.
Original Title: カゲロウ・デイズ
Author: Jin (Shizen no Teki-P)
Illustrator: Shidu
Published Volumes: 5
Series Status:Ongoing
Translation
Format Standards
Every chapter (after editing) must conform to the general format guidelines.
Translators are asked to Register the chapters they want to work on.
Feedback Thread
If you enjoyed the translation, why don't you tell us at the Feedback Thread.
Updates
Kagerou Daze II completed (28/05/14)
Kisaragi Attention completed (28/05/14)
Kagerou Daze III completed (28/05/14)
Mekakushi Code completed(5/06/14)
Volume 1 Afterword completed (5/06/14)
Headphone Actor II completed (8/06/14)
Headphone Actor III completed (8/06/14)
Yuukei Yesterday III completed (9/06/14) - Note: Headphone Actor IV is listed as a part of Yuukei Yesterday III, not a separate chapter
Reminiscence Forest completed (11/06/14)
Volume 2 Afterword (11/06/14)
Kagerou Days by Jin
Volume 1 ~In a Daze~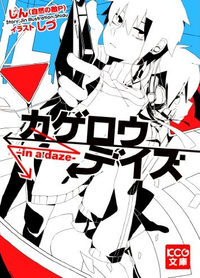 Novel Illustrations
Kagerou 1 - Kagerou Daze I
Chapter 1 - Artificial Enemy
Kagerou 2 - Kagerou Daze II
Chapter 2 - Kisaragi Attention
Kagerou 3 - Kagerou Daze III
Chapter 3 - Mekakushi Code
Epilogue
~Afterword "A story that makes one want to hide one's eyes"~
Volume 2 ~A Headphone Actor~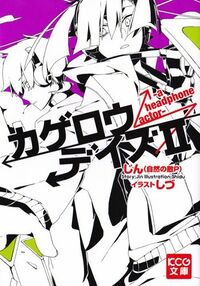 Novel Illustrations
Chapter 1 - Headphone Actor I
Chapter 1.5 - Yuukei Yesterday I
Chapter 2 - Headphone Actor II
Chapter 2.5 - Yuukei Yesterday II
Chapter 3 - Headphone Actor III
Chapter 3.5 - Yuukei Yesterday III
Chapter 4 - Reminiscence Forest
~Afterword "A story unbearable to look at"~
Volume 3 ~The Children Reason~
Novel Illustrations
Chapter 1 - Konoha's State of the World
Chapter 2 - Kagerou Daze 01
Chapter 3 - Children Record I
Chapter 4 - Kagerou Daze 02
Chapter 5 - Children Record II
Chapter 6 - Kagerou Daze 03
Chapter 7 - Otsukimi Recital
Chapter 8 - Kagerou Daze IV
Chapter 9 - Opening Panzermast
Afterword
Volume 4 ~The Missing Children~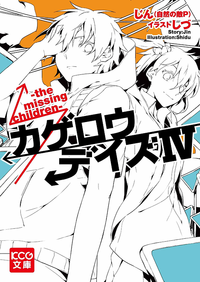 Novel Illustrations
Prologue
Chapter 1 - Shinigami Record I
Chapter 2 - Children Record III
Chapter 3 - Shinigami Record II
Chapter 4 - Children Record IV
Chapter 5 - Shinigami Record III
Chapter 6 - Children Record V
Chapter 7 - Shinigami Record IV
Chapter 8 - Children Record VI
Chapter 9 - Headphone Actor V
~Afterword "A Story of Decaying Eyes"~
Volume 5 ~The Deceiving~
Novel Illustrations
[Kagerou Days:Volume 5 Chapter 1|Chapter 1: Yobanashi Deceive 0
On a rooftop one day
Chapter 2: Yobanashi Deceive 1
Chapter 3: Yobanashi Deceive 2
Chapter 4: Yobanashi Deceive 3
Chapter 5: Yobanashi Deceive 4
On a road one day
Chapter 6: Yobanashi Deceive 5
Epilogue: On a road named "Today"
Afterword
Project Staff
Project Administrator:
Project Manager:
Translators
Editors
Series Overview
Japanese releases
カゲロウデイズ -in a daze- ---(May 30, 2012, ISBN 978-4-04-728059-5)
カゲロウデイズII -a headphone actor- ---(September 29, 2012, ISBN 978-4-04-728339-8)
カゲロウデイズIII -the children reason- ---(May 30, 2013, ISBN 978-4-04-728944-4)
カゲロウデイズIV -the missing children- ---(August 30, 2013, ISBN 978-4-04-729099-0)
カゲロウデイズV -the deceiving- ---(March 29, 2014, ISBN 978-4-04-729530-8)
カゲロウデイズVI -over the dimension- ---(March 30, 2015, ISBN 978-4-04-730326-3)
カゲロウデイズVII -- ---(August 29, 2016, ISBN TBA)
English releases
Kagerou Daze, Vol. 1: In a Daze ---(May 19, 2015, ISBN 978-0-316-25947-7)
Kagerou Daze, Vol. 2: A Headphone Actor ---(September 22, 2015, ISBN 978-0-316-34204-9)
Kagerou Daze, Vol. 3: The Children Reason ---(January 26, 2016, ISBN 978-0-316-30875-5)
Kagerou Daze, Vol. 4: The Missing Children ---(July 19, 2016, ISBN 978-0-316-30876-2)
Kagerou Daze, Vol. 5: The Deceiving ---(September 20, 2016, ISBN 978-0-316-54528-0)
Kagerou Daze, Vol. 6: Over the Dimension ---(January 24, 2017, ISBN 978-0-316-46664-6)
Kagerou Daze, Vol. 7: ---(TBA)