Kanon
Jump to navigation
Jump to search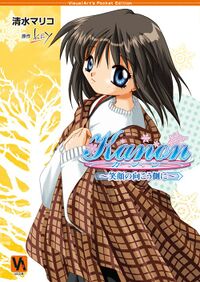 Five adult light novels written by Mariko Shimizu and published by Paradigm were released in Japan between December 1999 and August 2000. The cover art and internal illustrations were drawn by Itaru Hinoue, the artist who drew the artwork in the visual novel. The basis for each novel was one of each of the five heroines and had titles that were taken from the musical themes pertaining to each character in the original game. (by Kanon wiki)
As of May 2014, there are 6 volumes published.
Story Synopsis
Warning
This light novel is rated Mature and is considered for Adults (18+) only.
If you are below the age of consent in your respected country, you are advised to stop immediately and leave this project page.
By continuing to read or be involved in this project, you are agreeing to the terms of our Disclaimer.
Translation
Translators are asked to register which chapters they're working on.
Format Standards
Feedback
Updates
January 31, 2014: Page created
January 31, 2014: Volume 1 Completed
June 18, 2014: Volume 2 Completed
June 20, 2014: Volume 3 Prologue Completed
The Kanon series by Mariko Shimizu
Volume 1 : Girl in the Snow (Full Text)
Volume 2 : Beyond the Smile (Full Text)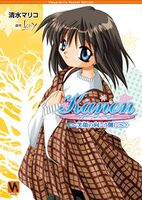 Volume 3 : Girl's Prison
Project Staff
Supervisor:
Project Manager:
Translators
Editors
Series Overview
新書
Kanon 雪の少女 (パラダイムノベルス 58)--1999/10/23--ISBN 978-4894900585
Kanon 笑顔の向こう側 (パラダイムノベルス 76)--1999/12/16--ISBN 978-4894900769
Kanon the fox and the grapes (パラダイムノベルス 90)--2000/5/23--ISBN 978-4894900905
Kanon 日溜まりの街 (パラダイムノベルス 94)--2000/8/1--ISBN 978-4894900943
Kanon Anthology Novel
Kanonアンソロジー・ノベル (JIVE CHARACTER NOVELS)--2004/09--ISBN 978-4861760020
Kanonアンソロジー・ノベル〈2〉 (JIVE CHARACTER NOVELS)--2004/12--ISBN 978-4861760464
文庫
Kanon 雪の少女 (VA文庫 3)--2009/6/27--ISBN 978-4894906235
Kanon 笑顔の向こう側 (VA文庫 4)--2009/7/30--ISBN 978-4894906242
Kanon 少女の檻 (VA文庫 5)--2009/9/30--ISBN 978-4894906259
Kanon the fox and the grapes (VA文庫 6)--2009/11/30--ISBN 978-4894906266
Kanon 日溜まりの街 (VA文庫 7)-- 2009/12/20--ISBN 978-4894906273
Kanon ~彼女たちの見解~ (VA文庫 8)--2011/3/31--ISBN 978-4894906280
Project Status
Project Status: Approved