Kantai Collection -Kan Colle- Kagerou, Batsubyou Shimasu!
Jump to navigation
Jump to search
| | |
| --- | --- |
| | This Teaser Project has not yet reached Full Project status requirements. |
Help this project out by joining the translation team! — Learn more about Full Project Approval Requirements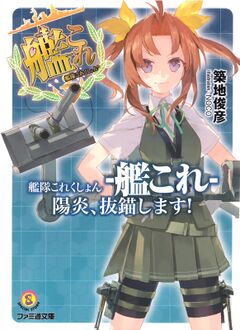 Kantai Collection -Kan Colle- Kagerou, Batsubyou Shimasu! (艦隊これくしょん -艦これ- 陽炎、抜錨します!) is a light novel series written by Toshihiko Tsukiji. The illustrations are done by NOCO. The series is completed and consist of 7 volumes, and published by Enterbrain under their Famitsu Bunko label.
Story Synopsis
[
edit
]
Kagerou, a Kanmusu stationed in Yokosuka Naval Base. As the nameship of the Kagerou class, she pushed herself to do her best in training, but things didn't go very well. In reality, Ushio, Arare, Satsuki, Nagatsuki, and Akebono—Kanmusus that were added into the same fleet as her—caused by their respective reasons were all failing Kanmusu who could not get themselves a place in other fleets! Kagerou, with her stationing delayed and getting in last out of all of them, finding herself stuck in such a fleet and thus, her daily life in Yokosuka Naval Base began.
The long-awaited official novelization of the famous [KanColle] has now appeared as a Famitsu paperback edition!
Updates
[
edit
]
August 27, 2015 - Chapter 2 Completed
August 09, 2015 - Chapter 1 Completed
August 08, 2015 - Page created
Translation
[
edit
]
Those who wish to contribute are asked to first notify a supervisor beforehand.
Translators are asked to register which chapters they're working on
Every Chapter (after editing) must confirm to Names and Terminology Guidelines & The General Format/Style Guidelines.
Kantai Collection -Kan Colle- Kagerou, Batsubyou Shimasu! series by Toshihiko Tsukiji
[
edit
]
Project Staff
[
edit
]
Supervisor:
Project Manager:
Translators
[
edit
]
Series Overview
[
edit
]
Volume 1 - 艦隊これくしょん -艦これ- 陽炎、抜錨します! (November 30, 2013, ISBN 978-4047292666)
Volume 2 - 艦隊これくしょん -艦これ- 陽炎、抜錨します! 2 (February 28, 2014, ISBN 978-4047294615)
Volume 3 - 艦隊これくしょん -艦これ- 陽炎、抜錨します! 3 (July 30, 2014, ISBN 978-4047297685)
Volume 3 Limited Edition - 特装版 艦隊これくしょん -艦これ- 陽炎、抜錨します! 3 (July 30, 2014, ISBN 978-4047297692)
Volume 4 - 艦隊これくしょん -艦これ- 陽炎、抜錨します! 4 (December 26, 2014, ISBN 978-4047301122)
Volume 4 Limited Edition - 特装版 艦隊これくしょん -艦これ- 陽炎、抜錨します! 4 (December 26, 2014, ISBN 978-4047301139)
Volume 5 - 艦隊これくしょん -艦これ- 陽炎、抜錨します! 5 (March 30, 2015, ISBN 978-4047303072)
Volume 5 Limited Edition - 特装版 艦隊これくしょん -艦これ- 陽炎、抜錨します! 5 (March 30, 2015, ISBN 978-4047303065)
Volume 6 - 艦隊これくしょん -艦これ- 陽炎、抜錨します! 6 (August 29, 2015, ISBN 978-4047306523)
Volume 7 - 艦隊これくしょん -艦これ- 陽炎、抜錨します! 7 (December 26, 2015, ISBN 978-4047308558)
Volume 7 Limited Edition - 特装版 艦隊これくしょん -艦これ- 陽炎、抜錨します! 7 (December 26, 2015, ISBN 978-4047308565)