Kono Subarashii Sekai ni Shukufuku o! ~ (German)
From Baka-Tsuki
| | |
| --- | --- |
| | This Teaser Project has not yet reached Full Project status requirements. |
Help this project out by joining the translation team! — Learn more about Full Project Approval Requirements
Kono Subarashii Sekai ni Shukufuku o! (この素晴らしい世界に祝福を!, Gifting the Wonderful World with Blessings!) ist eine japanische Light Novel Reihe, die von Akatsuki Natsume geschrieben und von Mishima Kurone illustriert wurde. Im Moment hat die Reihe 7 Bänder. Die Anime Adaption lief vom 14. Januar 2016 bis zum 7. März 2016.
Die Series Kono Subarashii Sekai ni Shukufuku o! ist in den folgenden Sprachen verfügbar:
Beschreibung
[
edit
]
Die Komödie, die in einer anderen Welt spielt, handelt von Kazuma Satō, einem Hikkikomori, der aufgrund eines Verkehrsunfalls stirbt ... oder das sollte er zumindest, doch er wacht auf und sieht ein hübsches Mädchen, dass sich ihm als eine Göttin vorstellt. "Hey, ich habe großartige Neuigkeiten für dich - würdest du gerne in eine andere Welt gehen? Du darfst nur eine Sache, die du magst, mitnehmen." Er antwortet: "Dann nehme ich dich mit!" Sofort wird er in die andere Welt transportiert und sein Abenteuer, den Dämonenkönig zu besiegen, beginnt ... wenn er nicht vorher noch Essen, Kleidung und eine Unterkunft finden müsste. Kazuma will in Frieden leben, aber die Göttin bringt ein Problem nach dem anderen mit sich und die Armee des Dämonenkönigs hat seine Augen auf ihn gerichtet.
Übersetzung
[
edit
]
Diese Reihe wird von Nanatsu übersetzt.
Updates
[
edit
]
Die Kono Subarashii Sekai ni Shukufuku o! Reihe von Akatsuki Natsume

[

edit

]
Volume 1: Ah! My Useless Goddess!
[
edit
]
Volume 2: Even with Chuunibyou, I Want to Be a Witch!
[
edit
]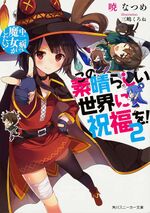 Volume 3: They are calling for you, Darkness-san!
[
edit
]
Volume 4: The Useless Quartet
[
edit
]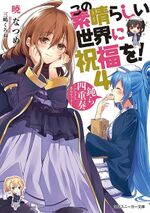 Volume 5: Let's Go, Crimson Magic of Explosion!
[
edit
]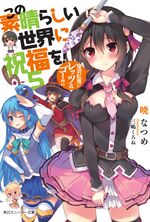 Volume 6: The Princess of the Six Flowers
[
edit
]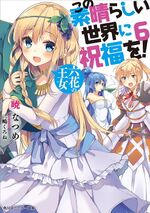 Volume 7: 110 Millions Bride (Priceless Bride)
[
edit
]
Volume 8: Axis Kyoudan VS Eris Kyoudan
[
edit
]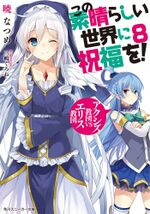 Volume 9
[
edit
]
Megumin Spinoff 1
[
edit
]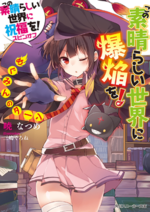 Vanir Spinoff 1
[
edit
]
Serien Überblick
[
edit
]
《この素晴らしい世界に祝福を! あぁ、駄女神さま》, 2013-09-28, ISBN 978-4-0410-1020-4
《この素晴らしい世界に祝福を! (2) 中二病でも魔女がしたい!》, 2013-11-30, ISBN 978-4-0410-1110-2
《この素晴らしい世界に祝福を! (3) よんでますよ、ダクネスさん。》, 2014-02-28, ISBN 978-4-0410-1242-0
《この素晴らしい世界に祝福を! (4) 鈍ら四重奏 ~ナマクラカルテット~》, 2014-04-26, ISBN 978-4-0410-1570-4
《この素晴らしい世界に祝福を! (5) 爆裂紅魔にレッツ&ゴー!!》, 2014-08-30, ISBN 978-4-0410-1571-1
《この素晴らしい世界に祝福を! (6) 六花の王女》, 2015-02-28, ISBN 978-4-04-102267-2
《この素晴らしい世界に祝福を! (7) 億千万の花嫁》, 2015-08-29, ISBN 978-4-0410-3539-9