Kurenai
Jump to navigation
Jump to search
| | |
| --- | --- |
| | This Teaser Project has not yet reached Full Project status requirements. |
Help this project out by joining the translation team! — Learn more about Full Project Approval Requirements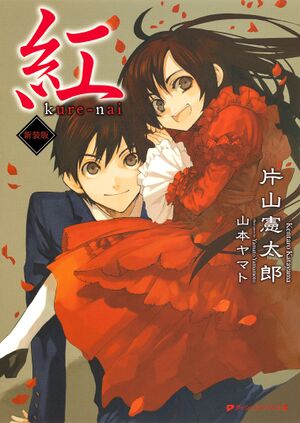 Kurenai (紅) is a light novel series written by Kentarou Katayama and illustrated by by Yamato Yamamoto. It has an anime adaptation as well as an ongoing manga adaptation written and illustrated by the original author and illustrator.
As of April 2016, there are 4 volumes published.
Story Synopsis
[
edit
]
Kurenai Shinkurou is a high school student who works as a dispute mediator. One day, he is given the job of protecting a young girl by the name of Kuhouin Murasaki. He must now live with the young girl and act as her bodyguard.
Translation
[
edit
]
Translations and editing by Nanodesu.
Registration
[
edit
]
Translators are asked to register which chapters they're working on (see the Guideline page for usage rules).
Format Standards
[
edit
]
Every Chapter (after editing) must conform to the agreed points highlighted in the below guidelines
Updates
[
edit
]
07 April 2016 - Volume 1 Chapter 3
03 August 2015 - Volume 1 Chapter 2
18 March 2015 - Volume 1 Chapter 1 (Nanodesu)
12 August 2013 - Volume 1 Afterword
14 February 2012 - Kurenai teaser project begun, Volume 1 Chapter 1.
The Kurenai series by Kentarou Katayama

[

edit

]
This novel is hosted from Nanodesu.
All main links below are external links to NanoDesu
 

Kurenai

[

edit

]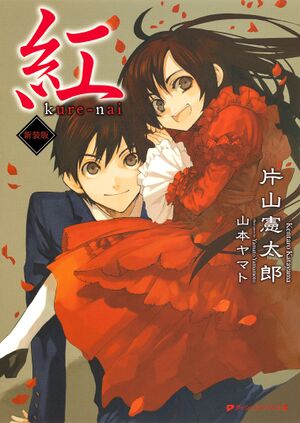 Chapter 2 - Under One Roof
Chapter 3 - The Hozuki Family
Chapter 4 - First Kiss
Chapter 5 - The Darkness of the Kuhoins
Chapter 6 - Reach Out Your Hand
Chapter 7 - And Now I Go
 

Kurenai: Guillotine

[

edit

]
Novel Illustrations
Chapter 1
Chapter 2
Chapter 3
Chapter 4
Chapter 5
Chapter 6
Chapter 7
Afterword
 

Kurenai: Ugly Festival Part 1

[

edit

]
Novel Illustrations
Chapter 1
Chapter 2
Chapter 3
Chapter 4
Chapter 5
Afterword
 

Kurenai: Ugly Festival Part 2

[

edit

]
Chapter 6
Chapter 7
Chapter 8
Chapter 9
Special Feature
Special Feature 2
Finale
Project Staff
[
edit
]
Translators
[
edit
]
Series Overview
[
edit
]
紅 (20 December 2005, ISBN 4-08-630272-1)
紅 〜ギロチン〜 (25 July 2006, ISBN 4-08-630290-X)
紅 〜醜悪祭〜(上) (22 November 2007, ISBN 978-4-08-630342-2)
紅 〜醜悪祭〜(下) (25 April 2008, ISBN 978-4-08-630416-0)
紅 (19 December 2014, ISBN 978-4-08-631012-3)(*)
紅 ~ギロチン~ (19 December 2014, ISBN 978-4-08-631013-0)(*)
紅 ~醜悪祭~ (19 December 2014, ISBN 978-4-08-631014-7)(*)
紅 ~歪空の姫~ (19 December 2014, ISBN 978-4-08-631015-4)(*)
(*) Re-release