Kuusen Madoushi Kouhosei no Kyoukan
From Baka-Tsuki
Note: This Project has been declared as Abandoned!
and was taken down.




Please see Template:Abandoned for further information about this classification.
Translations for this project were removed according to a DMCA request from its publisher. Project status pending further review.
Kuusen Madoushi Kouhosei no Kyoukan (空戦魔導士候補生の教官) is a Japanese light novel series written by Yuu Moroboshi, illustrated by Mikihiro Amami and published by Fujimi Shobo on their imprint Fujimi Fantasia Bunko.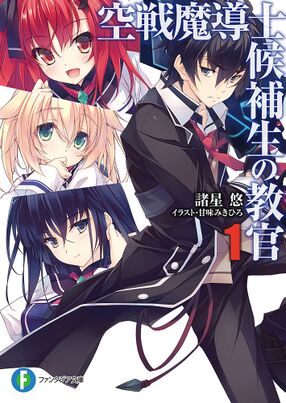 Story Synopsis
[
edit
]
The story is set in a world where humanity, driven off the land by the threat of magical armored insects, now live in aerial floating cities. Thus wizards - aerial combat mages who fight the insects with magical powers - came into being.
Kanata Age is a young man who lives on the floating wizard academy city of "Mistgun". He was once celebrated as the "Black Master Swordsman," the elite ace of the S128 special team. However, he is now despised as the "traitor of the special team." One day, he is assigned as the instructor of E601, a team that has suffered 10 consecutive defeats. E601 has three girls - Misora Whitale, Lecty Eisenach, and Rico Flamel - with one or two peculiar quirks.
Updates
[
edit
]
December 23, 2014 - Volume 1, Novel Illustrations uploaded
December 15, 2014 - Volume 1, Prologue uploaded
December 15, 2014 - Project created
Translation
[
edit
]
Format Standards
[
edit
]
Every chapter (after editing) must conform to the general format guidelines.
Translators are asked to Register the chapters they want to work on.
Feedback Thread
[
edit
]
If you enjoyed the teaser, why don't you tell us in the Feedback Thread
Kuusen Madoushi Kouhosei no Kyoukan by Yuu Moroboshi

[

edit

]
Volume 1: Kuusen Madoushi Kouhosei no Kyoukan (空戦魔導士候補生の教官)
[
edit
]
Project Staff
[
edit
]
Supervisor:
Project Manager: Bowguyz
Translators
[
edit
]
Active
Inactive
Editors
[
edit
]
Active
Inactive
Project Status
[
edit
]
Project Status: Teaser