Maou na Anoko to Murabito A
Jump to navigation
Jump to search
| | |
| --- | --- |
| | This Teaser Project has not yet reached Full Project status requirements. |
Help this project out by joining the translation team! — Learn more about Full Project Approval Requirements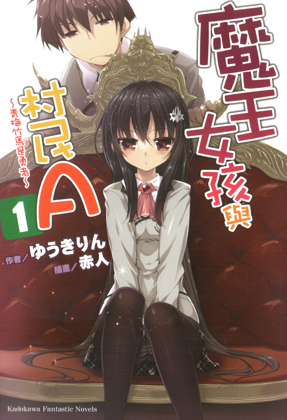 Maou na Anoko to Murabito A (魔王なあの娘と村人A), or otherwise known as "That Demon Lord Girl and Villager A" is a light novel written under the pen name Yuukirin(ゆうきりん) and illustrated by Akahito (赤人).
First Published by Dengeki Bunko in 2011, the series currently has 10 volumes.
Story Synopsis
[
edit
]
The school is a training ground for people who become part of the Fantasy world. Unfortunately, very few people have <<Warrior>> or <<Wizard>> types of 'Character', a large majority of people can only become a <<Villager>>.
I, Satou, am also one of the <<Villagers>>. One day, I attracted the attention of a girl bearing the characteristics of a <<Maou>> - Ryuugamine Ouko. She is cute as well as nice and courteous, however, she will unexpectedly say, "I really want to exterminate humankind" or other similar phrases. I really wish she could change a bit. I am also the childhood friend of a maddening and rebellious <<Hero>> - Hikarigaoka Tsubasa, a person who would always bring about trouble. She is a super beautiful girl. Whenever she thinks of something, she will recklessly and thoughtlessly advance forward...
As the person caught in the middle, what should I do?!
(Translated from blurb)
Updates
[
edit
]
Maou na Anoko to Murabito A:Updates
More here.
Translation
[
edit
]
Those who wish to contribute are asked to first notify a supervisor beforehand.
Translators are asked to register which chapters they're working on
Format Standards
[
edit
]
Every chapter (after editing) must conform to the general format guidelines.
Feedback
[
edit
]
Discuss this series in the forum
The 'That Demon Lord Girl and Villager A' series by Yuukirin
[
edit
]
Volume 1 - Childhood Friend is a Hero
[
edit
]
Project Staff
[
edit
]
Supervisor:
Project Manager:
Translators
[
edit
]
For information on what chapter each translator is working on, please consult the Registration Page.

ACTIVE
INACTIVE
Translation Checkers
[
edit
]
Editors
[
edit
]
Inactive
[
edit
]
Series Overview
[
edit
]
That Demon Lord Girl and Villager A Volume 1 - 魔王なあの娘と村人A 〜幼なじみは勇者です〜 (May 10, 2011) ISBN 978-4-04-870513-4
That Demon Lord Girl and Villager A Volume 2 - 魔王なあの娘と村人A 2 〜牛と勇者とパンプキン〜 (November 10, 2011) ISBN 978-4-04-870877-7
That Demon Lord Girl and Villager A Volume 3 - 魔王なあの娘と村人A 3 〜ロボ娘は今日も空を飛べない〜 (April 10, 2012) ISBN 978-4-04-886476-3
That Demon Lord Girl and Villager A Volume 4 - 魔王なあの娘と村人A 4 ?めっちゃメタなフェスティバル? (September 10, 2012) ISBN 978-4-04-886888-4
That Demon Lord Girl and Villager A Volume 5 - 魔王なあの娘と村人A 5 〜リンカンクエスト!ドリアン風味〜 (March 10, 2013) ISBN 978-4-04-891425-3
That Demon Lord Girl and Villager A Volume 6 - 魔王なあの娘と村人A 6 〜彼女の普通とあの娘の特別〜 (August 10, 2013) ISBN 978-4-04-891425-3
That Demon Lord Girl and Villager A Volume 7 - 魔王なあの娘と村人A 7 〜スラップスティックエブリディ〜 (January 10, 2014) ISBN 978-4-04-866274-1