Masou Gakuen HxH:Volume 8 Afterword
Jump to navigation
Jump to search
Afterword
[
edit
]
This is Kuji Masamune!
The eight volume of [Masou Gakuen HxH]! A new beginning of development that betray all imagination. Things that were a puzzle until now became clear one after another. And then, a battle against formidable enemies in a different league compared to everything until now! Thinking normally, they are opponents that Kizuna and the others really cannot stand against. The enemy is exactly god! But, how to overcome this, how will they fight? That will be the thing to not miss from here on.
This volume is still the prologue of that. The fight against Deus ex Machina will increase in extremity even more from here on. And then the people of Lemuria and Vatlantis, Izgard, Baldein, fighting together, joining hands with each other, I want you all to please look at their figures standing against destiny!
This eighth volume is like that, but this time I went through a large scale revision after a long time. I had fun too much writing the beginning part of the ordinary days……when I noticed I had written more than 150 pages. That character and this character, going 'kya kya' 'ufufu' continuing in supreme bliss. Awesome, [Masou Gakuen HxH] looks like school story somehow! Wait, this is not a school story! Anyway I super had fun and my hand couldn't stop!
"IT'S TOO LONGGGGGGGGGGGGGGGGGGGG!"
As expected the editor O-san tsukkomi-ed me.
"Ain't that righttt……geez, I too noticed it faintly but, I just couldn't stop……"
As expected what am I doing spending more than half the book on something like this? I took back my sanity and performed a large scale deletion, like the machine god erasing the world I sent the data to my data storage. Together with those are several ero-ero scene that vanished like morning dew, like Sylvia's or Ragrus's……haa, perhaps it will be revived somewhere someday.
Speaking of manuscript's revision, I made that as the material for the afterword of the first volume, but recently I was asked regarding that quite much. It was already something about two years ago, but there are also quite many people who began to read only recently, so for those people this material is like a recent topic. That was the moment that I felt for real how the information written in the book surpassed time. But, the essential subject was about the point of how the manuscript was too erotic and it got rejected, so actually this is really not a place where I can act cool (lol)
But, at that time it wasn't really strange even if the manuscript got dropped, rather normally it would be dropped, that was the kind of situation it was. Thanks to over enthusiastically writing erotic novels there was no time left, but I persevered to revise until the very last minute to make it better even just for a little. That I could make it in time safely to the release date was thanks to my editor in charge O-san. At that time it felt like a chicken race with O-san every day and every night. I sent mail at near dawn, I thought that no way a reply would come today and slept, but when I discovered the fact in the next morning that there was a reply mail some ten minutes later after I sent the mail, that sense of defeat. On the contrary, when I received a mail that said I'm at my limit already today, I'm going to sleep, that incomprehensible sense of victory that today it's my win. I'm going to get scolded by O-san if I write anything more so let's keep the rest a secret.
But, I really feel glad that I could experience such hard progress right from the start. It feels like I'll enrage many people writing this. But being able to overcome that ordeal, I got the feeling of confidence that no matter what happened I'm going to be fine.
As expected, being taught by people, being helped, and becoming able to arrive at my present point, I earnestly feel it from all that. Not to mention O-san, the head editor at that time M-san also taught me various things, even the words of a certain senior author-san when I debuted that said "There will be many things happen doing this work, but anyway if you just continue to write then you will make it somehow", it became a support of my heart.
And then with the anime of Masou decided, I learned even more things from many people, the opportunity to be helped increased. I'm truly thankful.
I'm made to be involved a little with the creation of the anime but, it was fun!
I was allowed to attend the arrangement of the scenario and I also wrote the scenario for the sixth and ninth episode! I had wrote the scenario of the drama CD but, that was the first time for TV anime's scenario, it was a really interesting fresh experience! I was properly praised by the supervisor that organize the series you know! I want to think that's not just a flattery! (lol) I want to do the scenario work from now on too!
The dubbing was also extremely fun! It was perfectly like everyone's image, the play was also went well, truly magnificent. I'm happy that Kizuna's "Eros!" can be yelled this coolly, Aine is a little mysterious with her unique voice but she is lovely and charming. Even Himekawa is serious and straightforward but she is beautiful and sexy somewhere. Yurishia is erotic yet cool and gallant. Reiri is awe-inspiring and serious but she is cute anyway♡
Honestly, when I wrote the manuscript I didn't really imagine their voice. I had some kind of image but, ◯◯-san's voice! Like that it was nothing concrete. But, when I actually heard the voice in the audition, mysteriously "Isn't this Aine" "Aah, this is Aine" I can understand like that. In the casting this time, everyone was chosen from among the people who I thought 'this person is nice', so I was really happy.
The anime site that I saw were only the script preparation and the dubbing, but any of those had really good atmosphere, everyone is having fun creating the work, and then they were doing their best. When this eighth volume came out, it was just before the broadcast. I think there is various ways to enjoy it, but please everyone if you can just enjoy the TV anime of [Masou Gakuen HxH]!
And then not only the anime of Masou, there is new news!
That is!
The opening of a new series!
Of all thing at the same time parallel with Masou, I begin to write a new work! Doing absurd thing like this……feels like I will be told that but, if it's me that has overcome Masou's first volume's ordeal then surely I can do it! …..maybe.
The new work has no direct connection with Masou, it really is a new series! It seems similar with other works but it's completely different, it's typical of Kuji Masamune, with a little peculiar hair color, and then expect that it will become an eros work!
The detail can be seen at the public site of Sneaker Bunko, twitter, other like [Namasuni!], there is also the arrangement for commercial at the TV anime's later half episode, so look forward to it!
Then next is the thanks. Thank you very much for the usual charming illustration and character design! Hisasi-san! And then Kurogin-san of the mecha design. My editor in charge O-san of Sneaker editing department. And then all of you readers who always give your support. Really thank you very much!
Next time, the ninth volume of [Masou Gakuen HxH] will soon come you know! Don't let your guard down!
Hayuru: No, not only doing that kind of thing to me, you finally enter the forbidden territory! You pervert!
Kizuna: Wa, wait Himekawa! This is a mission so it cannot be helped!
Yurishia: Next will be me. I went through long absence already so prepare yourself☆
Masou Gakuen HxH 9
9.1 ON SALE!!!!!!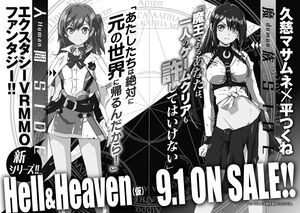 Translator's Notes and References
[
edit
]