Meg to Seron
Jump to navigation
Jump to search
Meg to Seron (メグとセロン, Meg and Seron) is a Japanese light novel series written by Keiichi Sigsawa (時雨沢恵一 ) and illustrated by Kohaku Kuroboshi (黒星紅白). It is a spin-off series of Lillia to Treize and is complete with 7 volumes.
Story Synopsis
[
edit
]
A spin-off of Lillia and Treize, Meg and Seron is a high school adventure/mystery/romance/comedy of sorts taking place in the rough equivalent of the 1950s. The story follows Seron, a stoic and handsome bookworm who is in love with his classmate--a sweet, oblivious transfer student named Meg.
Meg and Seron takes place at around the same time as Lillia and Treize, but knowledge of the main series is not necessary to read Meg and Seron.
Translations
[
edit
]
Translations and editing by Untuned Translations
Discussion
[
edit
]
Updates
[
edit
]
July 13, 2016 - Volume 7 Completed
June, 30, 2016 - Volume 7 Started
June 19, 2016 - Volume 6 Completed
June, 5, 2016 - Volume 6 Started
April 25, 2016 - Volume 5 Completed
February 15, 2016 - Volume 5 Started
February 12, 2016 - Volume 4 Completed
October 23, 2015 - Volume 4 Started
October 23, 2015 - Volume 3 Completed
August 11, 2015 - Volume 3 Started
August 7, 2015 - Volume 2 Completed
July 12, 2015 - Volume 2 Started
July 8, 2015 - Volume 1 Completed
June 2, 2015 - Volume 1 Started
The Meg to Seron series by Shigusawa Keiichi

[

edit

]
Volume I: Summer Break of the Year 3305 (Part 1) (epub,pdf)

[

edit

]
All links below are external links to Untuned Translations
Volume II: Summer Break of the Year 3305 (Part 2) (epub,pdf)

[

edit

]
All links below are external links to Untuned Translations
Volume III: The Melancholy of Ulericks (epub,pdf)

[

edit

]
All links below are external links to Untuned Translations
Volume IV: The Serial Murders at Ercho Village (epub,pdf)

[

edit

]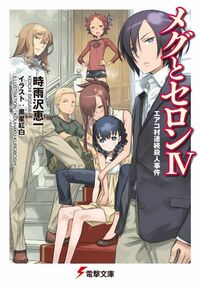 All links below are external links to Untuned Translations
Volume Vː Larry Hepburn's Trap (epub,pdf)

[

edit

]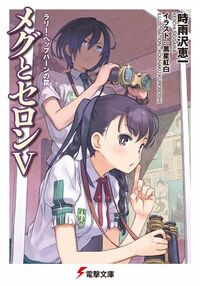 All links below are external links to Untuned Translations
Volume VI: Student Life at the 4th Capital Secondary School (epub,pdf)

[

edit

]
All links below are external links to Untuned Translations
Volume VII: The Fiancée out of the Blue (epub,pdf)

[

edit

]
All links below are external links to Untuned Translations
Project Staff
[
edit
]
Project Administrator:
Project Supervisor:
Translators
[
edit
]
Editors
[
edit
]
Series Overview
[
edit
]
メグとセロン I 三三〇五年の夏休み <上> (2008/03/10 - ISBN 978-4-8402-4184-7)
メグとセロン II 三三〇五年の夏休み <下> (2008/05/10 - ISBN 978-4-04-867062-3)
メグとセロン III ウレリックスの憂鬱(2008/07/10 - ISBN 978-4-04-867126-2)
メグとセロン IV エアコ村連続殺人事件(2009/03/10 - ISBN 978-4-04-867592-5)
メグとセロン V ラリー・ヘップバーンの罠(2010/03/10 - ISBN 978-4-04-868392-0)
メグとセロン VI 第四上級学校な日々(2011/03/10 - ISBN 978-4-04-870386-4)
メグとセロン VII 婚約者は突然に(2012/05/10 - ISBN 978-4-04-886596-8)