Mismarca Koukoku Monogatari
Jump to navigation
Jump to search
| | |
| --- | --- |
| | This Teaser Project has not yet reached Full Project status requirements. |
Help this project out by joining the translation team! — Learn more about Full Project Approval Requirements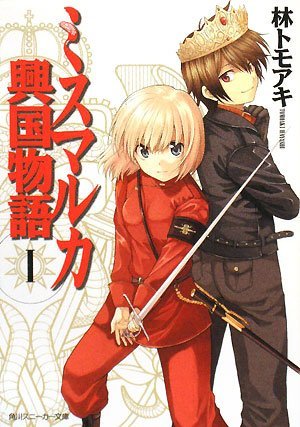 Mismarca Koukoku Monogatari (ミスマルカ興国物語) is a Japanese light novel written by author Tomoaki Hayashi (林 トモアキ) with illustrations by illustrator Tomozo (ともぞ). The series currently exceeds 10 volumes.
Story Synopsis
[
edit
]
On the Mainland war strikes between the Grand Maasenaru Empire of the south and the Northern Zepirumu Republic; there lies a country sandwiched in the middle. The peace and liberty-loving country of Mismarca. Subsequently they merged with a Country named Moudoku, the name of the country that would resound throughout the continent.
Format Standards
[
edit
]
Every Chapter (after editing) must conform to the format guidelines and maintain the same terminology used. Editors are to check the standard if possible. Both translators and editors are required to participate actively in the forum in project standards.
Translation
[
edit
]
Volume 1 was translated at C.E.Translations; currently dropped at the first half of chapteer 3.
This series is desperately looking for translators. If you would like to help translate this series, please post in the forum or notify a supervisor beforehand. Thank you for your cooperation.
Translators are asked to register which chapters they're working on
Feedback
[
edit
]
If you enjoyed the translation, why don't you tell us in the Feedback thread
Updates
[
edit
]
16th Januray 2014

Mismarca Koukoku Monogatari teaser project initiated.
The Mismarca Koukoku Monogatari series by Tomoaki Hayashi

[

edit

]
Teasers
Volume 1
[
edit
]
Chapter 1: The First Prince of Mismarca
Chapter 2 - The Dazzling Princess of Light
Chapter 3 - The Boy Who Sells Darkness
Chapter 4 - Within, Still a Heart of Royalty
Chapter 5 - The Lion and the Snake
Chapter 6 - Towards a Far Away Ambition for the Continent
Afterword
Volume 2
[
edit
]
Volume 3
[
edit
]
Volume 4
[
edit
]
Volume 5
[
edit
]
Volume 6
[
edit
]
Volume 7
[
edit
]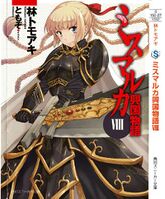 Volume 8
[
edit
]
Forum translation done by "Lord Lucifer"
Project Staff
[
edit
]
Supervisor:
Project Manager:
Translators
[
edit
]
ACTIVE
Series Overview
[
edit
]
| Number | Title | ISBN 10 | ISBN 13 | Date |
| --- | --- | --- | --- | --- |
| 1 | ミスマルカ興国物語 I | ISBN 4-04-426614-X | ISBN 978-4-04-426614-1 | Feruary 1, 2008 |
| 2 | ミスマルカ興国物語 II | ISBN 4-04-426615-8 | ISBN 978-4-04-426615-8 | May 1, 2008 |
| 3 | ミスマルカ興国物語 III | ISBN 4-04-426617-4 | ISBN 978-4-04-426617-2 | October 1, 2008 |
| 4 | ミスマルカ興国物語 IV | ISBN 4-04-426619-0 | ISBN 978-4-04-426619-6 | May 1, 2009 |
| 5 | ミスマルカ興国物語 V | ISBN 4-04-426620-4 | ISBN 978-4-04-426620-2 | September 1, 2009 |
| 6 | ミスマルカ興国物語 VI | ISBN 4-04-426621-2 | ISBN 978-4-04-426621-9 | January 1, 2010 |
| 7 | ミスマルカ興国物語 VII | ISBN 4-04-426623-9 | ISBN 978-4-04-426623-3 | 0 June 1, 201 |
| 8 | ミスマルカ興国物語 VIII | ISBN 4-04-426624-7 | ISBN 978-4-04-426624-0 | January 1, 2011 |
| 9 | ミスマルカ興国物語 IX | ISBN 4-04-426627-1 | ISBN 978-4-04-426627-1 | July 1, 2011 |
| 10 | ミスマルカ興国物語 X | ISBN 4041002667 | ISBN 978-4-04-100266-7 | May 1, 2012 |
| Spin-off | ミスマルカ興国物語 エックス | ISBN 4-04-100583-3 | ISBN 978-4-04-100583-5 | November 30, 2012 |
| 11 | ミスマルカ興国物語 XI | ISBN 4-04-100266-7 | ISBN 978-4-04-100266-7 | December 28, 2013 |
| 12 | ミスマルカ興国物語 XII | ISBN 4-04-100266-7 | ISBN 978-4-04-100266-7 | April 28, 2015 |
Project Status
[
edit
]
Project Status: Teaser