My Vampire Older Sister and Zombie Little Sister
Jump to navigation
Jump to search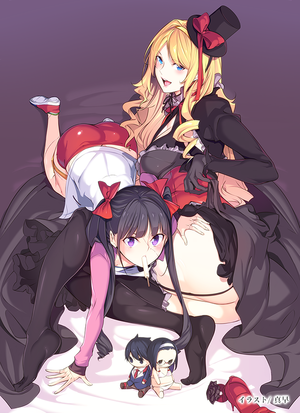 The My Vampire Older Sister and Zombie Little Sister (吸血鬼の姉とゾンビの妹) series is a web novel series written by Kamachi Kazuma (鎌池 和馬) and illustrated by Mahaya (真早). Kamachi Kazuma is also known for several other light novel series, most notably the Toaru Majutsu no Index series.
Story Synopsis
[
edit
]
"If a zombie and vampire went all out, which one would win?"
Those fateful words began a serious sisterly fight between zombie little sister Ayumi and vampire older sister Erika.
The entire city has been recreated using the environment simulator created by the main character and a virtual horror movie begins with the fleeing residents as the targets!

Characters:
Ayumi: Zombie girl.
Erika: Vampire girl.
Satori: High school boy with a zombie little sister and vampire older sister.
Maxwell: Support program developed by Satori.
Web Novel
[
edit
]
This web novel is currently hosted on Kamachi Kazuma's website.
My Vampire Older Sister and Zombie Little Sister by Kamachi Kazuma

[

edit

]
My Vampire Older Sister and Zombie Little Sister Have Gotten Into a Pretty Serious Fight…Only in Virtual Reality Though (Full Text - ePub)

[

edit

]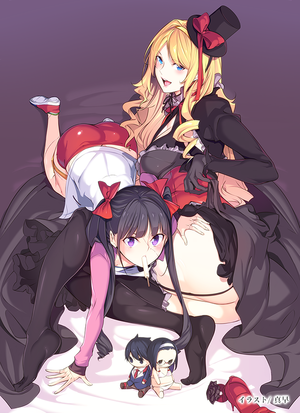 My Vampire Older Sister and Zombie Little Sister are Looking Over at me Like They Want to Join In…in Reality Though (Full Text - ePub)

[

edit

]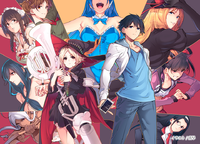 My Vampire Older Sister and Zombie Little Sister are Completely Overshadowed by the Incredible Thing that Showed Up…Which One is it This Time? (Full Text - ePub)

[

edit

]
My Vampire Older Sister and Zombie Little Sister Seem to Have Gone out into the World, so What do I do…I Have Bigger Problems This Time Though (Full Text - ePub)

[

edit

]
My Vampire Older Sister and Zombie Little Sister are Kind of Being Neglected This Time, so What do I do…This is a Legit Demon Lord Rush Though (Full Text - ePub)

[

edit

]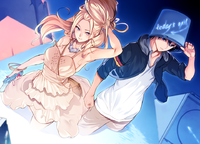 My Vampire Older Sister and Zombie Little Sister are Fascinated by the Hacker Festival, so What am I Supposed to Do?…This is Hardly the Time for That Though (Full Text)

[

edit

]
My Vampire Older Sister and Zombie Little Sister Seem to be Attacking a Warrior Maiden, so What am I Supposed to Do? ...Surely You Aren't Telling Me to Intervene (Full Text)

[

edit

]
My Vampire Older Sister and Zombie Little Sister are Sightseeing in Tokyo…Things Outside are Pretty Crazy Though (Full Text)

[

edit

]
My Vampire Older Sister and Zombie Little Sister are Stranded by the Snow…It's Not Actual Snow Though (Full Text)

[

edit

]
My Vampire Older Sister and Zombie Little Sister are Being Left Behind While I Took an Overseas Trip…Things are Falling Apart Over Here Though
[
edit
]
Crossovers
[
edit
]
Project Staff
[
edit
]
Supervisor:
Project Manager:
Translators
[
edit
]
ACTIVE
Editors
[
edit
]
ACTIVE