Ojamajo Doremi 16
Jump to navigation
Jump to search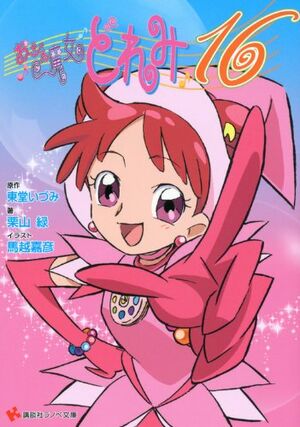 Ojamajo Doremi 16 (おジャ魔女どれみ16 ) is a novel sequel to a long-running, popular magical girl/shoujo series. It is written by Midori Kiriyama and illustrated by Yoshihiko Umakoshi. Another part Ojamajo Doremi 17 (おジャ魔女どれみ17 ) has also been released. The entire series has 6 volumes published so far with 3 volumes in each part.
Project hosted on NanoDesu's website.
Story Synopsis
[
edit
]
Doremi Harukaze, 3rd grade student at Misora Elementary School, claims to be the world's unluckiest pretty girl. Fascinated by witchcraft, she is drawn into a mysterious shop where she meets Majo Rika and is able to deduce that this lady is in fact a real witch. Being exposed by a human triggers a curse that transforms witches into magical frogs. To regain her original body, Rika must turn Doremi into a witch by teaching her how to use magic. Thrilled by this odd development, Harukaze becomes a witch apprentice. Unfortunately, her two best friends, Hazuki Fujiwara and Aiko Senoo, discover that Doremi has become a magic user. Afraid that Harukaze might become a magical frog too, Majo Rika recruits both Hazuki and Aiko and makes them witch apprentices too. The trio has lots of adventures as they try to triumph the necessary trials to become real witches.
Novel Summary
[
edit
]
Doremi Harukaze is in her 1st year of high school now! Doremi is very excited to meet her friends from elementary school, but Onpu Segawa is nowhere to be seen… While on the road back, memories come flooding back, but why is the MAHO Dou still standing!?
Updates
[
edit
]
29th December 2013

Ojamajo Doremi 16 Volume 1 Completed.
The Ojamajo Doremi 16 series by Midori Kiriyama

[

edit

]
This novel is hosted from Nanodesu.
All main links below are external links to NanoDesu
Volume 1 - 16
[
edit
]
Volume 2 - ~Naïve~
[
edit
]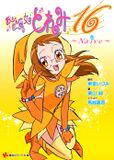 Chapter 7: Chasing the moon
Project Status
[
edit
]
Project Status: Ongoing by Nanodesu translations (hosted project)
Series Overview
[
edit
]
Ojamajo Doremi 16
おジャ魔女どれみ16 (講談社ラノベ文庫)(Vol. 1)--February 2, 2011--ISBN 978-4063752069
おジャ魔女どれみ16 Naive (講談社ラノベ文庫)(Vol. 2)--May 2, 2012--ISBN 978-4063752359
おジャ魔女どれみ16 TURNING POINT (講談社ラノベ文庫)(Vol 3)--November 30, 2012--ISBN 978-4063752731
Ojamajo Doremi 17
おジャ魔女どれみ17 (講談社ラノベ文庫) (Vol.1)--July 2, 2013--ISBN 978-4063752878
おジャ魔女どれみ17 2nd ~KIZASHI~ (講談社ラノベ文庫)(Vol.2)--October 2, 2013--ISBN 978-4063753271
おジャ魔女どれみ17 3rd ~COME ON!(Vol.3)--February 28, 2014--ISBN 978-4063753479
Ojamajo Doremi 18
おジャ魔女どれみ18 (講談社ラノベ文庫) (Vol.1)--Sept 2, 2014--ISBN 978-4063753714