Owari no Chronicle
From Baka-Tsuki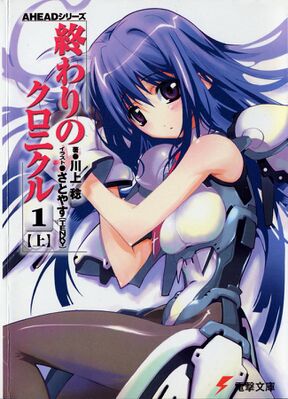 Owari no Chronicle (終わりのクロニクル) is a light novel series written by Kawakami Minoru (川上 稔) and illustrated by Satoyasu (さとやす). It had 14 volumes published from 2003-2005 by Dengeki Bunko. It takes place in the past of Kyoukai Senjou no Horizon, another of Kawakami's light novel series.
Story Synopsis
The world was once at war with 10 other parallel worlds. This was known as the Concept War and our world won 60 years ago. All of this was concealed so no normal people are aware of this fact in the current time.
After the death of his grandfather, the high school student Sayama Mikoto is suddenly summoned by the giant corporation IAI. He learns this world is headed for destruction due to the acceleration of the Minus Concepts. To prevent this, negotiations must be undertaken with the survivors of the other parallel worlds so their 10 concepts can be released.
And so Sayama is caught up in the final battle to clean up after the Concept War which left behind so much enmity.
Translation
Translators are asked to register which chapters they are working on
Format Standards
Every Chapter (after editing) must conform to the general format guidelines.
Feedback
If you enjoyed the teaser, why don't you tell us in the Feedback Thread
The Owari no Chronicle series by Kawakami Minoru
Owari no Chronicle 1-A
Chapter 2: The Two Meet (50%)
Chapter 3
Chapter 4
Chapter 5
Chapter 6
Chapter 7
Chapter 8
Chapter 9
Chapter 10
Chapter 11
Chapter 12
Chapter 13
Afterword
Owari no Chronicle 1-B
Owari no Chronicle 2-A
Owari no Chronicle 2-B
Owari no Chronicle 3-A
Owari no Chronicle 3-B
Owari no Chronicle 3-C
Owari no Chronicle 4-A
Owari no Chronicle 4-B
Owari no Chronicle 5-A
Owari no Chronicle 5-B
Owari no Chronicle 6-A
Owari no Chronicle 6-B
Owari no Chronicle 7
Project Staff
Project Administrator:
Project Supervisor:
Translators
ACTIVE
Editors
ACTIVE
Series Overview
終わりのクロニクル1<上> (10 June 2003, ISBN 4-8402-2389-0)
終わりのクロニクル1<下> (10 July 2003, ISBN 4-8402-2407-2)
終わりのクロニクル2<上> (10 October 2003, ISBN 4-8402-2493-5)
終わりのクロニクル2<下> (10 November 2003, ISBN 4-8402-2515-X)
終わりのクロニクル3<上> (10 April 2004, ISBN 4-8402-2654-7)
終わりのクロニクル3<中> (10 June 2004, ISBN 4-8402-2698-9)
終わりのクロニクル3<下> (10 July 2004, ISBN 4-8402-2731-4)
終わりのクロニクル4<上> (10 December 2004, ISBN 4-8402-2884-1)
終わりのクロニクル4<下> (10 January 2005, ISBN 4-8402-2913-9)
終わりのクロニクル5<上> (10 June 2005, ISBN 4-8402-3062-5)
終わりのクロニクル5<下> (10 July 2005, ISBN 4-8402-3081-1)
終わりのクロニクル6<上> (10 November 2005, ISBN 4-8402-3213-X)
終わりのクロニクル6<下> (10 November 2005, ISBN 4-8402-3214-8)
終わりのクロニクル7 (10 December 2005, ISBN 4-8402-3240-7)