Psycho Love Comedy
Jump to navigation
Jump to search
Note: This Project has been declared as Abandoned!
and was taken down.




Please see Template:Abandoned for further information about this classification.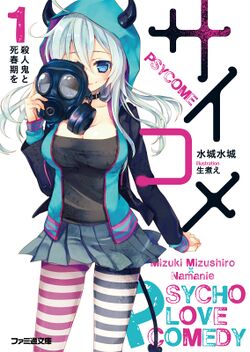 Psycho Love Comedy / PSYCOME (サイコメ) is a Japanese light novel series by Mizuki Mizushiro (水城水城) with illustrations by Namanie (生煮え). Published by Famitsu Bunko, the main series is complete with 6 volumes with an additional short stories collection.
PSYCOME has been licensed by Yen Press[1].
The Psycho Love Comedy series is also available in the following languages:
Story Synopsis
Sentenced on false charges, Kamiya Kyousuke was forced to enroll in the "Purgatorium School of Rehabilitation" where juvenile convicts are gathered. His surroundings include pretty girls with beautiful legs or fluttering hair... But they are actually convicted murderers. Attracting extra attention in school as the special 'Mass Murderer of Twelve', Kyousuke is also drawing the advances of the unidentified gas mask-wearing beauty with the giant rack, Hikawa Renko. In order to graduate safely, will Kyousuke be able to resist temptation laced with death!?
Winner of the Excellence Prize in the 14th Enterbrain Entertainment Awards.
Every single classmate is a murderer. LOVE=KILL!The deeper the love, the greater the risk of death, a hardcore romantic comedy!! Let the lessons begin!
Updates
2015-10-10 - Project RIP - Yen Press Licensing Announcement
2015-07-12 - Volume 4 Completed
2014-02-09 - Project Started
Discussion
Discuss this series: in the forum
The 'Psycho Love Comedy' series by Mizuki Mizushiro
Volume 1 - Murderers and A-dead-lescence
Volume 2 - Murderer Princess and Open-Jail School
Volume 3 - Murderer's Hope and Deadly Final Exams
Volume 4 - Murderer's Taboo and Bon Festival
Volume 5 - Murdering Machine and Sports Festival/Disaster
Volume 6 - Murdering Mechanism and Till Death Do Us Part
Series Overview
Japanese releases
サイコメ 1 殺人鬼と死春期を (February 28, 2013 - ISBN 978-4047287297)
サイコメ 2 殺人姫と林監学校 (April 30, 2013 - ISBN 978-4047288539)
サイコメ 3 殺人希と期末死験 (August 30, 2013 - ISBN 978-4047290969)
サイコメ 4 殺人忌と裏盆会を (December 26, 2013 - ISBN 978-4047293236)
サイコメ 5 殺人機と体育災を (April 28, 2014 - ISBN 978-4047295971)
サイコメ 6 殺人器と遭死相愛 (August 30, 2014 - ISBN 978-4047298620)
サイコメ UNPLAGUED OMNIBUS (November 29, 2014 - ISBN 978-4047300545)
English releases
Psycome, Vol. 1 (June 21, 2016 - ISBN 978-0316272339)