Queen's Knight Kael
Jump to navigation
Jump to search
| | |
| --- | --- |
| | This Teaser Project has not yet reached Full Project status requirements. |
Help this project out by joining the translation team! — Learn more about Full Project Approval Requirements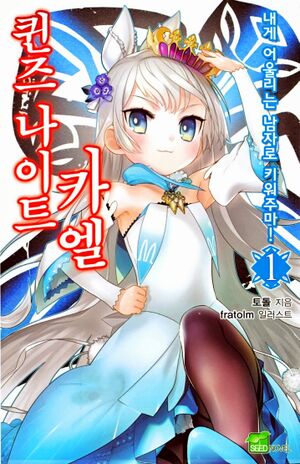 Queen's Knight Kael (퀀즈 나이트 카엘) is a Korean light novel series written by Todol and illustrated by fratolm. The series is complete with 8 volumes.
Story Synopsis
[
edit
]
A 500-year-old, low-ranking demon knight Kael suddenly finds himself inside a royal secret chamber, summoned out of the blue by Yulia D. Beatrice Scachiel— the precocious queen of Nesland who only turned eight recently. As it turns out, she's in grave danger of getting killed by mysterious monsters that have appeared out of nowhere, and Kael is her only way out of the castle to safety!
Translations
[
edit
]
Translations and editing by Imoutolicious LNT
Updates
[
edit
]
December 20, 2013 - Volume 1, Chapter 1 Complete.
The Queen's Knight Kael series by Todol

[

edit

]
Volume 1
[
edit
]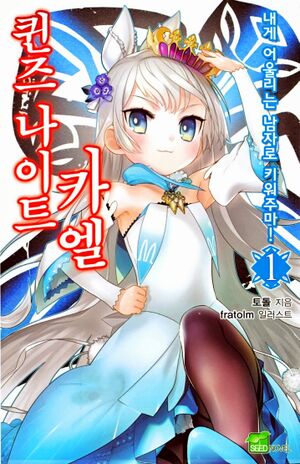 All links below are external links to Imoutolicious Light Novel Translations
Chapter 2
Chapter 3
Chapter 4
Chapter 5
Chapter 6
Chapter 7
Epilogue
Afterword
Volume 2
[
edit
]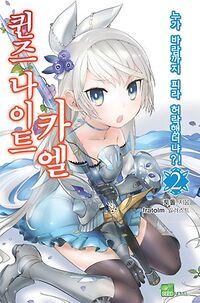 Novel Illustrations
Prologue
Chapter 1
Chapter 2
Chapter 3
Chapter 4
Chapter 5
Chapter 6
Chapter 7
Epilogue
Afterword
Volume 3
[
edit
]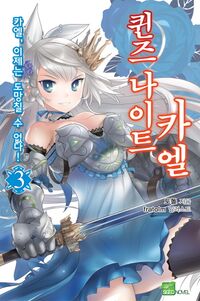 Novel Illustrations
Prologue
Chapter 1
Chapter 2
Chapter 3
Chapter 4
Chapter 5
Chapter 6
Chapter 7
Epilogue
Afterword
Volume 4
[
edit
]
Novel Illustrations
Prologue
Chapter 1
Chapter 2
Chapter 3
Chapter 4
Chapter 5
Chapter 6
Chapter 7
Epilogue
Afterword
Volume 5
[
edit
]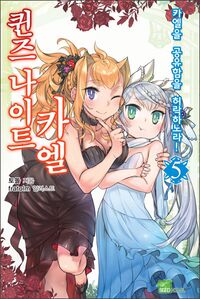 Novel Illustrations
Prologue
Chapter 1
Chapter 2
Chapter 3
Chapter 4
Chapter 5
Chapter 6
Chapter 7
Epilogue
Afterword
Volume 6
[
edit
]
Novel Illustrations
Prologue
Chapter 1
Chapter 2
Chapter 3
Chapter 4
Chapter 5
Chapter 6
Chapter 7
Epilogue
Afterword
Volume 7
[
edit
]
Novel Illustrations
Prologue
Chapter 1
Chapter 2
Chapter 3
Chapter 4
Chapter 5
Chapter 6
Chapter 7
Epilogue
Afterword
Volume 8
[
edit
]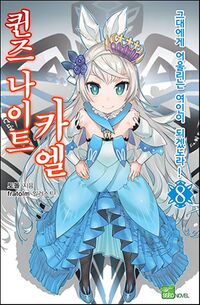 Novel Illustrations
Prologue
Chapter 1
Chapter 2
Chapter 3
Chapter 4
Chapter 5
Chapter 6
Chapter 7
Epilogue
Afterword
Project Staff
[
edit
]
Project Administrator:
Project Supervisor:
Translators
[
edit
]
Editors
[
edit
]
Series Overview
[
edit
]
《퀸즈 나이트 카엘 1》, 2012-08-01, ISBN 978-8-9267-8153-4
《퀸즈 나이트 카엘 2》, 2012-12-01, ISBN 978-8-9267-8180-7
《퀸즈 나이트 카엘 3》, 2013-03-01, ISBN 978-8-9267-8194-4
《퀸즈 나이트 카엘 4》, 2013-06-01, ISBN 978-8-9267-8216-3
《퀸즈 나이트 카엘 5》, 2013-09-01, ISBN 978-8-9267-8246-0
《퀸즈 나이트 카엘 6》, 2013-12-01, ISBN 978-8-9267-8263-7
《퀸즈 나이트 카엘 7》, 2014-04-01, ISBN 978-8-9267-8296-5
《퀸즈 나이트 카엘 8》, 2014-06-27, ISBN 978-8-9267-9587-3