Rokka no Yuusha Italiano
From Baka-Tsuki
| | |
| --- | --- |
| | This Teaser Project has not yet reached Full Project status requirements. |
Help this project out by joining the translation team! — Learn more about Full Project Approval Requirements
Rokka no Yuusha (六花の勇者) is a novel series written by Ishio Yamagata and illustrated by Miyagi. An anime adaptation has been confirmed.
Progetto di Kirishima's Land. ETL
Altre lingue Inglese
Storia Sinossi
Quando il Majin si risveglierà dal profondo delle tenebre, la Dea del Fato sceglierà 6 eroi, concedendo loro il potere di salvare il mondo. Il giovane che si definisce "la persona più forte del mondo", Adlet, viene selezionato in questo gruppo di sei, gli Eroi dei Sei Fiori, e si avventura in battaglia per fermare la resurrezione del Majin. Tuttavia, al luogo di ritrovo stabilito, perché ci sono sette persone? Subito dopo, la nebbia giunge e una barriera dell'illusione di nebbia li rinchiude i sette nella foresta. Nasce il sospetto che uno di loro sia un nemico. E poi, quello verso cui il sospetto si dirige maggiormente è più che il sospetto è Adlet...e così inizia la fiera battaglia degli Eroi!
Updates
Creazione pagina e inserimento Descrizione personaggi, Prologo e Capitolo 1 del Volume 1
Inserito link traduzione Capitolo 2, Volume 1
The Rokka no Yuusha series by Ishio Yamagata
Progetto ETL di Kirishima's Land.
Tutti i link sono di Kirishima's Land
Volume 1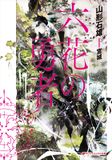 Stato del Progetto
Stato del progetto In corso da Kirishima's Land ETL
Traduttori
Kirishima_Zen che inserisce i capitoli per il Progetto ETL di Kirishima's Land
Series Overview
六花の勇者 1 - August 25, 2011 ISBN 978-4-0863-0633-1
六花の勇者 2 - April 25, 2012 ISBN 978-4-0863-0671-3
六花の勇者 3 - November 22, 2012 ISBN 978-4-0863-0710-9
六花の勇者 4 - July 25, 2013 ISBN 978-4-0863-0745-1
六花の勇者 5 - November 21, 2014 ISBN 978-4-0863-1008-6
六花の勇者 6 - July 24, 2015 ISBN 978-4-0863-1056-7