Saekano: How to Raise a Boring Girlfriend
Jump to navigation
Jump to search
Note: This Project has been declared as Abandoned!
and was taken down.




Please see Template:Abandoned for further information about this classification.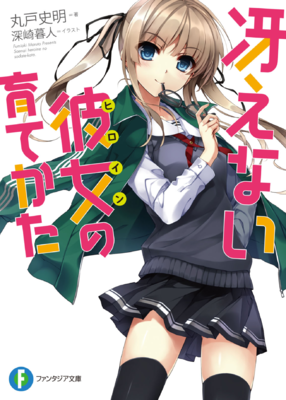 Saekano: How to Raise a Boring Girlfriend (冴えない彼女(ヒロイン)の育てかた Saenai Hiroin no Sodatekata, lit. How to Train the Ordinary Girl to be a Heroine), also known in the short form Saekano (冴えカノ),is a Japanese light novel series by Fumiaki Maruto, with illustrations by Kurehito Misaki. Fujimi Shobo has published eight volumes since July 2012 under their Fujimi Fantasia Bunko imprint. It has received a manga adaptation in addition to two spin-off manga adaptations. An anime television series adaptation by A-1 Pictures began airing on January 2015 on Fuji TV's noitamina block. The anime has been licensed by Aniplex of America.
This project is abandoned as the active translator NanoDesu received a DMCA and has dropped the series
Saekano: How to Raise a Boring Girlfriend is also available in the following language(s):
Story Synopsis
[
edit
]
"On a certain spring day, I met my destiny."
Tomoya Aki is an uber otaku who works part-time to earn money to buy merchandise, but one day while delivering papers he meets a beautiful girl in an event that will change his life forever. A month later, he finds out that the girl is actually his classmate, Megumi Kato, and she's going to be the main heroine of the game he's making. The only problem? She's utterly forgettable.
Updates
[
edit
]
January, 2019: Traduction Spanish in J-Anime Online
April 13, 2016: Project dropped by Nanodesu due to DMCA
Saekano: How to Raise a Boring Girlfriend by Fumiaki Maruto

[

edit

]
Series Overview
[
edit
]
冴えない彼女の育てかた (July 20, 2012) ISBN 978-4-04-071078-5-C0193
冴えない彼女の育てかた 2 (November 20, 2012) ISBN 978-4-04-071081-5-C0193
冴えない彼女の育てかた 3 (March 19, 2013) ISBN 978-4-04-071090-7-C0193
冴えない彼女の育てかた 4 (July 20, 2013) ISBN 978-4-04-071091-4-C0193
冴えない彼女の育てかた 5 (November 20, 2013) ISBN 978-4-04-712956-6-C0193
冴えない彼女の育てかた 6 (April 19, 2014) ISBN 978-4-04-070096-0-C0193
冴えない彼女の育てかた 7 (December 20, 2014) ISBN 978-4-04-070425-8-C0193
冴えない彼女の育てかた 8 (June 20, 2015) ISBN 978-4-04-070426-5-C0193
冴えない彼女の育てかた 9 (November 20, 2015) ISBN 978-4-04-070743-3-C0193