Jump to navigation
Jump to search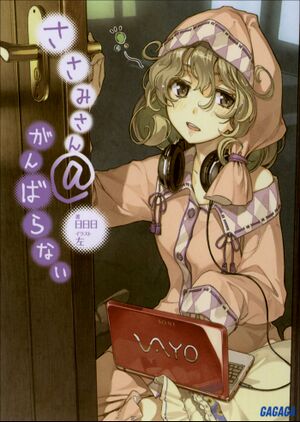 [email protected] (ささみさん@がんばらない) is a light novel series written by Akira and illustrated by Hidari. The series is currently ongoing with 11 volumes.
Story Synopsis
[
edit
]
Sasami Tsukuyomi is a high school shut-in who often stays at home and is doted upon by her older brother, Kamiomi. However, due to unknowingly possessing a god's power, Kamiomi often puts the world into chaos as he tries to appease Sasami, while the three Yagami sisters try to put a stop to it.
Updates
[
edit
]
December 23, 2015 - Volume 3 Chapter 16 Completed
December 13, 2015 - Volume 3 Chapter 15 Completed
December 03, 2015 - Volume 3 Chapter 14 Completed
Older updates can be found here.
This novel is hosted on Nanodesu.
All main links below are external links to NanoDesu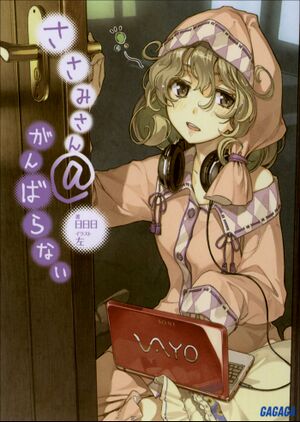 Part 1 - Amaterasu
Part 2 - Yamata no Orochi
Part 3
Part 1 - Hoderi and Hoori
Part 2 - Yata no Kagami
Part 3 - Yomotsu Heguri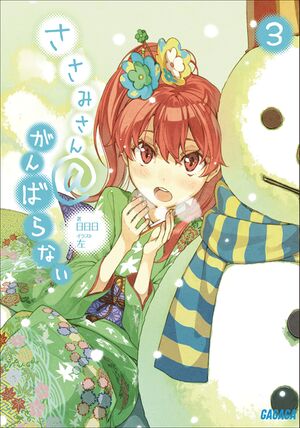 Part 1 - Ama no Iwato
Part 2 - Hitsugi no Miko
Part 3 - Kushinada-Hime
 

Volume 4

[

edit

]
 

Volume 5

[

edit

]
 

Volume 6

[

edit

]
 

Volume 7

[

edit

]
 

Volume 8

[

edit

]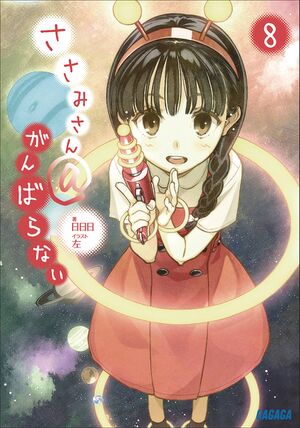 Volume 9

[

edit

]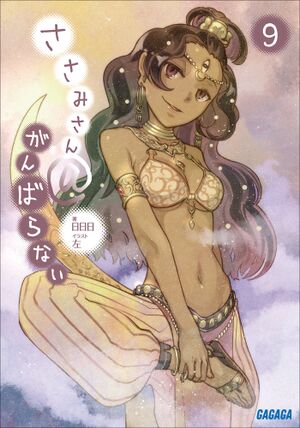 Volume 10

[

edit

]
 

Volume 11

[

edit

]
Project Staff
[
edit
]
Translators
[
edit
]
Editors
[
edit
]
Series Overview
[
edit
]
ささみさん@がんばらない (December 18, 2009 - ISBN 978-4-0945-1176-5)
ささみさん@がんばらない 2 (April 20, 2010 - ISBN 978-4-0945-1202-1)
ささみさん@がんばらない 3 (August 18, 2010 - ISBN 978-4-0945-1223-6)
ささみさん@がんばらない 4 (December 17, 2010 - ISBN 978-4-0945-1244-1)
ささみさん@がんばらない 5 (April 19, 2011 - ISBN 978-4-0945-1265-6)
ささみさん@がんばらない 6 (August 18, 2011 - ISBN 978-4-0945-1289-2)
ささみさん@がんばらない 7 (December 17, 2011 - ISBN 978-4-0945-1311-0)
ささみさん@がんばらない 8 (June 19, 2012 - ISBN 978-4-0945-1347-9)
ささみさん@がんばらない 9 (September 19, 2012 - ISBN 978-4-0945-1362-2)
ささみさん@がんばらない 10 (December 18, 2012 - ISBN 978-4-0945-1381-3)
ささみさん@がんばらない 11 (June 18, 2013 - ISBN 978-4-0945-1420-9)