Satsuriku no Tenshi
Jump to navigation
Jump to search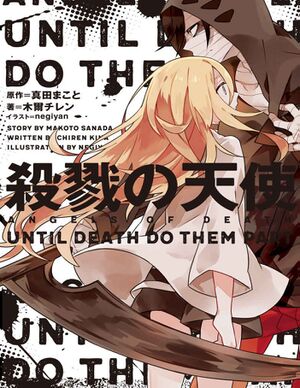 Satsuriku no Tenshi (殺戮の天使), also called Satsuten or Angels of Death in English, is a Japanese light novel series. The story is by Makoto Sanada, written by Chiren Kina, and the illustrations by Negiyan. The light novels were published by Enterbrain from 2016 to 2018.
The series is based on an RPG pixel horror game of the same name, first published in 2015. The franchise also has a manga adaptation (2016-present) serialised in Monthly Comic Gene and a 16-episode anime series by J.C. Staff (2018).
Synopsis
13-year old Rachel awakens to find herself trapped in the basement of an abandoned building. Without any memories, or even a clue as to where she could be, she wanders the building, lost and dizzy. In her search, she comes across a man covered in badges. He introduces himself as Zack and he wields a grim-reaper like sickle. A strange bond is struck between them, strengthened by strange, crazy promises… These two, trapped in this strange building, don't know why fate has placed them there. But they will work together desperately to find a way out…
(from Mangaupdates)
Translation
Translators
Translators are asked to register which chapters they are working on.
Editors
Editors who wish to help with cleaning up chapters must first notify on the forum.
Project Staff
Supervisor:
Project Manager: Jam
Translators
ACTIVE
Editors
ACTIVE
Updates
March 21, 2019 - Chapter 1 of Volume 2 completed & uploaded
March 7, 2019 - Volume 1 completed
March 7, 2019 - Chapter 5 of Volume 1 completed & uploaded
December 22, 2018 - Chapter 4 of Volume 1 completed & uploaded
October 26, 2018 - Chapter 3 of Volume 1 completed & uploaded
September 19, 2018 - Chapter 6 of Volume 1 completed & uploaded
September 18, 2018 - Illustrations for Volume 1 completely uploaded
September 12, 2018 - Prologue, Chapter 1, and Chapter 2 of Volume 1 completed & uploaded
September 12, 2018 - Teaser project started
Light Novels
 

Volume 1 - Until Death Do Them Part (Full Text - PDF)
 

Volume 2 - Blessing in Disguise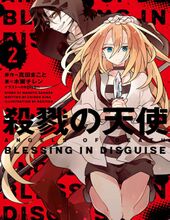 Chapter 1 - Sweet Guilt
Chapter 2 - Tragedy in Her Daydream
Chapter 3 - Zack's Knife
Chapter 4 - The Witch Trial
Chapter 5 - Eddie's Memory
Chapter 6 - Her Memory of Cathy
 

Volume 3 - Once in a Blue Moon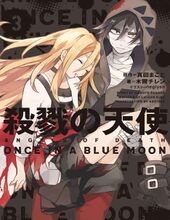 Prologue
Chapter 1 - Childish Gimmick
Chapter 2 - Rachel's Memory
Chapter 3 - Until Death Do Us Part
Chapter 4 - Angel of Death
Chapter 5 - Blue Moon
Chapter 6 - Danny's and His Mother's Memory
Series Overview
Until Death Do Them Part (July 30, 2016) - ISBN 978-4-04-734115-9
Blessing in Disguise (April 24, 2017) - ISBN 978-4-04-734437-2
Once in a Blue Moon (April 27, 2018) - ISBN 978-4-04-734930-8