Seirei Tsukai no Blade Dance:Volume2 Chapter6 Draft
Jump to navigation
Jump to search
Chapter 6: The Morning of the Departure
[
edit
]
It happened four years ago, the tragedy that completely broke the heart of a young girl.
Flames were slowly consuming the shrine.
Black smoke was rising from the burning building, the wreckage consumed by the blaze was cracking thunderously and the confused guards were screaming.
On that day, at the place, where the Elemental Lord was worshipped, an event that shook the empire occurred.
The Fire Queen raised a rebellion and stole the LaevateinStrongest Flame Spirit from the shrine.
The likes of the Empire's Spirit Knights couldn't even provide her a challenge. The raging Queen, wielding a gigantic flaming demon sword, simply mowed down the spirits blocking her way.
Inside the whirling flames and black smoke, a girl was running alone.
The «Divine Ritual Institute»'s princess maidens, who were packed into the bedrooms, were hastily evacuating the building.
However, the girl wasn't running to escape the battle.
She did it to stop someone.
Rubia Elstein, her senior who she adored like an elder sister and respected greatly.
(It has to be some sort of mistake. Rubia-sama wouldn't do—)
The girl was out of breath when she finally reached the entrance of the shrine.
The fire Queen was there.
Her red hair fluttered in the surging violent winds and in her hand she held a sword made of blazing scarlet flames.
In the dead of night, her face, illuminated by the fire, was no less than extremely beautiful.
"Rubia-sama."
The girl gulped.
She came all the way here to stop her and yet—
Simply standing here, under the pressure of that oh-so terrible blood lust, took all she had.
However, she stood her ground bravely.
She had to stop her. That was the duty of one born into the royal family.
"Do not— get in my way."
The Fire Queen warned with an emotionless voice.
Her ruby pupils, shining with hot red flames, looked down upon the girl as if trying to burn a hole through her.
"No, Rubia-sama. There's no way I will allow you to pass here."
Firmly glaring back, the girl recited the summoning in the spirit language.
"—Thou, servant of the king of the child of man, knight and master swordsman!"
"—By the contract of the old blood, become the sword that protects me, come forth and do my bidding!"
A high ranking holy spirit that served many generations of the Ordesia royal family appeared before her.
Even if she couldn't win, she should be able to stall for some time—
—That was what she thought.
However.
"I said don't get in my way."
At that moment, the Fire Queen swung the sword made of scarlet flames.
Instantly, there was a red flash and the summoned holy spirit was wrapped in hot crimson flames before vanishing.
"Wh...at..."
*Thump*. The girl collapsed on her knees.
It was painful to breathe. Her throat was cramped and she couldn't even gasp.
That was because of the contracted spirit she had put complete trust in.
The strongest knight, who always protected her since she was young… vanished in a moment.
"N-No, help me please..."
Her heart, which was brimming with confidence seconds ago, was now crushed into small pieces by hopeless fear.
Throwing off all her pride as a royalty, the girl just shed tears and begged.
At that moment, she was neither the empire's second princess, nor the elite elementalist of the «Divine Ritual Institute».
She was merely a powerless child.
The Fire Queen bent over her slowly. The girl's whole body trembled in fear.
"Fianna Ray Ordesia, never appear before me again."
She whispered into her ear, and then went on, disappearing amidst the blazing flames.
"...!?"
Fianna jumped up from the bed.
Her rough breathing would not settle. Unpleasant perspiration was causing her undergarments to cling closely to her skin.
"A dream..."
She muttered and after calming her breathing tightly grabbed the bed sheet.
She was in Claire's room in the Raven Class' dormitory. The morning sunlight was shining in from the window.
It seemed that she had slept with her clothes on. It wasn't the most comfortable attire to sleep in, but the uniform of the «Divine Ritual Institute» incorporated the holy attribute and helped recovering from fatigue.
(My secret, looks like it hasn't been exposed...)
Openning slightly the chest area of her clothes, Fianna breathed a sigh of relief.
—And then, she remembered the previous night.
(If he hadn't protected me at that moment, right now I would have been—)
She bit her lips and squeezed the bed sheet tighter.
(...It's the same as that day. In the end, I couldn't do anything.)
At that moment, the door suddenly opened—
"Fianna... you've awoken?!"
"Kyaa!?"
She cried out in surprise and quickly covered her exposed bosom.
"M-My bad!"
Flustered, Kamito averted his eyes.
"W-Why did you enter so suddenly..."
"Sorry... I'm just used to having to wake up an ojou-sama, who always oversleeps."
Kamito apologized as he scratched his head. His face held sights of weariness.
"Your hand was injured yesterday, is it alright now?"
"Ah, it's no big deal. Claire had already called for the medical team after all."
Kamito waved his left hand, which had been pierced by the spirit, to assure her.
It definitely looked like his wound had been healed, but that expression of his showed that he was still in pain and enduring it.
"I'm sorry, it's because of me. Because I meddled unnecessarily."
"No, Fianna, if you hadn't used the spirit crystal at that time, I'd have been done for. Thank you for saving me. Speaking about the crystal, isn't it unreasonably expensive?"
"I-It's nothing special, who do you think I am?"
"Ah, yes...you are the former royal princess."
With a wry smile, he sat beside the bed.
(...N-No way, why is my face so hot, I wonder.)
Fianna's heart was racing.
(I'm just trying to use him and yet.)
Trying to conceal the expression on her face, she placed her hands on her knees and looked down.
"About yesterday's intrusion, it seems the Sylphid Knights are in the middle of investigating it. The teachers look to be worried too, however, the mission didn't change. We'll go and explore mine town as planned."
Kamito cut his sentence there—
"That's—it. Before we go for the quest, I have to talk to you."
"Isn't it still early to propose?"
"...Don't make fun of me. You know, right? What this conversation is about."
Kamito told her with a frown, when *kata*, a small sound came from outside.
Fianna smirked. She had the same expression when messing around.
Brushing her lovely black hair back, she gently drew her lips close to Kamito's ear—
"I understand. With just the two of us, at a place where Claire isn't around, you have something important to talk about."
"Hn? Ah, that is so, but..."
That was a rather strange way to put it, Kamito frowned and at that moment...
*Bam*— The room's door burst open.
"Hey, Kamito, with just the two of you, at a place where I'm not around, what important thing do you have to talk about?"
*Gogogogogogogogo...!*
"Claire!? W-Wait, you misunderstood, we weren't talking about that that—"
"Scarlet!"
When Claire called out its name, a red-hot hellcat appeared from an empty space.
"Y-Y-You have two choices... Roasted or smoked?!"
"—Fianna, let's run away!"
"Eh...Kyaa!"
Kamito gently picked the princess up, kicked open the room's window and jumped out.
"Ah, y-you got away, wait up!"
The academy courtyard was hazy with the morning mist.
Rinslet Laurenfrost took her maid and wolf for a morning walk.
"Carol, let's have breakfast at the dining hall."
"Yes, milady."
Carol nodded, seemingly happy. The white spirit walking beside her howled in agreement.
Contrary to its ferocious appearance, this wolf made surprisingly round and cute eyes. It was the high-ranked demon ice spirit «Fenrir», which had served the Laurenfrost family for generations.
Walking a contracted spirit wasn't something considered unusual.
They particularly liked being in the «Spirit Forest», which surrounded the academy. For them it was a rather pleasant place.
Girls from the Sylphid Knights were running in agitation around the academy corridors surrounding the courtyard.
"What? It's been noisy since morning."
"It seems that a thief broke into the academy last night, milady."
"To creep into this academy, that's a brave thief— Ah?"
Frowning suddenly, Rinslet raised her voice.
Kamito was walking towards the Spirit Forest from the academy building.
And he was leading a shockingly pretty girl.
"Ah, it's Kamito-sama. The girl beside him is, if I'm not mistaken, the newly admitted student, Fianna-san?"
"..."
Rinslet pouted sullenly.
"I wonder why, my chest is suddenly filled with anger."
"Ah, milady, do you dislike Kamito-sama?"
"Yes, I hate him! That promiscuous person!"
"However, milady, you seem pretty concerned about Kamito-sama."
"I-I just want to steal Claire Rouge's slave!"
Rinslet's face reddened and she turned away.
—And frowned as she spotted the appearance of another acquaintance.
Right at that moment, Claire came out from the Raven Class dormitory's outer gate.
She looked somewhat strange and was tottering with an unusually depressed expression.
Even her prided red twintails were now pitifully dangling down.
"What on earth happened?"
Rinslet muttered, seemingly worried.
(...She may be my rival, but I cannot abandon her.)
Even if they always quarrel, she couldn't help but be worried for her childhood friend.
Leaving Carol and Fenrir were they stood, Rinslet quietly approached Claire from behind.
"W-Why did he— are big breasts really that good? Those lumps of fat..."
"What's that about, Claire Rouge?"
"...! Ri-Rinslet!?"
Claire screamed taken aback.
"Isn't the pitiful size of your breasts a usual thing?"
"S-Shut up... Enough talking about that! Anyway, have you seen Kamito?"
"Kamito-san, I happened to see him some time ago. He was walking with a girl, just the two of them."
"W-What was that?!"
"They went in the direction of the forest. If you run after them, you can still catch up to them."
Claire... groaned.
"I-I don't care about that guy! I hope he dies by suffocation while being buried in breasts!"
"Hey, Claire, what on earth happened?"
Rinslet inquired, seemingly puzzled.
Claire tightly bit her lips—
"Rinslet, be frank and answer me truthfully... W-Why are my breasts small?"
Rinslet kindly smiled at Claire, whose face turned red from the embarrassment.
"You are not at all at fault. It's just a pitiful fact that they won't grow. Besides, so-called maniac men who like those also exist in out world."
"Rinslet, didn't you say something extremely rude under the pretense of comforting me?"
"It was just your imagination."
Rinslet nonchalantly answered.
"It'd be fine if I could share and give my breast to you, but..."
She muttered— suddenly, Rinslet recalled an article that she read from some magazine.
"Claire, I remembered a method to enlarge your breasts."
"Eh?"
For a moment Claire gazed at Rinslet with eyes full of anticipation.
...However, it passed as soon as it came and she shook her head.
"...L-Lies, there's no way such a method exists. I heard a rumor that the legendary large breast spirit had been seen in the «Spirit Forest» in the older days and tried to hunt it down, but that was just a ruse."
"Eh, y-you were doing such a shameful thing?"
Rinslet was, as expected, taken aback by the sudden confession.
"S-Shut up... That's enough. I'll hear you out about that method."
"Ahem." Claire said with a cough.
She took a posture that was supposed to demonstrate boredom, but her interest was easily spotted.
Hmm. Rinslet placed her hand at her chin.
(...Perhaps this is something I can use for trade.)
It seemed that Claire's worries were not something very serious.
If that was the case, she felt like just giving the information to her rival would be a waste.
(...That reminds me, Claire's team received a S rank quest.)
Rinslet recalled the thing she heard from Carol casual conversation yesterday.
"Well, I guess it's alright to tell you. However, I won't do it for free."
"W-What?"
"I want to have the privilege of joining Team Scarlet's current quest."
"...Huh? Why are you coming along?!"
"It is unfair that only you guys get to go on a trip. Besides, it will be troubling for my manservant to be tamed as you please at a place where my eyes can't reach."
"It isn't a trip; it's a quest. To begin with, Kamito isn't your manservant."
Claire furiously shook her head. It was understandable, after all, if the number of people participating in the quest increased, then the ranking points given to a person would end up decreasing.
"I see, in that case, it's regretful, but I am unable to tell you the method to enlarge your breasts."
"Guu..."
Vexed, Claire gritted her teeth.
For a few seconds, she sternly glared at Rinslet—
"...I-I get it."
Eventually, she sighed giving up.
"You may come along. However, forming a team with you is something temporary."
"Th-That's obvious! Who would join a team like yours?!"
During that time, Kamito and Fianna had gone deep into the «Spirit Forest».
At night, the area was enshrouded in darkness with nasty spirits creeping about, but during the day, it gave off the same feeling as a sacred shrine. Such was the «Spirit Forest»: a place full of contradictions.
(That reminds me, I met Claire here...)
...That was, in many ways, the worst kind of meeting, though.
"Just the two of us walking in the woods, it's like a date."
"This isn't a place suited for a date. There are too many invisible spirits lurking around."
"It's fine. If I had to describe myself, I would say that I am the type that gets fired up from being seen."
"...Wh... Pr-Princesses don't say such a thing!"
"It's a joke. What are you getting red for?"
During this conversation, the two of them emerged into a clearing in the middle of the forest.
He didn't have to worry about anyone hearing their discussion.
"Well then, I have one thing I want to ask—"
"My underwear is black."
"Don't rush and answer the question without even hearing it. And that's not what I wanted to ask you about."
Kamito deadpanned. It was not good for him to be dragged into the princess's pace.
"Ahem", he coughed and gazed straight into Fianna's eyes—
"Why do you know my true identity?"
"..."
There were a few seconds of silence.
And then, she calmly sighed.
The princess was unable to hide the disappointment that surfaced on her face.
"...Hey, you really can't remember?"
"Sorry, but I don't have a princess acquaintance."
Fianna sighed again at Kamito's reply.
She puffed her cheeks, rather than being shocked, she felt anger rising inside her.
"First hint, do you remember anything when you look at this forest?"
"The forest?"
"Yes, «Astral Zero's» forest."
Astral Zero... There was something stuck in Kamito's mind.
"Second hint, the «Blade Dance»"
"Do you mean the one three years ago? ...Don't tell me, you were my opponent!?"
"Third hint, the hair style!"
Shouting in an irritated voice, Fianna tied up her hair with both hands.
She wore her beautiful black hair on both sides now and that face—
"Ah!"
Kamito suddenly shouted.
"...I-I remember!"
Three years ago, in the Astral Zero forest, he saved a girl from an evil spirit.
And at that time he wasn't wearing his wig or female clothing.
"The girl from that day was you!"
"...Yes, jeez."
Fianna pouted in irritation.
"Err, but you changed so much..."
Kamito told her vaguely. It was not that he remembered it that vividly, but she was just a kid at that time.
"What, Kamito-kun, you too have changed pretty much."
"Different things happened."
Kamito awkwardly looked away.
Unconsciously his eyes drifted to his left hand covered by a leather glove.
—Three years ago was when just about everything changed. And he lost her after wishing for something that nobody should ever wish for.
"Despite promising to meet again, despite me waiting all this time. You disappeared."
"...Sorry."
Kamito apologized sincerely.
Fianna placed her hands on her waist, and sighed in disappointment.
"It's fine, I'll forgive you. I'm offended that you completely forgot about me, but well, I am not really surprised. For you, I was just a girl you saved by chance."
"But hey—", she muttered sadly.
Suddenly, she gently pressed her soft fingers against his lips.
"You're really my first love."
"Wh...!?"
"It's a joke."
"...Wh-Why you."
She giggled seeing Kamito's glare.
"So, you're the girl from that time..."
But, even if that was the case—
Why on earth did she approach Kamito? That was still unclear.
"Fianna, why did you come to this academy?"
"Of course, it was to kiss my beloved Kamito-kun."
"...Don't you feel embarrassed saying that?"
"Y-Yes... just now, it was a little embarrassing."
Fianna turned red and looked downwards. ...Well, she still planned to do it.
"I came here because I heard about Kamito-kun."
"Really?"
"Yeah, a few days ago, my butler told me about you. He said that there was a male elementalist, who defeated a rampaging militarized spirit. After an investigation I learned your name—"
"The one I gave you three years ago."
"That's it. Although, I already knew that it was you from the fact you are a male elementalist."
"Then, why did you come to meet me?"
"Th-That's to kiss with Kamito-kun—"
"That's enough."
Kamito interrupted her and Fianna sulked a little in silence.
Then, she stated calmly.
"I thought of threatening you with your secret and forcing you to let me join your team."
"What do you mean?"
"I thought that if I was on a team with the Ren AshbellStrongest Blade Dancer, I could win this time's competition."
"...I see. That means that seducing me was also part of your plan?"
"Err... I-I got exposed."
"Your acting was too unnatural. Well, I think you did your best."
At any rate, she was a real princess and her inexperience in that matter showed, Fianna was also a student at the famous «Divine Ritual Institute», so, in some ways she was more innocent than ojou-samas at this academy.
"But don't misunderstand me! T-the things I've done, I've only done with you, Kamito-kun!"
"No, such a follow-up is troubling..."
Kamito moaned before sighing.
"Why do you want to participate in the «Blade Dance» anyway?"
"That's..."
Fianna made a perplexed expression—
"Isn't it obvious? If I win the Blade Dance, I'll have all the status and honor I desire. Everyone, who was ridiculing me —The Lost Queen, the useless princess— will have to recognize me."
"...I see."
—Kamito thought that was a lie. Her expression… he saw it once on Claire's face. This girl had a goal and she was going to reach it no matter what.
Without an important reason, she wouldn't be able to have this look in her eyes.
"Hey, Kamito-kun. Are you angry?"
"Hn, why?"
"Well, I'm trying to use you."
Kamito shrugged, this princess tended to become serious at strange times.
"It's nothing unusual, Greyworth always uses me. On top of that, Claire gives me the slave treatment. Even if the number of such people increases by one or two, it won't make any difference."
"It seems that even the Ren AshbellStrongest Blade Dancer has it hard sometimes."
Fianna smiled bitterly.
"You guys, what are you doing there?!"
The thicket rustled as a cold voice asked them.
He turned around and a familiar girl appeared from the other side of the bush.
"Ellis?"
"...Oh, it's Kamito."
Ellis took a breath of relief and sheathed her sword. Then, she pushed through the thicket and walked in his direction.
Rakka and Reishia followed closely behind her.
"Ellis, what's the matter? Why are you in the middle of the forest?"
"I should be asking you that. The knights are busy cleaning the mess the intruder left, so I wanted ask you to keep it down and not give us more work to do."
Then Ellis noticed Fianna, who stood behind Kamito.
Her expression immediately turned stern.
"Y-You guys, what are you doing alone at a place like this!"
Before Kamito had a chance to reply, a sword was pressed to his throat.
...As always, the speed with which she drew her weapon was amazing.
"No way, you guys—"
"How stupid, there is only one thing a boy and a girl of our age can do in the middle of the forest."
"Wh-What was that!?"
Ellis blushed harder at Fianna's words.
The sword jerked slightly in her hand.
"Oi, Fianna!?"
Kamito shouted, but Fianna feigned ignorance.
"Th-The academy doesn't have a rule that prohibits sexual relationships. But there were no male students here before. So, even if the rules allow it, the Knights won't! What were you doing, say it!"
"Well, what did we do? Maybe we did what you think we did? "
The princess pressed her breasts tightly into Kamito's arm.
Ellis got a dangerous look in her eyes.
"Fianna, why are your words always so easy to misunderstand, you know you are only pouring oil into the fire!?"
"Ev-Even though I'd gotten a slightly better opinion of you..., you insolent person!"
She swung her sword.
Kamito nervously jumped back to avoid that merciless attack.
"Wa-Wait, Ellis! Knights, please help me, there's a murderous demon here!"
"You fool, I am a Knight!"
"Don't you see the irony?!"
Kamito shouted.
"Captain, you're wasting your time."
Rakka placed her hand on Ellis's shoulder.
"My apologies, whenever our captain is with you, she gets emotionally unstable."
"...Th-That's not true!"
Ellis's face turned bright red and she snarled at Reishia, who just chuckled in response.
It seemed that for the time being the danger to his life subsided. Kamito took a breath of relief.
"Jeez, why are you here anyway?"
"Ah, it has been decided that we are departing to a mine for a quest. We needed light sources to travel inside the tunnels, so we thought about capturing light attribute spirits."
The one who answered him was Rakka.
That's right. They were holding lanterns containing small spirit crystals in their hands.
"A mine? Is it, by any chance, the same one we are supposed to investigate?"
"Ah, that's right. Although, we have a different quest."
"What do you mean?"
"It appeared only this morning. The task is to arrest the assailant and recover the stolen materials."
"The assailant? That Jio Inzagi brat!"
The male elementalist, who used several contracted spirits.
He seemed to know something about that boy's goal.
"That's right. We haven't gotten hold of the brat's true identity, but the stolen materials contained highly classified information about the strategic-class militarized spirit, «Jormungandr», sealed in the postwar period in the Gado town. It seems that there are people secretly moving at the outskirts of it."
Ellis held her temper, thought she seemed vexed.
"That brat stepped on our pride and because of him the Sylphid Knights lost their face. So it is my duty as their Captain to arrest him and restore the honor of my comrades."
Rakka and Reishia confidently nodded, agreeing with Ellis's words.
(...Seems like it won't end as an ordinary earthquake investigation.)
An uneasy thought passed through Kamito's mind.
First, the classified material concerning a strategic-class militarized spirit.
And now, the assailant, who was aware of Kamito's true identity.
(Is Greyworth hiding something again?)
He honestly did not understand what that Dusk Witch was making him do. No matter how Kamito looked at it, for her to give him a S rank quest at this time… It could not be a coincidence.
(That witch...)
Kamito groaned loathsomely.
After that, he faced the Knights—
"...Hey, Ellis. Since our goals are the same, why don't you cooperate with us?"
Jio Inzagi wasn't a simple opponent.
Of course, Kamito knew about Ellis's ability, but that guy wasn't an enemy she could deal with alone.
But the girl just confidently shook her head.
"I appreciate your feelings, but can't accept your help. This is something Sylphid Knights should settle on their own."
"If you think so, still, try not to overdo it."
"A-Ah... you too."
Ellis blushed and turned away.
For some reason, Fianna pouted after seeing it.
Some time later, Claire could be found in her room hugging a pillow and rolling nervously in her bed.
"To get the boy I li-like to rub my b-breasts!"
She shouted pressing her flushed face into the pillow. *Posun*. *Posun*.
If the gentleman she likes were to rub her breasts, they would grow bigger. That was a sure way.
Rinslet told her that.
"Th-There's no way I can do that! Besides, a boy I li-like—"
Hugging the pillow tightly, she rolled idly on her bed before coming to an abrupt stop.
"..."
At that moment, for some reason, she remembered Kamito's face.
In her mind he was like the prince from the romance novels which targeted teens and which Claire loved reading. She imagined him forcibly pushing her down on the bed—
"Fuwaa, wh-what are you doing, idiot, pervert!"
"What a surprise, it seems you do have breasts."
"Eh?... I-Is that so? That's not true, it's the same as usual."
"I'll make them even bigger. With this magnificent technique of mine."
"No, hey, fua, a-aa ♪"
In her imagination he tightly grabbed Claire's breasts.
One rub, two rubs, each time her breasts grew bigger like a fluffy cake.
("Fua, hn, amazing, wh-what is this,...!?")
With a snap her uniform button popped out and her underwear was ripped apart, and then—
"...There's no way that would happen!"
Claire hit her pillow and writhed.
"Wh-What's with the magnificent technique... Am I an id-idiot or what?!"
"Nyaa?"
"Wh-What are you looking at, Scarlet!"
She faced the floor and threw the pillow at the fire spirit who evaded it nervously.
"Ahh, I-It's all that guy's fault!"
Hugging her shoulders with both hands, she noticed that her breathing became faster.
(...What do I do, I suddenly feel hot. I wonder if I have a fever.)
For some reason her body was getting warmer. Claire placed both hands on her cheeks when an idea struck her.
(...I-I wonder if they'll become big, if I rub them myself.)
"I-I shall try it out..."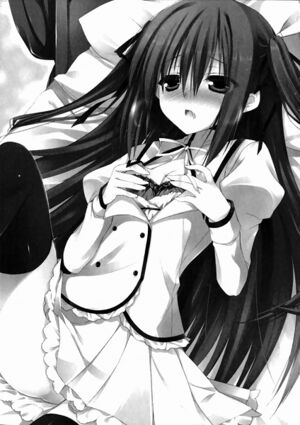 Lightly, she touched her breasts with the tips of her fingers.
"Ah, hn..."
Because of the strange and unexpected sensation she involuntarily let out a moan.
(Wh-What do I do... somehow, it feels good.)
*Funyuu*. *Funyuu*.
"Fua, ah, hn, no, this... is not good and yet, hn."
She was rubbing her breasts in a half conscious state—
*Gacha*— the sound of the door opening resounded through the room.
"...Y-You, what are you doing?"
Kamito was looking at her with a puzzled face.
"...Fua!? N-No, this isn't what it looks like!"
Having said that, Claire immediately released countless fireballs that blew him away.
One hour later Kamito could be found at the plaza in front of the gate. He was preparing for the departure.
His destination wasn't far from the academy and it would only take him a day by horse to reach it.
It seemed that Ellis's team had already left and seeing that the girls had the wind spirit's divine protection, they should be able to reach the town a lot earlier.
After Est transformed into her sword form, Kamito secured her at his waist and started checking his equipment.
"I am late, Kamito-san."
A platinum blond ojou-sama approached him leading a horse in tow.
"Eh, Rinslet's also coming?"

Kamito asked Claire.
"Yeah, it was a high grade strategic trade. In exchange for the important piece of information she held, I allowed her to join the quest this time."
"What kind of information?"
"It is a se-secret... something so significant can't be shared with someone like you.
"It is certainly important… For you… The method to enlarge your breasts—!"
"Rinslet Laurenfrost, do you want to turn to cinders?"
"Hey, Claire, your eyes, your eyes are serious!"
Rinslet backed off.
"Ah, I'm uneasy, milady. Going to such a dangerous place."
At her side, Carol, the maid, was worrying about her master. The woman held her hands together as if praying.
She was not an elementalist, so naturally, she couldn't join the quest. She was a care-taker at the academy.
"It is alright, Carol. I am more worried about you."
Rinslet hugged her brave and affectionate maid.
"I wonder if you can wake up alone in the morning even when I'm not around. Eat precisely three meals every day. And when washing, take care not to let bubbles get into your eyes again."
"Yes, milady, I will do my best even if milady isn't around."
"...That's just strange."
Seeing the two getting excited, Kamito interjected with a deadpan look.
"By any chance, could Carol be a terribly no-good maid?"
Rinslet turned around and sternly glared at Kamito.
"What are you saying? It is fine as long as the maid is cute!"
"Well, if you're alright with that, but..."
(Or perhaps I should say that Rinslet is truly a perfect superwoman at all housework!?)
...It was surprisingly close to the truth.
"The meals milady makes are very delicious."
"Carol, you should also do some work..."
Kamito was amazed at the no-good maid.
"St-Stop, I said stop, didn't I!"
A scream was heard from behind.
Kamito turned around and saw Fianna barely holding onto a horse that tried to throw her off.
"Kyaa!"
*Thud!* Her butt hit the ground as she fell. It seemed that her reflexes weren't very good.
"Jeez, despite being a princess, you can't ride a horse? Isn't it supposed to be something all nobles are taught?"
"This skill was not part the training we received at the «Divine Ritual Institute»!"
While beating off the mud stuck on her skirt, Fianna shot back.
"Horseback combat practice is a required subject in the academy, it's something you have to get used to. Though, it might be difficult to keep your balance with those breasts."
"Yes, that's right. Because I don't have aero breasts[1] like yours that are unaffected by air resistance, I may be unsuited for riding a horse. Since mine actually are affected, you know."
"Wh...a-aero breasts, what?! Don't make up new words!"
Rinslet approached the quarreling girls.
Brushing her platinum blond hair behind her, she looked at Fianna and smiled.
"I'm Rinslet Laurenfrost and I'm pleased to make your acquaintance. Also, because Kazehaya Kamito is my manservant, could you please not make any moves on him whenever you wish?"
"Ah, I don't plan on making a move on him. Since he's your manservant, how about you properly discipline him?"
"You have a sharp tongue, your Highness... hohoho."
"Fufufu..."
Sparks started flying between the two of them.
"You girls..."
Kamito, who was on the horse sighed in astonishment.
Fianna turned in his direction and an impish smile surfaced on her face.
"Hey, seeing that I can't ride a horse, Kamito should give me a ride."
"Uh?"
Before Kamito answered, Fianna had jumped behind him.
"Wh...!"
"Come on!"
Claire and Rinslet raised their voice simultaneously.
Fianna wrapped her hands around Kamito's waist and tightly embraced him.
*Fuyon*, immediately he felt her soft breasts touching him.
"W-Why me? Have Claire or Rinslet give you a ride."
"I want to ride with Kamito. Or, do you want your true identity exposed?"
"Guu..."
"N-No, that's not good!"
Claire struck the ground with her whip.
"Ah, why?"
"Wh-Why...? T-that's just not good!"
"Even if you're a princess, that's unfair!"
Rinslet also sullenly puffed her cheeks.
...He didn't understand very well what was unfair.
"Oh dear, it seems I have many difficulties in store for me..."
Sitting on the horse and with Fianna hugging him from behind, Kamito sighed deeply.
↑

Aero as in Aerodynamic (ie: aerodynamically shaped to reduce air resistence, like how cars or airplanes are shaped).