Shippai Kinshi!
Jump to navigation
Jump to search
| | |
| --- | --- |
| | This Teaser Project has not yet reached Full Project status requirements. |
Help this project out by joining the translation team! — Learn more about Full Project Approval Requirements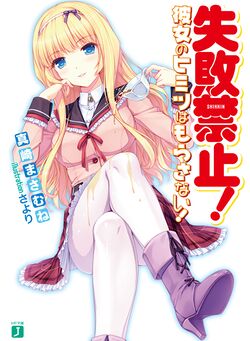 Shippai Kinshi! Kanojo No Himitsu Wa Morasanai! (失敗禁止! 彼女のヒミツはもらさない!) is a light novel series written by Masaki Masamune. The illustrations are done by Sayori. Currently, the series has 2 volumes.
A translation for this title would be "Failure is Forbidden! Her secret shall never be revealed!".
Story Synopsis/Warning
[
edit
]
Seiryuu Academy, the Second Flower Arrangement Club-- This club that gathers the top beauties in the school is a mysterious organization of unknown activities and admission conditions. The protagonist, Shimizu Shou, due to some strange opportunity, was recommended to enter the Second Flower Arrangement Club by his sister Hijiri, a member of the club. "Bro-Brother. That stain...perhaps...?" "That's not it, Hijiri! It's just spilled orange juice!"...the conditions needed to join the club that are shrouded in mystery are...? Without knowing the reason, Shou, who was waiting in the clubroom for the club president Ryuusenji Kurisu, learnt her secret there...! He must not let this known!! An Outstanding Newcomer Excellence award! A secret problematic work is finally released! - Teh_Ping/Mediafactory
Updates
[
edit
]
December 27th, 2012: Project page created.
Translation
[
edit
]
Those who wish to contribute are asked to first notify a supervisor beforehand.
Translators are asked to register which chapters they're working on
Format Standards
[
edit
]
Every chapter (after editing) must conform to the general format guidelines.
Feedback
[
edit
]
Discuss this series in the forum
The 'Shippai Kinshi' series by Masaki Masamune
[
edit
]
Volume 1
[
edit
]
Volume 2
[
edit
]
Project Staff
[
edit
]
Project Administrator:
Project Manager:
Translators
[
edit
]
ACTIVE
Editors
[
edit
]
Series Overview
[
edit
]