Shoushimin Series
Jump to navigation
Jump to search
| | |
| --- | --- |
| | This Teaser Project has not yet reached Full Project status requirements. |
Help this project out by joining the translation team! — Learn more about Full Project Approval Requirements
The Shoushimin Series (小市民シリーズ), or The Petit Bourgeois Series, is a novel series written by Honobu Yonezawa (米澤穂信), author of Hyouka (Classics Club Series), and published in Sougen Suiri Bunko (創元推理文庫). There are currently four volumes.
There are also currently two completed manga mini-series covering the first two novels. The first one was written by the same author and illustrated by Anko Manjuuya, and the second one was arranged by Fuua Yamasaki and illustrated by Omiomi. Both were serialized in Square Enix's monthly GFantasy publication.
For any questions or discussions on the translating staff, project details, or the story itself, please refer to the Teaser Feedback thread. Also, please drop a vote if you have the time.
Story Synopsis
[
edit
]
Kobato-kun and Osanai-san are in their first year of high school. Even though they aren't lovers nor dependent on each other, the two of them have a peculiar, mutually-beneficial relationship. Today, like every other day, they only wish to be modest, upstanding lower-middle class citizens, or as they call it, petit bourgeois, and yet they constantly find themselves face-to-face with strange mysteries around every corner regardless. Although he doesn't want to stand out like some sort of genius detective, Kobato-kun somehow always ends up finding himself trapped in situations that force him to unravel these mysteries anyways. Will he ever be able to become his ideal petit bourgeois?
Translation of the first volume's synopsis.
Updates
[
edit
]
July 30st, 2015 - Overview page created.
The Shoushimin Series by Honobu Yonezawa

[

edit

]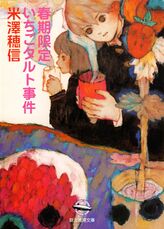 Volume 1 - The Spring Special Strawberry Tart Case (春期限定いちごタルト事件) - Full Text

[

edit

]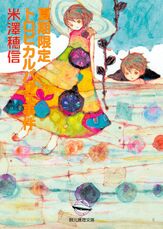 Volume 2 - The Summer Special Tropical Parfait Case (夏期限定トロピカルパフェ事件) - Full Text

[

edit

]
Volume 3 - The Autumn Special Kuri-Kinton Case <Part 1> (秋期限定栗きんとん事件〈上〉) - Full Text

[

edit

]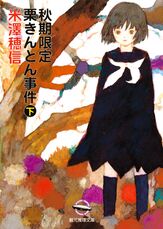 Volume 4 - The Autumn Special Kuri-Kinton Case <Part 2> (秋期限定栗きんとん事件〈下〉) - Full Text

[

edit

]
Project Staff
[
edit
]
Translators
[
edit
]
Editors
[
edit
]
Series Overview
[
edit
]
春期限定いちごタルト事件 (創元推理文庫) (2004/12/18) - ISBN 978-4488451011
夏期限定トロピカルパフェ事件 (創元推理文庫) (2006/4/11) - ISBN 978-4488451028
秋期限定栗きんとん事件〈上〉(創元推理文庫) (2009/2/27) - ISBN 978-4488451059
秋期限定栗きんとん事件〈下〉(創元推理文庫) (2009/3/5) - ISBN 978-4488451066