Shurabara!
Jump to navigation
Jump to search
| | |
| --- | --- |
| | This Teaser Project has not yet reached Full Project status requirements. |
Help this project out by joining the translation team! — Learn more about Full Project Approval Requirements
Shurabara! (しゅらばら!), also known as Shuraba Lovers, is a Japanese light novel series written by Kishi Haiya and illustrated by PurinPurin. As of November 2013, 10 volumes have been published by Media Factory under their MF Bunko J label. There is a completed manga adaptation by Kishi Haiya and Watari Masahito.
Story Synopsis
[
edit
]
"I don't want girls to hate me!"
Kazuhiro Yagimoto is a high school boy who has such a mentality and acts like a "good guy". In the end, though, he could not break away from his good guy image, and was labelled as "Time without a girlfriend = age". Now, this youth's spring has come.
"...Kazuhiro-kun, I have a request...can you become my boyfriend?" (by a classmate)
"Yagimoto-sama. Please let us become lovers!" (by a colleague)
"Kazu, be my boyfriend!" (by a childhood friend)
In such a short period of time, three spring days have appeared!? But no matter how you look at it, the three of them seem to be hiding something...!?
The lovable romantic comedy with a "battlefield" feel starts!! ...Want to three-time?
Updates
[
edit
]
10th October 2013 - Translation started!
12th October 2013 - Volume 1 Prologue Completed.
27th November 2014 - Volume 1 Chapter 1 Completed.
6th December 2014 - Volume 1 Chapter 2 Completed.
22th December 2014 - Volume 1 Chapter 3 Completed.
Translation
[
edit
]
Format Standards
[
edit
]
Every chapter (after editing) must conform to the general format guidelines.
Translators are asked to Register the chapters they want to work on.
Feedback Thread
[
edit
]
If you enjoyed the translation, why don't you tell us on the Feedback Thread
The Shurabara! series by Kishi Haiya

[

edit

]
Teaser
Volume 1
[
edit
]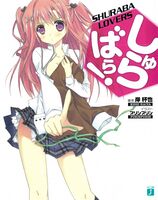 Volume 2
[
edit
]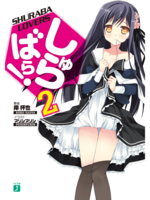 Volume 3
[
edit
]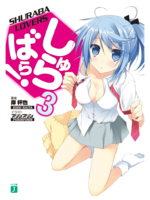 Volume 4
[
edit
]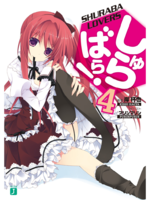 Volume 5
[
edit
]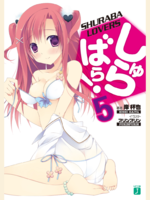 Project Staff
[
edit
]
Translators
[
edit
]
Active
Inactive
Editors
[
edit
]
Active
Inactive
Retired
Project Status
[
edit
]
Project Status: Teaser
Series Overview
[
edit
]
しゅらばら! 1 - 25th April 2011 - ISBN 978-4-8401-3899-4
しゅらばら! 2 - 25th July 2011 - ISBN 978-4-8401-3968-7
しゅらばら! 3 - 25th November 2011 - ISBN 978-4-8401-4302-8
しゅらばら! 4 - 25th February 2012 - ISBN 978-4-8401-4391-2
しゅらばら! 5 - 31st May 2012 - ISBN 978-4-8401-4577-0
しゅらばら! 6 - 22nd September 2012 - ISBN 978-4-8401-4818-4
しゅらばら! 7 - 25th March 2013 - ISBN 978-4-8401-5141-2
しゅらばら! 8 - 25th July 2013- ISBN 978-4-8401-5251-8
しゅらばら! 9 - 25th October 2013 - ISBN 978-4-04-066030-1
しゅらばら! 10 - 25th February 2014 - ISBN 978-4-04-066313-5
しゅらばら! 11 - 25th June 2014 - ISBN 978-4-04-066782-9