Story of Evil - Français
Jump to navigation
Jump to search
| | |
| --- | --- |
| | This Teaser Project has not yet reached Full Project status requirements. |
Help this project out by joining the translation team! — Learn more about Full Project Approval Requirements
Note: This Project has been classified as Stalled.




Please see Template:STALLED for further information about this classification.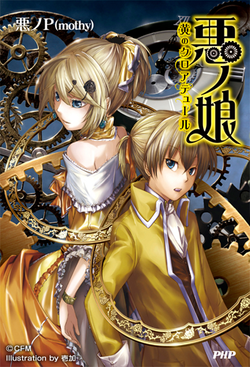 Story of Evil, aussi connu sous le nom de The Daughter of Evil est une série de light novels écrite par Akuno-P et illustrée par Ichika. Elle est publiée chez PHP Books et fait parti d'une plus grosse saga intitulée Evillious Chronicles. Cette série se distingue des autres en cela qu'elle est à la base une adaptation en light novel d'une série de musique Vocaloid du même nom.

Important : Ceux qui souhaitent traduire ou éditer le projet doivent IMPÉRATIVEMENT lire la partie "Traduction".
Synopsis
[
edit
]
C'était il y a fort longtemps, loin d'ici.
Dans un malveillant royaume où personne n'osait se montrer
Dont le souverain si malveillant
Était une petite fille, de 14 ans.

Ainsi débute la série musicale d' « Aku no Musume », plus communément appelée « Daughter of Evil », qui signifie en anglais « La Fille du Mal ». Dans cette série musicale, on trouvera deux personnages principaux, Kagamine Rin, qui joue le rôle de la princesse, ainsi que son servant, Kagamine Len. Rin, étant à la tête de son royaume, décide de punir toute personne qui ne lui obéit pas en les exécutant sur-le-champ. Et bien sûr, personne n'y échappera, surtout pas une jeune inconnue qui est sur le point de lui piquer son fiancé, joué par Kaito. Commence donc cette série, où dans chaque morceau, le personnage principal donne son point de vue, ou détaille encore plus l'histoire.
Règles de Traduction

[

edit

]
Cette partie doit être lue par tous les traducteurs et éditeurs du projet.
Les traducteurs doivent s'enregistrer sur le lien ci-dessus.
Chaque chapitre doit se conformer aux règles ci-dessous après édition :
La traduction est de l'Anglais au Français
Feedback - Forum
[
edit
]
Une remarque ou un remerciement ? Vous voulez participer au projet ? Voir le sujet sur le forum.
Actualités
[
edit
]
Story of Evil par Akuno-P

[

edit

]
The Daughter of Evil: Clôture of Yellow
[
edit
]
The Daughter of Evil: Wiegenlied of Green
[
edit
]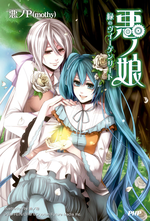 Interlude of Evil: The Daughter of Evil Worldguide
[
edit
]
The Daughter of Evil: Praeludium of Red
[
edit
]
The Daughter of Evil: Praefatio of Blue
[
edit
]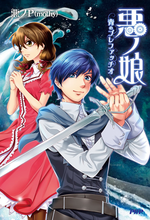 Epic of Evil: The Daughter of Evil Fanbook
[
edit
]
Le staff est validé par le superviseur ou le manager du projet.
Superviseur de la version anglaise : -
Manager de la version anglaise : -
Superviseur : ???
Manager : ???
Traducteurs
[
edit
]
Seuls les traducteurs actifs peuvent traduire le projet.
Actifs :
Éditeurs / Relecteurs
[
edit
]
Actifs :
Autres membres du staff
[
edit
]
Parutions
[
edit
]
Story of Evil
The Daughter of Evil: Clôture of Yellow (10 Août 2010) - ISBN 978-4-569-79103-6
The Daughter of Evil: Wiegenlied of Green (24 Février 2011) - ISBN 978-4-569-79457-0
Interlude of Evil: The Daughter of Evil Worldguide (30 Août 2011) - ISBN 978-4-569-79891-2
The Daughter of Evil: Praeludium of Red (23 Décembre 2011) - ISBN 978-4-569-80137-7
The Daughter of Evil: Praefatio of Blue (23 Mars 2012) - ISBN 978-4-569-80307-4
Epic of Evil: The Daughter of Evil Fanbook (25 Août 2012) - ISBN 978-4-569-80724-9