The Indecent Relationship between Four Lovers
Jump to navigation
Jump to search
| | |
| --- | --- |
| | This Teaser Project has not yet reached Full Project status requirements. |
Help this project out by joining the translation team! — Learn more about Full Project Approval Requirements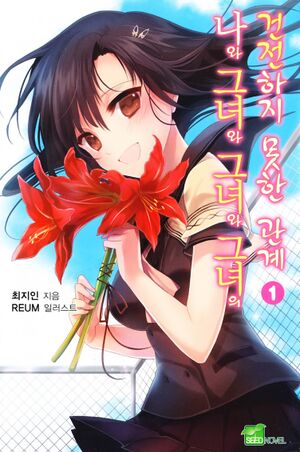 The Indecent Relationship Between Four Lovers (나와 그녀와 그녀와 그녀의 건전하지 못한 관계) is a Korean light novel series written by Choi Ji-in (최지인 지음) and illustrated by REUM . The series is ongoing with 7 volumes.
Story Synopsis
[
edit
]
Ahn Kyeong-hyun is a romanceless boy who loves to study, and his greatest reward in life is obtaining perfect grades in school. If he had one wish, it would be to study from sunrise to sunset forever. But one day, when he gets into a car accident and wakes up in a hospital with an amnesia, he is confronted by three girls claiming that they're his girlfriends: Yu Yuyu, his classmate; Han Ka-ryeon, his junior at his part-time job; and Ahn Yeon-hee, his younger sister.
Are they really telling the truth? A chaotic, mysterious, harem comedy of love and lies!
Translations
[
edit
]
Translations and editing by Imoutolicious LNT
Updates
[
edit
]
December 7, 2014 - Volume 1, Chapter 6 Part 1 Complete
April 22, 2014 - Volume 1, Chapter 5 Complete.
The Indecent Relationship Between Four Lovers series by Choi Ji-in

[

edit

]
Volume 1
[
edit
]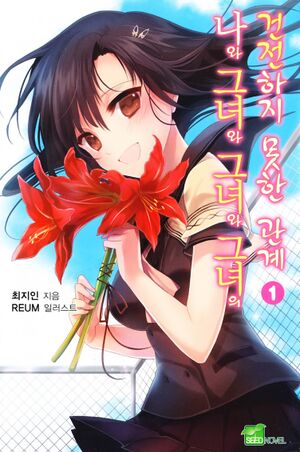 All links below are external links to Imoutolicious Light Novel Translations
Chapter 6. Tempest
Chapter 7. Bitter End
Afterword
Volume 2
[
edit
]
All links below are external links to Imoutolicious Light Novel Translations
Prologue. Quartic Equation
Chapter 1. Monday
Side. Heroines
Chapter 2. Date Date Date
Side. Heroines #2
Chapter 3. Cohabitation
Side. Mate
Chapter 4. Give and Take
Side. Mate #2
Chapter 5. Solitary Queen
Epilogue. Close Relationship
Afterword
Volume 3
[
edit
]
All links below are external links to Imoutolicious Light Novel Translations
Prologue. Quintic Equation
Chapter 1. Exam Results
Side. Classmate
Chapter 2. Journey
Side. Owner
Chapter 3. Fireworks
Side. Classmate #2
Chapter 4.Island
Side. Classmate #3
Chapter 5. Starry Night
Epilogue. Return
Epilogue. Dishonest Relationship
Afterword
Volume 4
[
edit
]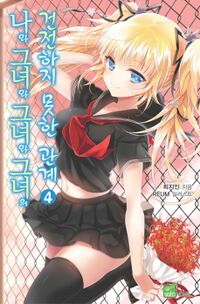 Novel Illustrations
Prologue. Husband and Wife
Chapter 1. Doubt
Side. Junior
Chapter 2. Fake Wedding
Side. Mate
Chapter 3. Battle on the Bed
Side. Junior #2
Chapter 4. Confession
Side. Junior #3
Chapter 5. Moonlit Night
Side. Junior #4
Epilogue. Continuous Relationship
Afterword
Volume 5
[
edit
]
Novel Illustrations
Prologue. First Date
Chapter 1. Second Semester
Side. Friend
Chapter 2. Preparation
Side. Junior
Chapter 3. Athletic Meet
Side. Sister
Chapter 4. Closet Space
Side. Boy
Chapter 5. His Phrase
Side. Mate
Chapter 6. Discord
Side. Classmate
Chapter 7. Dead Heat
Epilogue. Renewed Relationship
Afterword
Volume 6
[
edit
]
Novel Illustrations
Prologue. Comeback
Chapter 1. Couple
Chapter 2. Outcast
Chapter 3. Younger Sister
Chapter 4. Desperation
Chapter 5. Sense of Loss
Chapter 6. Before Departure
Epilogue. Accelerating Relationship
Volume 7
[
edit
]
Novel Illustrations
Prologue. Depression
Prologue. Love Tetragon
Chapter 1. School Time
Side. Classmate
Chapter 2. Cafe Time
Side. Junior
Chapter 3. Home Time
Side. Sister
Chapter 4. Mother
Chapter 5. Man to Man
Chapter 6. Appearance
Epilogue. Fateful Relationship
Project Staff
[
edit
]
Project Administrator:
Project Supervisor:
Translators
[
edit
]
Editors
[
edit
]
Series Overview
[
edit
]
《나와 그녀와 그녀와 그녀의 건전하지 못한 관계. 1》, 2012-08-01, ISBN 978-8-9267-8151-7
《나와 그녀와 그녀와 그녀의 건전하지 못한 관계. 2》, 2012-10-01, ISBN 978-8-9267-8169-2
《나와 그녀와 그녀와 그녀의 건전하지 못한 관계. 3》, 2013-01-01, ISBN 978-8-9267-8182-1
《나와 그녀와 그녀와 그녀의 건전하지 못한 관계. 4》, 2013-05-01, ISBN 978-8-9267-8209-5
《나와 그녀와 그녀와 그녀의 건전하지 못한 관계. 5》, 2013-09-01, ISBN 978-8-9267-8243-9
《나와 그녀와 그녀와 그녀의 건전하지 못한 관계. 6》, 2014-01-01, ISBN 978-8-9267-8272-9
《나와 그녀와 그녀와 그녀의 건전하지 못한 관계. 7》, 2014-06-05, ISBN 978-8-9267-9570-5