The Sisters' Underwear Situation
From Baka-Tsuki
| | |
| --- | --- |
| | This Teaser Project has not yet reached Full Project status requirements. |
Help this project out by joining the translation team! — Learn more about Full Project Approval Requirements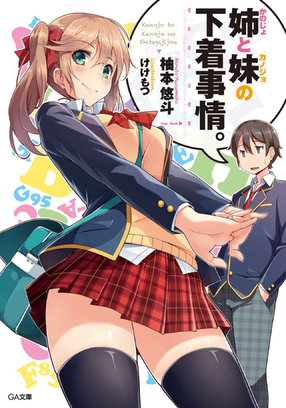 The light novel series The Sisters' Underwear Situation (姉(かのじょ)と妹(カノジョ)の下着事情。; Kanojo to Kanojo no Shitagi Jijou.) is written by Haruto Yuzumoto and illustrated by Kekemotsu.
Story Synopsis
N/A.
Updates
August 29th, 2016 - Prologue/Chapter 1 posted
Formalities
Registration
Those who wish to contribute are asked to notify the project manager beforehand.
Translators are asked to register which chapters they're working on.
Format Standards
Every chapter must after editing conform to the general format guidelines.
Changes to Page
Please do not make any changes to this site without asking the project manager. There's specific code on this page, which can be harmed by your edits.

The "The Sisters' Underwear Situation" series by Haruto Yuzumoto