The Sovereign of Omnia
Jump to navigation
Jump to search
| | |
| --- | --- |
| | This Teaser Project has not yet reached Full Project status requirements. |
Help this project out by joining the translation team! — Learn more about Full Project Approval Requirements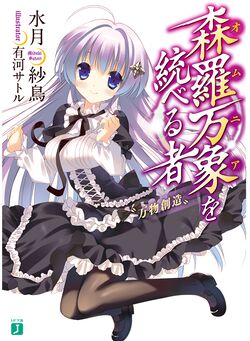 The Sovereign of Omnia (森羅万象を統べる者 / Omunia wo Suberumono) is a light novel series written by Miduki Satori(水月紗鳥) and illustrated by Arikawa Satoru(有河サトル). Published under MF Bunko J, the series concluded with four volumes.
Story Synopsis
[
edit
]
Misono Hinata and his childhood friend Ayakawa Suzuri had been living together for the past seven years. At long last, their life of sweet romance finally began now that Suzuri confessed her feelings. However, the sudden arrival of a girl named Satsuki, allegedly Hinata's cousin, resulted in a life of cohabitation for three. Despite having his hands full dealing with Satsuki's superpower, Hinata still continued to enjoy his romantic everyday life with Suzuri. Nevertheless, they were unfortunately caught up in the Misono head family's troubles--!?
The author's debut work, winner of the 8th Annual Newcomer's Prize, a story of super sweet romance crossed with superpowered battle action, hereby officially commences!
Updates
[
edit
]
2014-03-17 - Project Page Created, Volume 1 Chapter 1 Completed
Translation
[
edit
]
Those who wish to contribute are asked to first notify a supervisor beforehand.
Translators are asked to register which chapters they're working on
Format Standards
[
edit
]
Every chapter (after editing) must conform to the general format guidelines.
Discussion
[
edit
]
Discuss this series: in the forum
'The Sovereign of Omnia' series by Miduki Satori
[
edit
]
Volume 1 - Omnia Creata
[
edit
]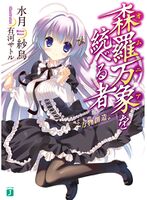 Volume 2 - Locked Room, Part 1
[
edit
]
Chapter 1 - Maiden Hearts, Unfathomable Feelings
Chapter 2 - Incoming Signs of Abnormal Days
Chapter 3 - Black Stockings VS Black Kneesocks
Chapter 4 - Isensetsugen
Chapter 5 - Omnia Creata
Epilogue - Also Known as Chapter 6
Afterword
Volume 3 - Locked Room, Part 2
[
edit
]
Chapter 1 - Supposed to be Chapter 7
Chapter 2 - Good Work
Chapter 3 - Black Kneesocks VS White Kneesocks
Chapter 4 - The Second Declaration of War
Chapter 5 - Locked Room
Epilogue - Maiden Tears, Unfathomable Feelings
Afterword
Volume 4 - Omnia Userus
[
edit
]
Chapter 1 - Start of a New Conclusion
Chapter 2 - Plans for the Summer?
Chapter 3 - Opening Move and Opening Move
Chapter 4 - Hiding for Whom
Chapter 5 - Omnia Userus
Epilogue - Their Daily Lives, The Pair's Daily Lives
Afterword

Project Staff
[
edit
]
Project Administrator:
Project Manager:
Translators
[
edit
]
Editors
[
edit
]
Series Overview
[
edit
]
森羅万象を統べる者  〝万物創造〟 (2012年10月25日発売 - ISBN 978-4-8401-4849-8)
森羅万象を統べる者Ⅱ 〝閉じた小部屋〟上 (2013年2月25日発売 - ISBN 978-4-8401-4986-0)
森羅万象を統べる者Ⅲ 〝閉じた小部屋〟下 (2013年6月25日発売 - ISBN 978-4-8401-5233-4)
森羅万象を統べる者Ⅳ 〝万物の使用者〟 (2013年10月25日発売 - ISBN 978-4-04-066033-2)