The World God Only Knows - Français
Jump to navigation
Jump to search
| | |
| --- | --- |
| | This Teaser Project has not yet reached Full Project status requirements. |
Help this project out by joining the translation team! — Learn more about Full Project Approval Requirements
Note: This Project has been classified as Stalled.




Please see Template:STALLED for further information about this classification.
The World God Only Knows (Le Monde Que Seul Dieu Connaît, 神のみぞ知るセカイ), aussi connu sous le nom Que sa volonté soit faite, est une série de light novels actuellement composée de deux volumes écrite par Mamizu Arisawa et illustrée par Tamiki Wakaki. The World God Only Knows est à l'origine un manga du même nom, qui a été adapté en un anime de trois saisons. Notez que le light novel n'est pas l'adaptation du manga, mais narre une autre histoire.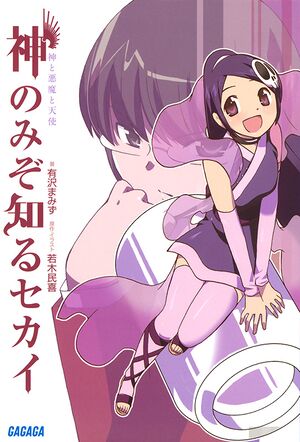 The World God Only Knows existe aussi dans les langues suivantes :

Important : Ceux qui souhaitent traduire ou éditer le projet doivent IMPÉRATIVEMENT lire la partie "Traduction".
Synopsis
[
edit
]
Katsuragi Keima, connu sur internet sous le surnom "Dieu des conquêtes", est en réalité un otamegane qui a horreur des filles réelles. Il rencontre un jour Elsie, un démon venu de l'Enfer, qui requiert son aide afin de récupérer des esprits en fuite qui se sont cachés dans certaines personnes. Keima accepte de l'aider, mais c'est sans savoir que les esprits se cachent uniquement dans les cœurs des jeunes filles, et que le seul moyen pour les faire sortir de là et de faire tomber celles-ci amoureuses de lui. Et malheureusement pour lui, l'échec ne lui est pas permis, ou il perdra sa tête.
Règles de Traduction

[

edit

]
Cette partie doit être lue par tous les traducteurs et éditeurs du projet.
Les traducteurs doivent s'enregistrer sur le lien ci-dessus.
Chaque chapitre doit se conformer aux règles ci-dessous après édition :
La traduction est de l'Anglais au Français.
Feedback - Forum
[
edit
]
Une remarque ou un remerciement ? Vous voulez participer au projet ? Voir le sujet sur le forum.
Historique
[
edit
]
The World God Only Knows par Mamizu Arisawa

[

edit

]
Tome 1 - Dieu, Démon et Ange
[
edit
]
Tome 2 - Prière, Malédiction et Miracle
[
edit
]
Le staff est validé par le superviseur ou le manager du projet.
Superviseur : Aucun
Manager : Aucun
Traducteurs
[
edit
]
Seuls les traducteurs actifs peuvent traduire le projet.
Actifs :
Éditeurs / Relecteurs
[
edit
]
Actifs :
Parutions
[
edit
]
神のみぞ知るセカイ 神と悪魔と天使 (mai 2009) - ISBN 978-4-09-451137-6
神のみぞ知るセカイ 祈りと呪いとキセキ (mai 2010) - ISBN 978-4-09-451203-8