Tokyo Ravens
Jump to navigation
Jump to search
Note: This Project has been declared as Abandoned!
and was taken down.




Please see Template:Abandoned for further information about this classification.

Translations for this project were removed according to a DMCA request from its publisher, Kadokawa.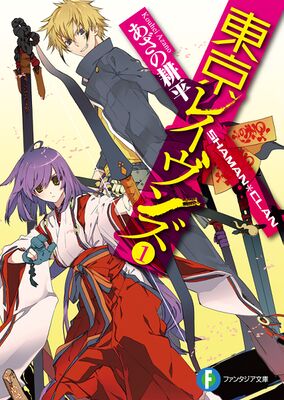 Tokyo Ravens (レイヴンズ) is a Japanese light novel written by Kōhei Azano and illustrated by Sumihei. It was adapted into a manga series in 2010. A 24 episode anime adaptation was aired in Japan from October 8, 2013 until March 26, 2014, covering volumes 1 till 9, except some short stories from volumes 4 and 5.
Story Synopsis
Tsuchimikado Harutora was born into a prestigious Onmyouji family, but he cannot see "spirit energy". Therefore, he's been enjoying a peaceful daily life with his friends at an ordinary high school. One day, his childhood friend Tsuchimikado Natsume, heir to the main family, suddenly appears. Will this cause his destiny to spring into motion!?

- From MangaUpdates and edited
Series Information
Genre: Action, Romance, Comedy, Supernatural
Original Title: レイヴンズ
Author: Kōhei Azano
Illustrator: Sumihei
Published Volumes: 1-14, EX 1-4
Series Status: Ongoing
Character Introductions
Attention! Possible spoilers.
Updates
13 May 2019, Project removed
Series Overview
Tokyo Ravens 1 SHAMAN*CLAN ---(May 20, 2010, ISBN 978-4-8291-3519-8)
Tokyo Ravens 2 RAVEN's NEST ---(September 18, 2010, ISBN 978-4-8291-3552-5)
Tokyo Ravens 3 cHImAirA DanCE ---(December 18, 2010, ISBN 978-4-8291-3592-1)
Tokyo Ravens 4 GIRL RETURN & days in nest I ---(May 20, 2011, ISBN 978-4-8291-3637-9)
Tokyo Ravens 5 days in nest II & GIRL AGAIN ---(July 20, 2011, ISBN 978-4-8291-3657-7)
Tokyo Ravens 6 Black Shaman ASSAULT ---(October 20, 2011, ISBN 978-4-8291-3688-1)
Tokyo Ravens 7 _DARKNESS_EMERGE_ ---(May 19, 2012, ISBN 978-4-8291-3757-4)
Tokyo Ravens 8 over-cry ---(October 20, 2012, ISBN 978-4-8291-3809-0)
Tokyo Ravens 9 to The DarkSky ---(March 19, 2013, ISBN 978-4-8291-3865-6)
Tokyo Ravens 10 BEGINS/TEMPLE ---(October 19, 2013, ISBN 978-4-0471-2911-5)
Tokyo Ravens 11 change:unchange ---(April 19, 2014, ISBN 978-4-0407-0087-8)
Tokyo Ravens 12 Junction of STARs ---(November 20, 2014, ISBN 978-4-04-070139-4)
Tokyo Ravens 13 COUNT>DOWN ---(March 20, 2015, ISBN 978-4-04-070524-8)
Tokyo Ravens 14 EMPEROR.ADVENT ---(December 19, 2015, ISBN 978-4-04-070525-5)
Tokyo Ravens 15 ShamaniC DawN --- (September 20, 2017, ISBN 978-4-04-070526-2)
Tokyo Ravens 16 [RE]incarnation --- (October 20, 2018, ISBN 978-4-04-072729-5)
Tokyo Ravens EX1 party in nest ---(July 20, 2013, ISBN 978-4-8291-3909-7)
Tokyo Ravens EX2 seasons in nest ---(February 20, 2014, ISBN 978-4-0407-0030-4)
Tokyo Ravens EX3 memories in nest ---(September 19, 2015, ISBN 978-4-04-070523-1)
Tokyo Ravens EX4 twelve shamans ---(August 20, 2016, ISBN 978-4-04-072057-9)