Tsurugi no Hime to Aldebaran
Jump to navigation
Jump to search
| | |
| --- | --- |
| | This Teaser Project has not yet reached Full Project status requirements. |
Help this project out by joining the translation team! — Learn more about Full Project Approval Requirements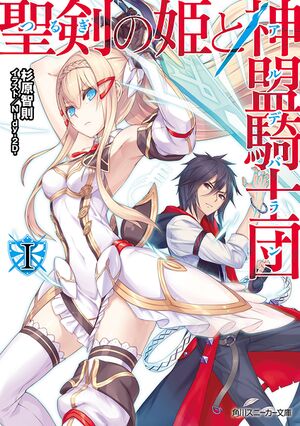 "Sword Princess and God" (聖剣の姫と神盟騎士団, Tsurugi no Hime to Aldebaran), is a Japanese light novel series written by Tomonori Sugihara, also author of Rakuin no Monshou and illustrated by Nidy‐2D-. Published by Kadokawa Sneaker Bunko, the series is complete with 6 volumes, having run from March 2013 to September 2014.
Story Synopsis
[
edit
]
The invincible mercenary group 'Seikendan' [聖剣団/Saint's Sword Company(????) ] (formerly known as 神盟騎士団) comprising of six highly skilled, widely reputed individuals all leading their own corps, bound together and led by グラジス・エストール (and accompanied by his daughter フィーネ・エストール as an apprentice following in her father's footsteps), has repeatedly repelled the military advances of the country of カーラーン for over a year now. They have settled in the valley of ラグナ thus far, which is also the mercenary group's leader's hometown, and defended it from カーラーン time and time again. But when an unprecedented disaster strikes, with the one thing holding this invincible mercenary group together being taken away from them in one brief moment, the group crumbles under the pressure of the situation and a falling out ensues; the members, convinced that they could bring an end to this problem on their own without the help of the others, split apart. It now falls on フィーネ・エストール and her captive prisoner, ダーク, to defend the now-vulnerable valley of ラグナ from the military might of カーラーン whose leaders are all but eager to take advantage of this opportunity as a way to repay the shame of eight continuous losses despite having superior numbers, demons and magic on their side. (Copied from -TheCatWalk-'s post.)
Series Information
[
edit
]
Genre: Action, Adventure, Fantasy
English Title: Sword Princess and God
Original Title:

つるぎ

聖剣

の姫と

アルデバラン

神盟騎士団

Author: Tomonori Sugihara (杉原 智則 )
Illustrator: Nidy‐2D-
Published Volume: 1-6
Series Status: Complete
Translation
[
edit
]
Format Standards
[
edit
]
Every chapter (after editing) must conform to the general format guidelines.
All edited translations are to be in American English.
Translators are asked to register for chapters they want to work on.
Feedback
[
edit
]
If you enjoyed the translation, why don't you tell us in the Feedback thread
Updates
[
edit
]
Tsurugi no Hime to Aldebaran series by Tomonori Sugihara
[
edit
]
 

Volume 1

[

edit

]
 

Volume 2

[

edit

]
Prologue
Chapter 1
Chapter 2
Chapter 3
Chapter 4
Chapter 5
Epilogue
Afterword
 

Volume 3

[

edit

]
Prologue
Chapter 1
Chapter 2
Chapter 3
Chapter 4
Chapter 5
Chapter 6
Chapter 7
Epilogue
Afterword
 

Volume 4

[

edit

]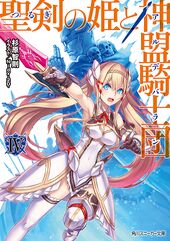 Prologue
Chapter 1
Chapter 2
Chapter 3
Chapter 4
Chapter 5
Chapter 6
Epilogue
Afterword
 

Volume 5

[

edit

]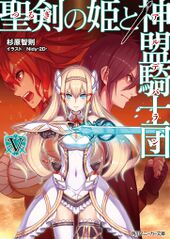 Chapter 1
Chapter 2
Chapter 3
Chapter 4
Chapter 5
Chapter 6
Afterword
 

Volume 6

[

edit

]
Prologue
Chapter 1
Chapter 2
Chapter 3
Chapter 4
Chapter 5
Chapter 6
Epilogue
Afterword
Project Staff
[
edit
]
Translators
[
edit
]
Active:
Editors
[
edit
]
Series Overview
[
edit
]
聖剣の姫と神盟騎士団I (March 30, 2013 ISBN 978-4-04-100762-4)
聖剣の姫と神盟騎士団 II (May 31, 2013 ISBN 978-4-04-100938-3)
聖剣の姫と神盟騎士団 III (September 28, 2013 ISBN 978-4-04-101023-5)
聖剣の姫と神盟騎士団 IV (January 31, 2014 ISBN 978-4-04-101199-7)
聖剣の姫と神盟騎士団 V (May 31, 2014 ISBN 978-4-04-101655-8)
聖剣の姫と神盟騎士団 VI (September 30, 2014 ISBN 978-4-04-101654-1)