Ao no Exorcist
Jump to navigation
Jump to search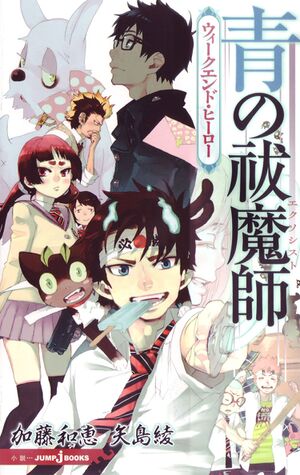 The ongoing light-novel series Ao no Exorcist (青の祓魔師, lit. Blue Exorcist) is written by Aya Yajima. It is an adaptation of an ongoing supernatural action manga series written and illustrated by Katou Kazue. The illustrations of the light novel are also done by Katou Kazue, and it is published under Shueisha's JUMP j-BOOKS label. As of March 2016, there have been three volumes published.
In addition to the manga, there has been a radio drama, stage plays, a visual novel, an anime movie, and 25-episode TV anime that aired in 2010, whose second season is ongoing in 2017.
Ao no Exorcist series is also available in the following languages:
Story Synopsis
[
edit
]
The story revolves around Rin Okumura, a teenager possessing abnormal strength and endurance who, along with his twin brother Yukio, was raised by Father Shiro Fujimoto, an Exorcist. One day, Rin learns that he and Yukio are the sons of Satan, the strongest of all demons. Witnessing Shiro dying to protect him, Rin ends up doing what his guardian asked him never to do: draw the demon-slaying blade Kurikara, which restrains his demonic powers, from its scabbard. From that moment on, Rin not only gains permanent demonic features like fangs, pointed ears, and a tail, but also the power to ignite himself into blue flames that can destroy almost anything they touch. (From Wikipedia)
Updates
[
edit
]
28 March, 2016

Project Page created
Permission granted by silverogi to upload translations onto Baka-Tsuki
Volume 1 uploaded
Formalities
[
edit
]
Registration
[
edit
]
Those who wish to contribute are asked to first notify a supervisor beforehand.
Translators are asked to register which chapters they're working on.
Format Standards
[
edit
]
Every chapter must after editing conform to the general format guidelines.
"Ao no Exorcist" series by Aya Yajima

[

edit

]
Project Staff
[
edit
]
Supervisor:
Project Manager:
Translators
[
edit
]
ACTIVE
INACTIVE
Editors
[
edit
]
ACTIVE
INACTIVE
Series Overview
[
edit
]