Asura Cryin'
Jump to navigation
Jump to search
Project Status: HALTED

This project has not been updated in the past 12 months.
Help revive this project by joining the translation team! — Learn more about Baka-Tsuki activity status.
| | |
| --- | --- |
| | This Teaser Project has not yet reached Full Project status requirements. |
Help this project out by joining the translation team! — Learn more about Full Project Approval Requirements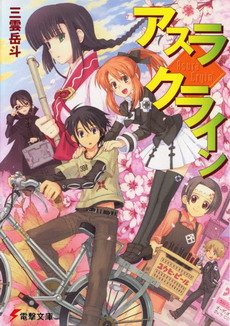 Asura Cryin' (アスラクライン Asura Kurain) is a Japanese light novel series by Gakuto Mikumo, with illustrations by Nao Watanuki. The novel series began on July 10, 2005, with fourteen volumes currently published by ASCII Media Works under their Dengeki Bunko imprint. A manga adaptation by Ryō Akizuki premiered in ASCII Media Works' shōnen manga magazine Dengeki Daioh on September 27, 2008, and an anime adaptation began airing in Japan in April 2009.
The series is complete at 14 volumes.
Plot
The story is a semi-serious school action story revolving around the main protagonist, Tomoharu Natsume. He is haunted by his childhood friend, Misao Minakami, who became a ghost after an airplane accident three years earlier, which Tomoharu barely survived. He takes the opportunity to live on his own when he enters high school in his new place of residence, Meiou-tei, and starts enjoying a carefree high school life. His life changes when a beautiful girl named Kurosaki Shuri appears with a trunk which she claims Tomoharu's brother, Naotaka Natsume, asked her to deliver to him. The presence of the trunk causes the appearance of Takatsuki Kanade, a girl dressed like a shrine maiden, who is after the trunk. Tomoharu is in possession of the trunk, which reveals secrets about the world they live in.
Translation
All translators are required to register their interest on the Registration page.
Format Standards
Every Chapter (after editing) must conform to the general format guidelines.
Updates
May 29, 2011 - Teaser Started! (Prologue and Chapters 1,2 and 3 translated by Chihiro-Fansub here)
The Asura Cryin' series by Gakuto Mikumo
Volume 1
Chapter 4
Chapter 5
Chapter 6
Chapter 7
Epilogue
Volume 2
Volume 3
Project Staff
Supervisor:
Project Manager:
Translators
Editors
Feedback
If you enjoyed the chapters, why don't you tell us in the Forums
Series Overview
アスラクライン 1 - ISBN 4-8402-3090-0 (7/25/2005)
アスラクライン 2 夜とUMAとDカップ - ISBN 4-8402-3179-6 (10/25/2005)
アスラクライン 3 やまいはきから - ISBN 4-8402-3308-X (2/25/2006)
アスラクライン 4 秘密の転校生のヒミツ - ISBN 4-8402-3449-3 (6/25/2006)
アスラクライン 5 洛高アンダーワールド - ISBN 4-8402-3550-3 (9/25/2006)
アスラクライン 6 おしえて生徒会長! - ISBN 978-4-8402-3685-0 (1/25/2007)
アスラクライン 7 凍えて眠れ - ISBN 978-4-8402-3842-7 (5/25/2007)
アスラクライン 8 真夏の夜のナイトメア - ISBN 978-4-8402-3934-9 (8/25/2007)
アスラクライン 9 KLEIN Re-MIX - ISBN 978-4-8402-4118-2 (12/25/2007)
アスラクライン 10 科學部カイメツ - ISBN 978-4-04-867088-3 (6/10/2008)
アスラクライン 11 めぐりあい異世界 - ISBN 978-4-04-867267-2 (10/10/2008)
アスラクライン12 世界崩壊カウントダウン - ISBN 978-4-04-867763-9 (4/10/2009)
アスラクライン13 さくらさくら - ISBN 978-4-04-868141-4 (11/10/2009)
アスラクライン14 The Lost Files - ISBN 978-4-04-868334-0 (2/10/2010)