Campione! ~Brazilian Portuguese~
From Baka-Tsuki
| | |
| --- | --- |
| | This Teaser Project has not yet reached Full Project status requirements. |
Help this project out by joining the translation team! — Learn more about Full Project Approval Requirements
Campione! (カンピオーネ!, Kanpiōne) é uma light novel japonesa escrita por Takedzuki Jou (丈月 城) e ilustrada por Sikorsky (シコルスキー).
Lançada primeiramente pela Shueisha com o selo Super Dash Bunko, Campione! agora é publicada por Dash X Bunko. A serie conta atualmente com um total de 18 volumes. Um anime de 13 episódios, produzido pela Diomedea foi ao ar de Julho a Setembro de 2012, cobrindo os volumes 1 a 5 mas desviando com um final original.

O BT foi notificado com um DMCA pela Shueisha, por isso, não estaremos mais hospedando Campione.
Avisos DMCA:

Takedzuki Jou também é autor da serie Meiyaku no Leviathan (Leviathan of the Covenant) .

Campione! também está disponível nos seguintes idiomas:
Sinopse
[
edit
]
Um Campione - um assassino de deuses - é um governante supremo.
Uma vez que pode matar um ser celestial, ele pode, portanto, invocar o poder sagrado e divino usado pelos deuses.
Um Campione - um assassino de deuses - é um lorde.
Uma vez que o poder de matar uma divindade está em suas mãos, pode dominar todos os mortais da Terra.
Um Campione - um assassino de deuses - é um demônio.
Uma vez que entre todos os mortais que habitam este mundo, ninguém tem o poder para opor-se a ele!
Kusanagi Godou, um jovem de 16 anos de idade, estudante do ensino médio, jogou na liga sênior de basebol como coletor e quarto rebatedor, ou seja, aquele que fez a "limpeza". Porém, uma lesão pôs fim a sua carreira.
Entretanto isso não foi o fim para ele. Durante as ferias de primavera de seu terceiro e último ano do ensino médio, ele se envolveu em uma aventura e acabou matando um dos Deuses Hereges, Verethragna. Assim, ele tornou-se o sétimo Campione e o mais jovem deles.
Agora ele é um Campione, um caçador de deuses, o jovem Godou deve derrotar os deuses problemáticos, com a ajuda de seus seguidores!
Atualizações
[
edit
]
23/10/2015 - Projeto totalmente desativado no Baka-Tsuki.
11/08/2016 - Adicionados links para o Light Novel Project.
Série Campione! escrita por Takedzuki Jou

[

edit

]
Volume 1 - Deusa Herege
[
edit
]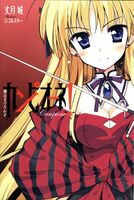 Volume 2 - A Chegada de um Rei Demônio
[
edit
]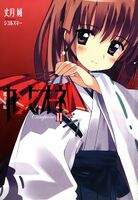 Especiais do Blu-Ray
[
edit
]
Visão Geral da Série
[
edit
]
カンピオーネ!I 神はまつろわず (May 28, 2008) - ISBN 978-4-0863-0428-3
カンピオーネ!II 魔王来臨 (November 26, 2008) - ISBN 978-4-0863-0460-3
カンピオーネ!III はじまりの物語 (March 30, 2009) - ISBN 978-4-0863-0481-8
カンピオーネ!IV 英雄と王 (July 29, 2009) - ISBN 978-4-0863-0496-2
カンピオーネ!V 剣の巫女 (November 30, 2009) - ISBN 978-4-0863-0516-7
カンピオーネ!VI 神山飛鳳 (March 30, 2010) - ISBN 978-4-0863-0539-6
カンピオーネ!VII 斉天大聖 (July 28, 2010) - ISBN 978-4-0863-0557-0
カンピオーネ!VIII 受難の魔王たち (November 30, 2010) - ISBN 978-4-0863-0579-2
カンピオーネ!IX 女神再び (March 25, 2011) - ISBN 978-4-0863-0600-3
カンピオーネ!X 槍の戦神 (August 30, 2011) - ISBN 978-4-0863-0623-2
カンピオーネ!XI ふたつめの物語 (December 27, 2011) - ISBN 978-4-0863-0653-9
カンピオーネ!XII かりそめの聖夜 (May 25, 2012) - ISBN 978-4-08-630677-5
カンピオーネ!XIII 南洋の姫神 (August 24, 2012) - ISBN 978-4-0863-0697-3
カンピオーネ!XIV 八人目の神殺し (May 24, 2013) - ISBN 978-4-0863-0738-3
カンピオーネ!XV 女神の息子 (October 25, 2013) - ISBN 978-4-0863-0757-4
カンピオーネ!XVI 英雄たちの鼓動 (February 25, 2014) - ISBN 978-4-0863-0772-7
カンピオーネ!XVII 英雄の名 (September 25, 2014) - ISBN 978-4-0863-0800-7
カンピオーネ!XVIII 魔王たちの断章 (April 24, 2015) - ISBN 978-4-0863-1039-0