CtG—Zero Kara Sodateru Dennou Shoujo
Jump to navigation
Jump to search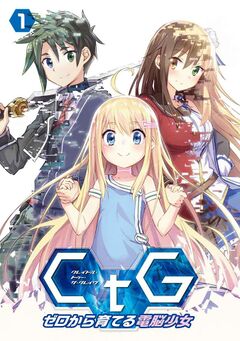 CtG -Zero kara Sodateru Dennou Shoujo- (CtG ─ゼロから育てる電脳少女─) is a light novel series written by Gangudou. The illustrations are done by bun150. The series is currently ongoing, and published by Kadokawa Shoten under their Kadokawa Sneaker Bunko label.
The CtG series is also available in the following languages:
Story Synopsis
[
edit
]
In VRMMO -CtG- (Cradle to the Glaive), Kasugai Yuu has <married> Mifa, a girl he just met. After that, their daughter Haruha was born and grown!? Moreover...
"I've come, daddy!"
"K-Kugimiya!"
In the real world, the real Haruha, along with the real Mifa – Kugimiya Miharu - suddenly appeared! The truth is, Haruha is a <new human> created in secret!! Living under the same roof, Yuu and Miharu are stuck with caring for Haruha both in game and in life, the one who controls the fate of humanity!?
Updates
[
edit
]
February 02, 2017 - Volume 2, Completed
June 23, 2015 - Volume 1, Epilogue completed
June 21, 2015 - Volume 1, Chapter 3 completed
May 12, 2015 - Volume 1, Chapter 2 completed
April 01, 2015 - Volume 1, Chapter 1 completed
February 04, 2015 - Page created & Volume 1, Prologue completed
Translation
[
edit
]
Those who wish to contribute are asked to first notify a supervisor beforehand.
Translators are asked to register which chapters they're working on
Every Chapter (after editing) must confirm to Names and Terminology Guidelines & The General Format/Style Guidelines.
If you want to discuss this series, do so in the thread on the Forum
CtG -Zero kara Sodateru Dennou Shoujo- series by Gangudou
[
edit
]
Project Staff
[
edit
]
Translators
[
edit
]
Editors
[
edit
]
Series Overview
[
edit
]
Volume 1 - CtG ─ゼロから育てる電脳少女─ 1 (September 30, 2014, ISBN 978-4041022009)
Volume 2 - CtG ─ゼロから育てる電脳少女─ 2 (February 01, 2015, ISBN 978-4041022016)