Dress na Boku ga Yangotonaki Katagata no Katei Kyoushi-sama na Kudan
Jump to navigation
Jump to search
Project Status: HALTED

This project has not been updated in the past 12 months.
Help revive this project by joining the translation team! — Learn more about Baka-Tsuki activity status.
| | |
| --- | --- |
| | This Teaser Project has not yet reached Full Project status requirements. |
Help this project out by joining the translation team! — Learn more about Full Project Approval Requirements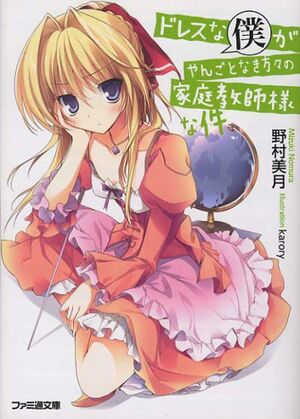 Dress na Boku ga Yangotonaki Katagata no Katei Kyoushi-sama na Kudan (ドレスな僕がやんごとなき方々の家庭教師様な件) (engl. I'm a royal tutor in my sister's dress) is a Japanese light novel series written by Mizuki Nomura, with illustrations by karory.
Five volumes have been published as of March 2014.
Story Synopsis
[
edit
]
An ordinary boy called Sherlock Doyle is captured and forced to put on his twin sister's dress by the Emperor's diplomat to be shipped to a small country called Ehren. His genius sister, Glinda, went missing two days before she's supposed to be sent to Ehren to be a royal tutor for the King's children. The sudden life change is too overwhelming for Sherlock, but he sees no way out. Later, he finds out the disturbing truth about the kingdom's intention with his sister.
Translation
[
edit
]
Translators are asked to register which chapters they're working on.
Format Standards
[
edit
]
Feedback
[
edit
]
If you enjoyed the teasers, why don't you tell us in the Feedback Thread
Updates
[
edit
]
February 18, 2012: Page created
The Dress na Boku ga Yangotonaki Katagata no Katei Kyoushi-sama na Kudan series by Mizuki Nomura

[

edit

]
Volume 1
[
edit
]
Project Staff
[
edit
]
Project Administrator:
Project Manager:
Translators
[
edit
]
Editors
[
edit
]
Series Overview
[
edit
]
Volume 1 (February 29 2012 ISBN 978-4-04-727843-1)
Volume 2 (September 29 2012 ISBN 978-4-04-728352-7)
Volume 3 (March 30 2013 ISBN 978-4-04-728795-2)
Volume 4 (September 30 2013 ISBN 978-4-04-729149-2)
Volume 5 (March 29 2014 ISBN 978-4047295230)
Volume 6 (September 29 2014 ISBN 978-4047299139)
Volume 7 (March 30 2015 ISBN 978-4047303010)
Project Status
[
edit
]
Project Status: Teaser