GOTH
From Baka-Tsuki
Note: This Project has been declared as Abandoned!
and was taken down.




Please see Template:Abandoned for further information about this classification.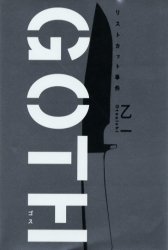 GOTH is a psychological horror novel written by Otsuichi. It contains 6 short stories and is centered around 'Boku' and his female classmate, Morino Yoru.
WARNING: This novel may contain excessive details of Mutilation and Gore that some people may find offensive or disturbing.
Release Schedule
This project has been officially terminated with the release of Tokyopop's translated version. If you like this series, please support them (and Otsu-ichi) by buying the translated novels!
Official date: 7th October 2008
ISBN: 1-4278-1137-7
Format Standards
Updates
October 26, 2008

Project officially terminated with the series hitting the shelves. All Chapters have been purged, save Chapter 1 which will remain on the wiki as a teaser of sorts. For more info, see the Discussion page.
Thank you for reading GOTH! If you enjoyed reading it, please support Otsu-ichi by purchasing the translated novels by Tokyopop once they hit the shelves in your area!
GOTH: Wristcut Incident by Otsuichi
Wristcut リストカット事件
Dog 犬
Twins 記憶
Grave 土
Voice 声
Author's Notes
Project Staff
Translators
This Project is officially terminated. We are not recruiting any more staff.
Editors
Series Overview
GOTH - Wristcut Incident: Yoru's Chapter / GOTH リストカット事件 夜の章 (角川文庫:ISBN 4044253048)
GOTH - Wristcut Incident: Boku's Chapter / GOTH リストカット事件 僕の章 (角川文庫:ISBN 4044253056)
GOTH - Wristcut Incident (Tankubon) / GOTH リストカット事件 (単行本)