Gate - Thus the JSDF Fought There
From Baka-Tsuki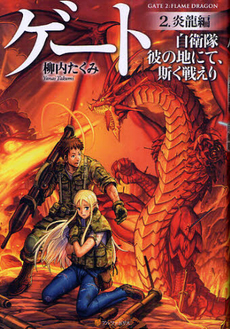 "Gate - Thus the JSDF Fought There" (ゲート:自衛隊 彼の地にて、斯く戦えり / Geito - Jieitai Karenochinite Kakutatakaeri) is a Japanese fantasy novel series by
Takumi Yanai
.
Between 2006 and 2009, Gate was serialized online in a novel website called Arcadia.
Later in 2010 it was published by Alphapolis. Compared to the online serialization, the published volumes place a lesser weight on political commentary. Also, volume three has been substantially rewritten. The ending was also different. The concluding fifth volume was published in late 2011. Two gaiden (side story) volumes were also published in 2012 and 2013.
An ongoing manga adaptation of the story began serialization on 30th July, 2011. There are 5 volumes so far. As of 3rd July, 2015, anime adaptation started airing, with 24 episodes announced.
Story Synopsis
[
edit
]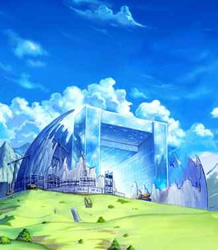 In August of 20XX, a portal to a parallel world, known as the "Gate", suddenly appeared in Ginza, Tokyo. Monsters and troops poured out of the portal, turning the shopping district into a bloody inferno.
The Japan Ground-Self Defence Force immediately took action and pushed the fantasy creatures back to the "Gate". To facilitate negotiations and prepare for future fights, the JGSDF dispatched the Third Reconnaissance Team to the "Special Region" at the other side of the Gate.
Youji Itami, a JSDF officer as well as a 33-year-old otaku, was appointed as the leader of the Team. Amid attacks from enemy troops the team visited a variety of places and learnt a lot about the local culture and geography.
Thanks to their efforts in humanitarian relief, although with some difficulties they were gradually able to reach out to the locals. They even had a cute elf, a sorceress and a demigoddess in their circle of new friends. On the other hand, the major powers outside the Gate such as the United States,China and Russia were extremely interested in the abundant resources available in the Special Region. They began to exert diplomatic pressure over Japan.
A suddenly appearing portal to an unknown world - to the major powers it may be no more than a mere asset for toppling the international order. But to our protagonists it is an invaluable opportunity to broaden knowledge, friendship, and ultimately their perspectives towards the world.
Translation
[
edit
]
Those who wish to contribute are asked to first notify a supervisor beforehand.
Some people find Gate difficult to translate, so prospective translators are encouraged to try their hand translating a page to see how it feels. Also, they should be cautious about registering many chapters at once.
Translators are asked to register which chapters they are working on. They can also post in the Discussion Thread if they have any questions about registration.
Format Standards
[
edit
]
Every Chapter (after editing) must conform to the general format guidelines.
Feedback
[
edit
]
If you enjoyed the series, why don't you tell us in the in the Teaser Feedback thread and give the project a vote.
Updates
[
edit
]
November 17, 2013: Renovated page. Added light novel section.
June 11, 2011: Status of the prologue updated to 20% done.
June 8, 2011: A snippet of GATE 1 uploaded.
June 5, 2011: Project Page Created. Character introductions, prologue and a snippet of GATE 2 uploaded.
The "Gate - Thus the JSDF Fought There" Series
[
edit
]
GATE 1: CONTACT
[
edit
]
Prologue (~30%)
Chapter 3
Chapter 4
Chapter 5
Chapter 6
Chapter 7
Chapter 8
Chapter 9
Chapter 10
Chapter 11
Chapter 12
Chapter 13
Chapter 14
Chapter 15
Chapter 16
Chapter 17
Chapter 18
Chapter 19
Chapter 20
Chapter 21
Chapter 22
Chapter 23
GATE 2: FLAME DRAGON
[
edit
]
GATE 3: UPHEAVAL
[
edit
]
GATE 4: ALL-OUT ATTACK
[
edit
]
GATE 5: DARK GATE
[
edit
]
Light Novel
[
edit
]
A light novel was also released by Alphapolis. The illustrator is Kurojishi. There are slight differences between the light novel and the previously published novel.
Volume 1 - Contact Chapter (First Half)
[
edit
]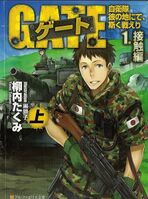 Volume 2 - Contact Chapter (Second Half)
[
edit
]
Volume 3 - Flame Dragon Chapter (First Half)
[
edit
]
Volume 4 - Flame Dragon Chapter (Second Half)
[
edit
]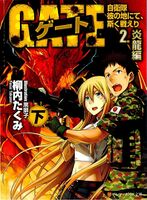 Volume 5 - Upheaval Chapter (First Half)
[
edit
]
Volume 6 - Upheaval Chapter (Second Half)
[
edit
]
Volume 7 - All-Out Attack Chapter (First Half)
[
edit
]
Volume 8 - All-Out Attack Chapter (Second Half)
[
edit
]
Volume 9 - Dark Gate Chapter (First Half)
[
edit
]
Volume 10 - Dark Gate Chapter (Second Half)
[
edit
]
Project Staff
[
edit
]
Project Administrator: N/A
Project Manager: N/A
Translators
[
edit
]
Active
K.I.A.
For such a long series we are extremely short of translators to work on it. We welcome anyone who has good Japanese comprehension capability to join our team. Please leave a message in the Discussion Thread if you are interested.
Editors
[
edit
]
All editors who speak English proficiently are welcomed.
Series Overview
[
edit
]
Main Series
[
edit
]
自衛隊 彼の地にて、斯く戦えり / Jieitai Karenochinite Kakutatakaeri
Spin-off
[
edit
]
自衛隊 彼の地にて、斯く戦っちゃってます。/ Jieitai Karenochinite Kakutatakacchattemasu.
Light Novel
[
edit
]
自衛隊 彼の地にて、斯く戦えり / Jieitai Karenochinite Kakutatakaeri