Hitsugi no Chaika
From Baka-Tsuki

Translations for this project were removed according to a DMCA request from its publisher. Project status pending further review.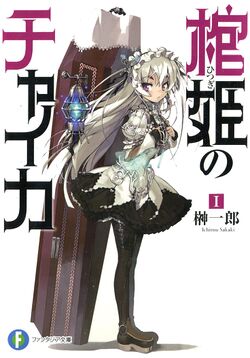 Hitsugi no Chaika (棺姫のチャイカ) is a light novel series by Ichirou Sakaki (榊一郎) and illustrated by NamanikuATK (なまにくATK). As of March 2015, 12 volumes have been published under Fujimi Fantasia Bunko.
The Hitsugi no Chaika series is also available in the following languages:
Synopsis
Toru Acura, an incredibly lazy man with some hidden talents, has been forced by his sister Akari to actually go outside and search for work. However, he is in for a big surprise when he meets the girl who carries a coffin on the back named Chaika Trabant in the forest, and they are suddenly attacked by a monster! How will they survive? Who is this mysterious girl, and why is she being targeted?
Format Standards
Every chapter (after editing) must conform to the general format guidelines.
Feedback
Updates
3 May 2013 - Volume 1 Prologue Completed
Hitsugi no Chaika series by Ichirou Sakaki
Volume 1
Project Staff
Translators
Active
Inactive
Editors
Series Overview