Incredible Loli Change
Jump to navigation
Jump to search
Project Status: STALLED

This project has not been updated in the past 6 months.
Help revive this project by joining the translation team! — Learn more about Baka-Tsuki activity status.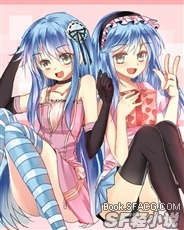 Incredible Loli Change (不可思议的萝变) is a Chinese web light novel series written by LOSly.Hoy (net name), with about 2.4 million read count to date.
Story Synopsis
[
edit
]
The main character is called Azumabashi Jin-ichi, he's just a completely normal guy until he received an uncontrollable ability to transform into a cute loli, by getting hit by a shooting star. Then weird things started to happen around him, which ruined his normal life.
Feedback
[
edit
]
If you like this teaser, please tell us in the Feedback Thread
Updates
[
edit
]
10/15/15: Volume 2 Chapter 1 added
10/5/15: Volume 1 Final Chapter added
10/4/15: Volume 1 Chapter 7 added
6/24/15: Volume 1 Chapter 6 added
6/22/15: Volume 1 Chapter 5 added
6/20/15: Volume 1 Chapter 4 added, Full Text for Volume 1 added
6/19/15: Volume 1 Chapter 3 added
6/18/15: Teaser started, Volume 1 Prologue, Chapter 1 and 2 added
The Incredible Loli Change series by LOSly.Hoy

[

edit

]
Project Staff
[
edit
]
Supervisor:
Project Manager: Aldenc
Translators
[
edit
]
INACTIVE
[
edit
]
Editors
[
edit
]
INACTIVE
[
edit
]
More information
[
edit
]
Goal: Finish translating all 8 Chapters of Volume 1 by 6/26/15 (Not achieved)
The character Mukomi Natsuka won 2nd place during the 2010 moe queen competition in sfacg.com - the largest Chinese light novel site.
There are 7 books under this title as of now (6/18/15), the series is still going on, more translation will come soon.
Original Book in Chinese can be found here: http://book.sfacg.com/Novel/7845/