Kami-sama no Inai Nichiyoubi
Jump to navigation
Jump to search
Sunday Without God (神さまのいない日曜日 Kami-sama no Inai Nichiyōbi) began as a light novel series written by Kimihito Irie, and illustrated by Shino. Irie entered the first novel in the series, originally titled Sunday People (日曜の人達 Nichiyō no Hitotachi), in Fujimi Shobo's 21st Fantasia Prize in 2009 and the novel won the Grand Prize. The first novel was published by Fujimi Shobo on January 20, 2010 under their Fujimi Fantasia Bunko imprint, and the series has been completed with 9 volumes as of May 20, 2014.
Story Synopsis
On Sunday, God abandoned the world, after admitting failure. Ai is the 12 year-old child of a Grave Keeper, and a man by the name Hampnie Hambart. Her mother told her that one day, her father would come to the village. One day, long after her mother has passed, a mysterious man claiming to be Hampnie Hambart massacres Ai's village, and requests that she bury the dead, as a Grave Keeper.
Series Information
Genre: Fantasy, Supernatural
Original Title: 神さまのいない日曜日
Author: Kimihito Irie
Illustrator: Shino
Published Volumes: 9
Series Status: Complete
Translation
Format Standards
Every chapter (after editing) must conform to the general format guidelines.
Translators are asked to Register the chapters they want to work on.
Feedback Thread
If you enjoyed the translation, why don't you tell us at the Feedback Thread.
You can also help us with our editions on the Edit Discussion Thread.
Updates
March 28, 2022
November 22, 2021
November 20, 2021
August 31, 2018
August 22, 2013

Volume 2 Chapter 1 completed

August 7, 2013

Volume 2 Prologue completed
Volume 1 Prologue completed

August 4, 2013

Volume 1 Afterword completed

July 23, 2013

Initiated as a teaser project
Kami-sama no Inai Nichiyoubi by Kimihito Irie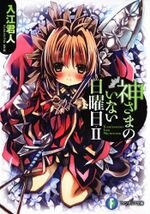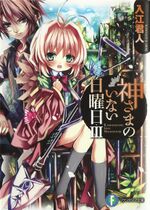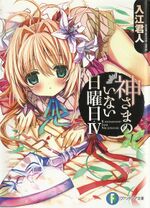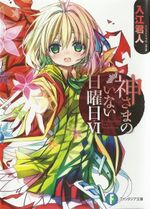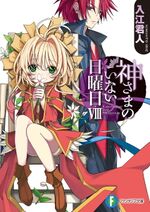 Project Staff
Translators
Active
Inactive
Editors
Active
Inactive
Series Overview
Volume 1 - 神さまのいない日曜日 (January 20, 2010) ISBN 978-4-8291-3477-1

Volume 2 - 神さまのいない日曜日II (May 20, 2010) ISBN 978-4-8291-3521-1

Volume 3 - 神さまのいない日曜日III (October 20, 2010) ISBN 978-4-8291-3579-2

Volume 4 - 神さまのいない日曜日IV (February 19, 2011) ISBN 978-4-8291-3612-6

Volume 5 - 神さまのいない日曜日V (June 18, 2011) ISBN 978-4-8291-3649-2

Volume 6 - 神さまのいない日曜日VI (November 19, 2011) ISBN 978-4-8291-3699-7

Volume 7 - 神さまのいない日曜日VII (April 20, 2012) ISBN 978-4-8291-3738-3

Volume 8 - 神さまのいない日曜日VIII (July 20, 2013) ISBN 978-4-8291-3912-7

Volume 9 - 神さまのいない日曜日IX (May 20, 2014) ISBN 978-4040701103

More Information