Kanojo ga Flag wo Oraretara (If Her Flag Breaks)
Jump to navigation
Jump to search
Only available to registered users. Register hereDo you follow this series? Rate it!

| | |
| --- | --- |
| | This Teaser Project has not yet reached Full Project status requirements. |
Help this project out by joining the translation team! — Learn more about Full Project Approval Requirements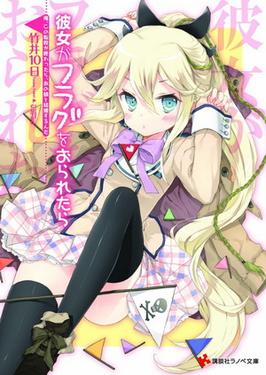 If Her Flag Breaks (彼女がフラグをおられたら, Kanojo ga Flag wo Oraretara, or Gaworare for short) is a light novel series written by Touka Takei and illustrated by Cuteg. Kodansha published 16 volumes from December 2011 to September 2016. A manga and two spin-offs were serialized in Kodansha's magazines. An anime adaptation aired from April to June 2014, covering the first 6-ish volumes with significant alterations to the ending.
Story Synopsis
[
edit
]
Souta Hatate, a new transfer student to the Hatagaya School, has the ability to see the futures of those around him in the form of flags. He is able to affect those flags based on his interactions with the person in question. He ends up living in a small dorm with many beautiful girls. When he finds a flag of death on himself, Souta learns that in order to be able to change his fate, he has to find and bring together four people: a princess knight, a magician, a cleric, and a shinobi. (Taken from Wikipedia)
Translation
[
edit
]
Translators are asked to register which chapters they're working on
Format Standards
[
edit
]
Every Chapter (after editing) must conform to the general format guidelines.
Feedback
[
edit
]
Use the project talk page or Person72635's talk page
Updates
[
edit
]
October 24th, 2020 - Chapter 4 complete.
June 24th, 2020 - Chapter 3 complete.
June 19th, 2020 - Chapter 2 complete.
June 15th, 2020 - Chapter 1 complete.
June 13th, 2020 - Project page created and Chapter 0 complete.
Kanojo ga Flag wo Oraretara (If Her Flag Breaks) by Touka Takei

[

edit

]
 

Volume 1: After I Transfer This Time, I Will Go Back and Marry This Girl

[

edit

]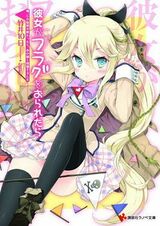 Chapter 5
Intermission
Chapter 6
Chapter 7
Epilogue
Afterword
Project Staff
[
edit
]
Translators
[
edit
]
ACTIVE

Editors
[
edit
]
Series Overview
[
edit
]
Volume 1 - Kanojo ga Flag o Oraretara: Ore, Kono Tenkō ga Owattara, Ano Ko to Kekkon Surun da (彼女がフラグをおられたら 俺、この転校が終わったら、あの娘と結婚するんだ), December 2, 2011, ISBN 978-4-06-375205-2