Kimi ni Todoke
From Baka-Tsuki
Project Status: STALLED

This project has not been updated in the past 6 months.
Help revive this project by joining the translation team! — Learn more about Baka-Tsuki activity status.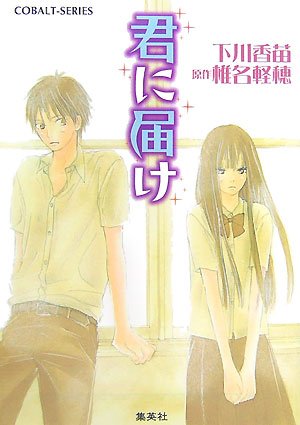 Author: Kanae Shimokawa
Original Author (from manga): Karuho Shiina
Illustrator: Karuho Shiina
There are 12 volumes published as of April 2014.
Story Synopsis
[
edit
]
[temporary] Sawako Kuronuma, called Sadako by her classmates for her resemblance to the character Samara from 'The Ring' (a popular Japanese horror movie), has always been feared and misunderstood because of her appearance. There are rumors that Sawako can see ghosts and curse people. But when her idol, the popular Kazehaya, begins talking with her, everything changes. She finds herself in a new world, making new friends and talking to different people. Sawako opens up to new people, making it easy for them to hurt her or help her. Which will her new friends do?
Translation
[
edit
]
Translators are asked to register which chapters they're working on.
Format Standards
[
edit
]
Feedback
[
edit
]
If you enjoyed the teasers, why don't you tell us in the Feedback Thread
Updates
[
edit
]
May 5, 2013: Page created
Kimi ni Todoke series by Kanae Shimokawa

[

edit

]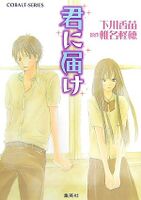 Volume 2 ~When You have Found Love~
[
edit
]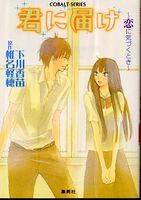 Chapter 1
Chapter 2
Chapter 3
Chapter 4
Chapter 5
Chapter 6
Chapter 7
Chapter 8
Chapter 9
Author's Notes
Original short stories from "Kimi ni Todoke"
[
edit
]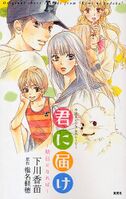 Maru's Wish is...
Waiting for the Prince
On that day, I fell in love here
The Summer Promise
More about You
Someone is in love with you
Happy Christmas, Dad
Author's Notes
Illustrator's Notes
Project Staff
[
edit
]
Project Administrator:
Project Manager:
Translators
[
edit
]
Editors
[
edit
]
Series Overview
[
edit
]
Kimi ni Todoke Light Novel Volume 01 -君に届け 1 (君に届けシリーズ) (1 August 2007) ISBN 978-4-08-601059-7 (4086010593)
Kimi ni Todoke Light Novel Volume 02 -君に届け 2 ~恋に気づくとき~ (君に届けシリーズ) (1 November 2007) ISBN 978-4-08-601096-2 (4086010968)
Original short stories from "Kimi ni todoke" -君に届け 明日になれば 小説オリジナルストーリー (September, 2009) ISBN 978-4-08-780538-3 (4-08-780538-7)