Knight's and Magic
Jump to navigation
Jump to search
Note: This Project has been declared as Abandoned!
and was taken down.




Please see Template:Abandoned for further information about this classification.
This series was licensed by J-Novel Club on July 1st, 2023.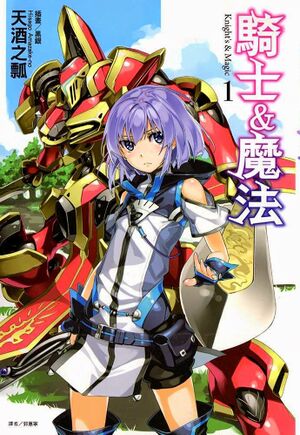 Knights and Magic (ナイツ&マジック) is a Japanese web and light novel series written by Amazake No Hisago (天酒之瓢) and illustrated by Kurogin (黒銀). The series is ongoing with 6 web volumes and 5 published volumes.
Knights and Magic series is also available in the following languages:
Story Synopsis
[
edit
]
A young man from Japan passed away after a traffic accident. His soul was reincarnated in an alternate world into the body of a pretty young boy Ernesti Erchevalier with his memories intact. Influenced by his hobby from his previous life, Eru is a 'robot nerd' in this life too. He meets the giant humanoid battle robots in this world -- Silhouette Knights. The elated Eru started a series of plans in order to pilot the robots. He drags his childhood friend in this world along as he messes around in this world to satisfy his desire for robots.
The Knight's and Magic series by Amazake No Hisago

[

edit

]
Original Web Novel
[
edit
]
Series Overview
[
edit
]
《ナイツ&マジック 1》, 2013-01-30, ISBN 978-4-0728-8159-0
《ナイツ&マジック 2》, 2013-05-31, ISBN 978-4-0728-9667-9
《ナイツ&マジック 3》, 2013-09-30, ISBN 978-4-0729-2729-8
《ナイツ&マジック 4》, 2014-04-28, ISBN 978-4-0729-6348-7
《ナイツ&マジック 5》, 2015-03-30, ISBN 978-4-0741-2412-1