Knight's and Magic ~Brazilian Portuguese~
From Baka-Tsuki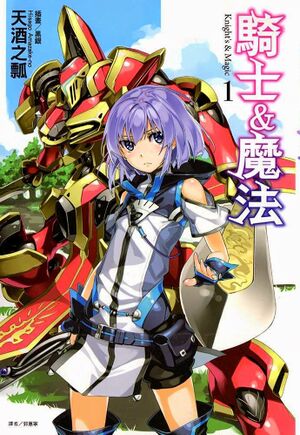 Knight's and Magic (ナイツ&マジック) é uma japonesa web e light novel escrita por Amazake No Hisago (天酒之瓢) e ilustrado por Kurogin (黒銀). A série está em curso com 6 web volumes e 4 volumes publicados.
Knight's and Magic também está disponível nas seguintes línguas
Sinopse
[
edit
]
Um jovem do Japão faleceu após um acidente de trânsito. Sua alma foi reencarnada em um mundo alternativo no corpo de um jovem menino Ernesti Echevarria com suas memórias intactas. Influenciado pelo seu hobby de sua vida anterior, Eru é uma 'nerd robô' nesta vida também. Ele encontra os gigantes robôs de batalha humanoides neste mundo – Cavaleiros Silhouettes. O exultante Eru iniciou uma série de planos a fim de pilotar os robôs. Ele arrasta seus amigos de infância neste mundo juntos enquanto ele roda em torno deste mundo para satisfazer seu desejo por robôs.
Tradução
[
edit
]
Tradução e Edição para o inglês por Skythewood Translations
Tradução do inglês para o português por Aliança dos Aventureiro
Atualizações
[
edit
]
18 de fevereiro, 2015 - Volume 1 Capítulo 9 e Volume 2 Prólogo completo
12 de fevereiro, 2015 - Capítulo 8 completo
08 de fevereiro, 2015 - Capítulo 6 e 7 completo
03 de fevereiro, 2015 - Capítulo 4 e 5 completo
27 de janeiro, 2015 - Capítulo 3 completo
25 de Janeiro, 2015 - Criação da pagina
A série Knight's and Magic por Amazake No Hisago

[

edit

]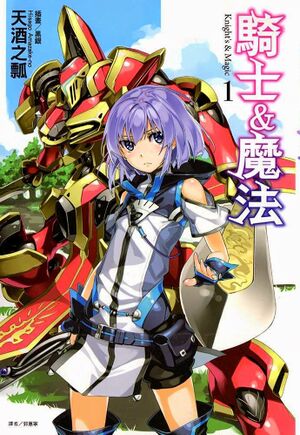 Arco da Entrada Escolar
Arco do ataque da Besta Demoníaca
Volume 2
[
edit
]
Arco da criação de um novo modelo
Arco do Caos em Casadesus
Chapter 14. Vamos de cabeça para uma tempestade
Chapter 15. As coisas que contorcem pela escuridão
Chapter 16. Fogo na Fortaleza Casadeus
Chapter 17. Batalha na Floresta
Chapter 18. Quando a Fênix de Prata Abre suas Asas
Volume 3
[
edit
]
Volume 4
[
edit
]
Volume 5
[
edit
]
Equipe do Projeto
[
edit
]
Tradutores
[
edit
]
Editores
[
edit
]
Series Overview
[
edit
]
《ナイツ&マジック 1》, 2013-01-30, ISBN 978-4-0728-8159-0
《ナイツ&マジック 2》, 2013-05-31, ISBN 978-4-0728-9667-9
《ナイツ&マジック 3》, 2013-09-30, ISBN 978-4-0729-2729-8
《ナイツ&マジック 4》, 2014-04-28, ISBN 978-4-0729-6348-7