MuvLuv Alternative Schwarzesmarken
Jump to navigation
Jump to search
Project Status: STALLED

This project has not been updated in the past 6 months.
Help revive this project by joining the translation team! — Learn more about Baka-Tsuki activity status.
| | |
| --- | --- |
| | This Teaser Project has not yet reached Full Project status requirements. |
Help this project out by joining the translation team! — Learn more about Full Project Approval Requirements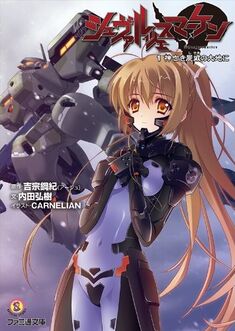 Muv-Luv Alternative Schwarzesmarken (マブラヴ オルタネイティヴ シュヴァルツェスマーケン) light novel series which replaced Muv-Luv Alternative Total Eclipse in Tech Gian serialization, written by Hiroki Uchida and illustrated by CARNELIAN.
Story Synopsis
The story follows the East German Army's 666th TSF Squadron in its battles and political conflicts during the BETA's westward push in 1983.
The East German Army 666th TSF Squadron "Schwarzesmarken" (Black Marks) are a special-forces unit tasked with assaulting BETA forces through unconventional tactics; specifically, they target Lux and Magnus Lux to deny the BETA the advantage of ranged firepower. Their orders are given the topmost priority, such that it is common practice for the 666th to ignore allied distress calls that will result in deviation from their original mission, even if only for a short moment.
Series Information
Muv-Luv (マブラヴ, Mabu Ravu) is a multimedia franchise by âge spanning manga, visual novels, light novels, and an ongoing sidestory anime series. The three main games in the series:
Muv-Luv Extra
Muv-Luv Unlimited
Muv-Luv Alternative
The original Muv-Luv was released February 28th, 2003. This part contains Extra & Unlimited. Its sequel Muv-Luv Alternative followed nearly 3 years later, and was released February 24th, 2006.
Entire MuvLuv franchise information can be found Here
Translation
We will try to release the project with a formatting compatible with common mobile readers.
Opinions, and suggestions are very welcome at Forum
Those who wish to contribute are asked to first notify a supervisor beforehand.
Format Standards
Every chapter (after editing) must conform to the general format guidelines.
no special guidelines for now
Updates
28 August, 2012 : Project Creation
29 August, 2012 : Volume 1 Prologue
30 August, 2012 : Volume 1 Chapter 1
15 September, 2013 : Volume 1 Chapter 2 complete
MuvLuv Alternative Schwarzesmarken
Volume 1
Chapter 3:
Chapter 4:
Epilogue
PDF and other formats for the first part can be found here
Volume 2
Prologue
Chapter 1:
Chapter 2:
Chapter 3:
Chapter 4:
Volume 3
Prologue
Chapter 1:
Chapter 2:
Chapter 3:
Chapter 4:
Epilogue
Project Staff
Supervisor:
Project Manager:
Translators
ACTIVE
All of our works can be found on the blog.
MIA
Editors
ACTIVE
Series Overview
Muv-Luv Alternative Schwarzesmarken 神亡き屍戚の大地に ( 30, May 2011; ISBN 978-4-04-727306-1)
Muv-Luv Alternative Schwarzesmarken 無垢なる願いの果てに ( 30 September 2011; ISBN 978-4-04-727528-7)
Muv-Luv Alternative Schwarzesmarken 縹渺たる煉獄の彼方に (30, March 2012; ISBN 978-4-04-727932-2)
Muv-Luv Alternative Schwarzesmarken 許されざる契りのために ( 29, October 2012; ISBN 978-4-04-728419-7)
Muv-Luv Alternative Schwarzesmarken 紅蓮なる弔鐘の中で ( 30, March 2013;ISBN 978-4-04-728802-7)
Muv-Luv Alternative Schwarzesmarken 儼たる相剋の嚮後【きょうご】に (30, November 2013; ISBN 978-4-04-729297-0)
Muv-Luv Alternative Schwarzesmarken 克肖導【こくしょうみちび】く熾天【してん】の大地【だいち】へ (29, March 2014; ISBN)