Ore, Twintail ni Narimasu
Jump to navigation
Jump to search
Project Status: HALTED

This project has not been updated in the past 12 months.
Help revive this project by joining the translation team! — Learn more about Baka-Tsuki activity status.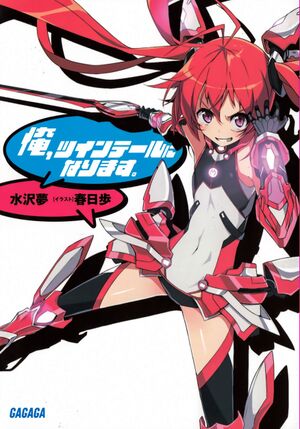 Ore, Twintail ni Narimasu (俺、ツインテールになります。) is a Japanese light novel written by Mizusawa Yume (水沢 夢) and illustrated by Kasuga Ayumu (春日 歩). The publisher is GAGAGA bunko. An anime adaptation aired from Oct 10, 2014 to Dec 26, 2014 consisting of 12 episodes.

Ore, Twintail ni Narimasu series is also available in the following languages:
Story Synopsis (Amazon version)
[
edit
]
For the sake of the Earth, I will become a twintail!
Mitsuka Souji is a normal high school student with an extraordinary passion for twintails. One day, Twoearle, a beautiful, mysterious girl who claims to come from another world, appears before him. And at the same time, monsters appear in the town where Souji lives!
"Fuhahahahaha! We will gather all the twintails of this world!"
They are creatures from another world who feed on the power of the human spirit, Elemera. Twoearle entrusts Souji with the Daydream Armor "Tailgear," which is powered by his intense twintail element, and he transforms into a young girl twintail warrior, TailRed!
From this day, an aberrant battle with TailRed and a little bit of transformation has begun!
Winner of the judges' award in the 6th Shogakukan Light Novel Awards.
Translation
[
edit
]
Here is the registration page. Contact Contradiction before signing up. The Baka-Tsuki format guidelines might come in handy, although this project has its own version: Ore, Twintail ni Narimasu:Format Guidelines
Talk page and Q&A
[
edit
]
If you want to ask questions or send complaints or comments, one avenue of contact is the Talk Page. It has a little Q&A section, too.
There is also the neglected Feedback thread.
Updates
[
edit
]
Ore, Twintail ni Narimasu by Mizusawa Yume

[

edit

]
Volume 3
[
edit
]
Volume 4
[
edit
]
Project Staff
[
edit
]
Translators
[
edit
]
For details on who did what, please consult the project registration page.
Inactive
[
edit
]
Project Status
[
edit
]
Project Status: Inactive, hasn't been updated in a while
Series Overview
[
edit
]
俺、ツインテールになります。   19 June 2012 ISBN: 978-4094513462
俺、ツインテールになります。2 20 November 2012 ISBN: 978-4094513752
俺、ツインテールになります。3 19 March 2013 ISBN: 978-4094513981
俺、ツインテールになります。4 18 July 2013 ISBN: 978-4094514247
俺、ツインテールになります。5 18 December 2013 ISBN: 978-4094514544
俺、ツインテールになります。6 16 June 2014 ISBN: 978-4094514919
俺、ツインテールになります。7 18 September 2014 ISBN: 978-4094515084
俺、ツインテールになります。8 19 December 2014 ISBN: 978-4094515244
俺、ツインテールになります。9 17 April 2015 ISBN: 978-4094515435
俺、ツインテールになります。10 20 October 2015 ISBN: 978-4094515763