Ore to Kanojo ga Geboku de Dorei de Shuujuu Keiyaku
Jump to navigation
Jump to search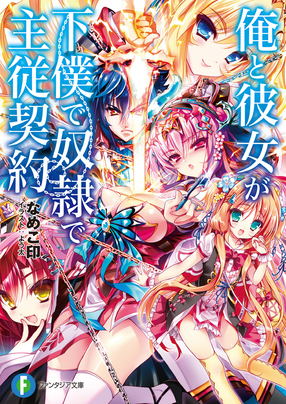 Ore to Kanojo ga Geboku de Dorei de Shuujuu Keiyaku (俺と彼女が下僕で奴隷で主従契約) is a Japanese light novel series written by Namekojirushi (なめこ印), with illustrations by Youta. The first volume was published in October 2013 and is currently finished with 5 volumes.
Story Synopsis
[
edit
]
In a world where beasts cause disasters to the lands, there are those called Hexenritter who use their magical power to summon their servants to fight them. There is an academy which trains such people (girls). One of the students there is a girl called Shirley. She's the heroine of the story and her family was originally one of the four great nobles of her country until its downfall. For that reason she is isolated from other girls. After her many attempts, she manages to summon a servant. But this servant happens to be a boy who has lost his memories. Hayato is his name.
One of Shirley's aims is to win the tournaments which will give the winner the title, Grantzveissen. It will allow Shirley to regain some of her family's glory back. In order to participate in the tournament, she needs to get good results in battles arranged by the school.
Updates
[
edit
]
June 9th, 2016 - Volume 2 Illustrations and Chapters 1-4 external links removed due to external site's commercial activity
May 15th, 2016 - Volume 2 Chapter 4
May 9th, 2016 - Volume 2 Chapter 3
May 5th, 2016 - Volume 2 Chapter 2
May 3rd, 2016 - Volume 2 Chapter 1
Older Updates can be found here
Translation
[
edit
]
Registration
[
edit
]
Those who wish to contribute are asked to notify the project manager beforehand. Translators are asked to register which chapters they're working on.
Format Standards
[
edit
]
Every chapter must after editing conform to the general format guidelines.
Changes to Page
[
edit
]
Please do not make any changes to this site without asking the project manager. There's specific code on this page, which can be harmed by your edits.

The "Ore to Kanojo ga Geboku de Dorei de Shuujuu Keiyaku" series by Namekojirushi

[

edit

]
 

Volume 1

[

edit

]
 

Volume 2

[

edit

]
Novel Illustrations
Chapter 1
Chapter 2
Chapter 3
Chapter 4
Chapter 5
Epilogue
Afterword
 

Volume 3

[

edit

]
Novel Illustrations
Prologue
 

Volume 4

[

edit

]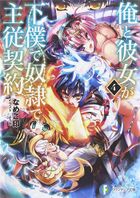 Novel Illustrations
Prologue
 

Volume 5

[

edit

]
Novel Illustrations
Prologue
Project Staff
[
edit
]
Project Administrator:
Project Manager:
Translators
[
edit
]
Editors
[
edit
]
Series Overview
[
edit
]