Owari no Serafu
From Baka-Tsuki
Note: This Project has been declared as Abandoned!
and was taken down.




Please see Template:Abandoned for further information about this classification.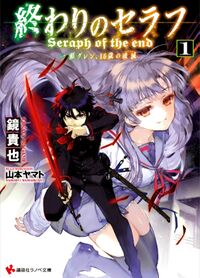 Owari no Serafu - Ichinose Glen, Jyuurokusai no Catastrophe (Seraph of the End - Ichinose Glen, a 16 year old's Catastrophe) (終わりのセラフ 一瀬グレン、16歳の破滅) is a Japanese light novel series written by Kagami Takaya (鏡貴也), who is also the author of the following notable series:
伝説の勇者の伝説 (Densetsu no Yūsha no Densetsu/The Legend of the Legendary Heroes) series,
いつか天魔の黒ウサギ (Itsuka Tenma no Kuro Usagi) series,
黙示録アリス (Mokushiroku Arisu/Apocalypse Alice) series
With illustrations by Yamamoto Yamato (山本ヤマト), "Owari no Seraph - Ichinose Glen, a 16 year old's Catastrophe" is published under Kodansha light novel label.
Licensed by Vertical Inc.
The Owari no Serafu series is also available in the following languages:
Story Synopsis
Those screeches are annoying. I'll crush them all!
"Hey Glen. We'll still be together even after becoming adults right......?" It was the last spring before the world got destroyed, when the surface got controlled by the vampires. The school that the 15-year old Ichinose Glen enrolled in was a sorcerer-nurturing school in Shibuya. It was filled with elite girls from famous lineages in the sorcery world. Even when he was full of aspirations, Glen, who was born of a lowly branch family of his clan, spent his days being ridiculed as trash. However, in the midst of all that, appeared a girl whom he had made a promise to a long time ago, a classmate who called herself his fiancee. In a world that was getting destroyed, the young man sought power, and so did the girl.
You can tell us what you think of the series by polling and discussing it here.
About the Light Novel & its Related Manga
"Owari no Seraph - Ichinose Glen, a 16 year old's Catastrophe" is a prequel and narrates the series of events that occurred years before the start of the manga version of Owari no Seraph, in which Yuuichiro is the protagonist. It primarily tells the background story of what happened before the world became the way it is in the manga. Glen is the protagonist in this light novel series. Both the light novel and manga started within a few short months of each other and are running concurrently at almost the same speed. The manga manuscript is also provided by Kagami Takaya and the manga artist Yamamoto is also the illustrator of this prequel light novel series. Please read the manga to find out about the sequel.
An anime adaptation of the manga version is also in the works: http://owarino-seraph.jp/
Official series website: http://owarino-seraph.com/index.php
Series Overview
Japanese releases
終わりのセラフ 一瀬グレン、16歳の破滅 1 ---(January 4, 2013 ISBN 978-4-06-375279-3)
終わりのセラフ 一瀬グレン、16歳の破滅 2 ---(July 2, 2013 ISBN 978-4-06-375311-0)
終わりのセラフ 一瀬グレン、16歳の破滅 3 ---(January 31, 2014 ISBN 978-4-06-375354-7)
終わりのセラフ 一瀬グレン、16歳の破滅 4 ---(July 2, 2014 ISBN 978-4-06-375396-7)
終わりのセラフ 一瀬グレン、16歳の破滅 5 ---(April 2, 2015, ISBN 978-4-06-381451-4)
English releases
Seraph of the End, Vol. 1 (1+2) ---(January 5, 2016 ISBN 9781941220986)
Seraph of the End, Vol. 2 (3+4) ---(May 24, 2016 ISBN 9781942993056)
Seraph of the End, Vol. 3 (5) ---(TBA)